Cal Poly ARCE News
To skip to past News/Events & Magazines click here!
Students Build 400-feet of Wood Fences in Yosemite
May 28, 2022
Using a combination of brute force and some engineering fundamentals, 16 SEAOC students led by ARCE Hayle Jones with Professor John Lawson removed and replaced approximately 400 feet of damaged wood trail fencing in Yosemite National Park's gorgeous Tuolumne Sequoia Grove. New cedar split rail fencing was constructed using post-hole diggers, hand saws, reciprocating saws, and sledgehammers.
This opportunity was a part of the National Park Service's Volunteer-In-Parks program. And in what was simply a chance meeting, Raymond Neutra, son of the famous architect Richard Neutra who pioneered International Style architecture, was hiking past the work site and stopped to chat with the students what it was like growing up and spending time in his dad's office during its most productive years.
The students (some seasoned campers and some their very first camping experience) worked hard and played hard across the 4 days of tent camping with additional strenuous wilderness hikes to summits and flowing waterfalls.
Ed Saliklis Honored with National ASCE George Winter Award
April 15, 2022
The American Society of Civil Engineers has awarded Professor Ed Saliklis the 2022 ASCE George Winter Award. Created in 1990, this prestigious national award recognizes "the achievements of an active structural engineering researcher, educator or practitioner who best typifies the late Dr. George Winter's humanistic approach to his profession: i.e., an equal concern for matters technical and social, for art as well as science, for soul as well as intellect."
Architectural Engineering (ARCE) Department Head Al Estes said, "The award was tailor-made for Ed, who can teach an architecture studio in the morning and a graduate-level mechanics class in the afternoon. He sings, plays the ukulele, writes poetry, and paints, while still finding time to author three engineering/architecture textbooks in the last five years."
The award will be formally presented to Saliklis at the 2023 ASCE Structures Congress next May in New Orleans.
Open House 2022
April 9, 2022
From April 8-10, the ARCE department welcomed many future students and their families to Cal Poly's annual Open House weekend.
Prospective students were able to visit campus and ARCE labs, with tours given by current Cal Poly undergraduate and graduate students. They were able to see student work, as well as materials testing demonstrations in high bay and a shake table demonstration in the seismic lab. All these labs provided a great insight on what learn by doing in the ARCE program is all about!
Cal Poly SEAOC sold delicious BBQ and ARCE merchandise. Thank you to everyone who volunteered, helped set up the labs, and gave tours. We loved introducing new students to the new community they will soon be a part of!
SEAOC Thanksgiving Meal
November 18, 2021
As ARCE transitions to being fully back in-person, there is plenty to celebrate. The annual SEAOC turkey lunch tradition was back this year after a two-year hiatus. The students ate their feasts outside in order to follow social distancing guidelines.
This year, the members of SEAOC student chapter cooked 8 turkeys to have enough food for the 11 am lunch rush. There were also tons of prepared side dishes, and of course a dozen pumpkin and apple pies for dessert. As per tradition, John Lawson and Al Estes helped carve the turkeys. This annual lunch is a great time for students and faculty to share a meal together, socialize, and most importantly celebrate the end of midterms season!
ARCE Hosts 12th Annual Mustang Family Weekend
October 23, 2021
On October 23rd, the ARCE department hosted its 12th annual Mustang Family Weekend Barbecue! The ARCE department greatly missed parents and supporters last year, when the tradition couldn't be hosted due to the pandemic. While exploring San Luis Obispo and the Cal Poly campus, families were invited to enjoy a central coast style barbecue lunch in between other Mustang Family Weekend activities. Lunch was provided and cooked by Cal Poly's student chapter of SEAOC (Structural Engineers Association of California).
While enjoying lunch, ARCE families mingled with ARCE faculty and staff, took photos at the family photo booth, and met other supporters. Following lunch was an informatory presentation given by department head Al Estes to give an inside look at the state of the department and to provide an open space to ask and answer questions. Topics included everything from test score statistics to study abroad opportunities, all showing the ways ARCE Cal Poly leads to a successful career!
SEAOC Conference in Carlsbad, CA
September 2021
The ARCE department sent two faculty members (Department Head Al Estes and newly promoted Associate Professor Anahid Behrouzi) and five students and one former student to the annual Structural Engineering Association of California (SEAOC) in Carlsbad, California from September 22-25. The SEAOC annual conference is the largest assembly of California's structural engineering community and the Cal Poly ARCE program is the only one to bring students year after year.
Four of the students (Jay Skaff, Robert Hardwick, Tia Kelly and Sasha Padilla) are club officers in the ARCE SEAOC student chapter and fulfill the roles of President, Vice-President, Forum Chair and Outreach Coordinator, respectively. As has become custom, the four students assist with running the conference and are provided with free registration and access to all social events as a result. The students attend technical sessions, network with potential employers, find guest speakers and get acquainted with the latest innovations from the sponsoring vendors.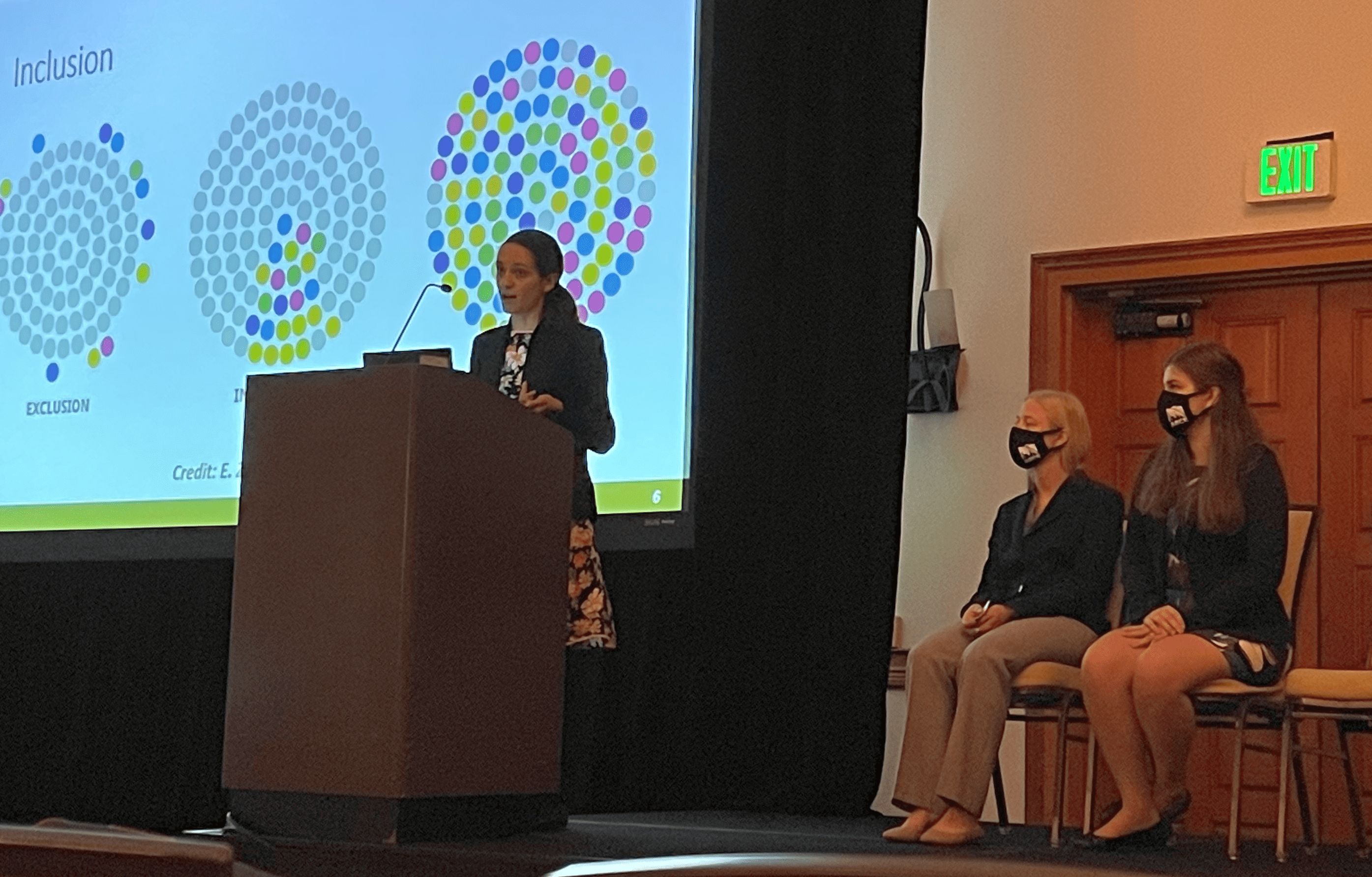 Anahid Behrouzi, Faith Sharp (current ARCE master's student) and Claire Leader (2021 ARCE graduate) presented a paper "Considerations of Diversity, Equity, and Inclusion in Advanced Structural Engineering Courses" in the Friday morning session.
The students routinely get recruited to participate in the President's Competition due to their youthful exuberance and athletic ability. This year's competition involved designing a boat using cardboard and duct tape and racing it across the swimming pool. Jay, Robert, Tia and Sasha represented the southern member organization and sadly their boat sank. Faith, who had interned with Buehler Structural Engineering, represented the central section, which won the competition.
As has become tradition over the past fifteen years, the ARCE department hosted a reception for alumni and friends of the program attending the conference. We had about 50 attendees and Al Estes updated the group on new laboratory equipment, keeping labs open during the pandemic, the John Edmisten Global Travel Scholarship, and the impending 75th anniversary celebration.
This was one of the first professional conferences to return to in-person participation. It was a great conference for ARCE graduates as Ed Quesenberry (ARCE 1989) attended as the President of the The National Council of Structural Engineers Associations, Ken O'Dell (ARCE 1989) started his term as President of SEAOC, and Michelle Kam Biron (ARCE 1987) was inducted to the SEAOC College of Fellows. We offer our congratulations to them all.
The ARCE Department offers its thanks to the Cal Poly Instructional Related Activities, the ARCE Parent's Learn By Doing Fund, the ARCE Fund for Excellence, and the ARCE SEAOC Conference Support Fund that made this trip and these activities possible.
Related Content