News & Events 2013 -2014
ARCE Grad Shawna Peterson is Poly Great Grad
6.19.14
Architectural engineering major Shawna Peterson from Lake Arrowhead, Calif., chose Cal Poly because of its Learn by Doing philosophy and hands-on, interactive labs and studios. Peterson demonstrated her capacity and love for math and physics by earning straight A's throughout her college career. While interning at Moffatt & Nichol in San Diego, Peterson was involved in the design of various bridges and Navy projects. "At Cal Poly, I learned how to design structures using materials such as concrete, steel, masonry and timber," she said. "This knowledge is critical at my internship. I also learned how to use software analysis programs and drafting/modeling programs, which I often use at work. As her senior project she traveled to Camilo Ortega, Nicaragua, with a team of eight students to help design a school. "Many kids are not receiving formal education because there just aren't enough schools," Peterson said. The students partnered with Cal Poly's student chapter of Engineers Without Borders. After surveying the site and getting feedback from community members, the students returned to the U.S. and designed three alternatives using reinforced masonry, confined masonry, and a light gauge structure. "We decided on the light gauge structure because of the cost, ease of construction, and accessibility of local materials. Our plan was to build the school this summer. Since three of us are graduating, we passed our completed design to our EWB teammates to carry out the construction." Peterson will pursue graduate studies at Stanford in the fall and eventually hopes to use her seismic engineering knowledge to provide earthquake disaster relief services around the world.
Estes Brady Attend ASEE Conference
6.18.14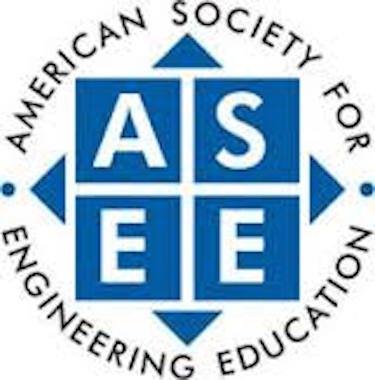 ARCE Faculty members Al Estes and Pamalee Brady attended the annual American Society of Engineering Education (ASEE) annual conference and exhibition in ASEE Indianapolis from 15-18 June.  Al presented a paper "New Civil Engineering Program Criteria: How the Sausage is Being Made" based on his service on the ASCE Civil Engineering Program Criteria Task Committee.  He presented a second paper "Using K'nex to Teach Large Scale Structures to Architects and Construction Students" co-authored with ARCE faculty member Craig Baltimore.  Pamalee Brady was a speaker at a sponsored session workshop on Using Failure Case Studies to teach Engineering and Ethics.
ARCE Projects Day
6.5.14
The ARCE Department conducted its annual Projects Day presentations on the afternoon of June 5th following the Scholarship Luncheon.  The presentations were as listed below.  The electrical power went out half way through the conference, but the presentations continued using laptops and battery power.
ARCE Senior Project Presentations

June 5, 2013  ~  A Lab (21-122A)

 

Time Slot

Senior Project Title

Project Member(s)

Advisor

1:10pm -1:30pm

Maney-Goldberg Method

Jared Parker

Ed Saliklis

1:35pm – 1:55pm

 

Seismic Design Team

Awaaz Patel

Nick Ingwers

Willy Rosenblatt

Graham Archer

2:00pm – 2:20pm

Optimization of a Braced Frame Using Genetic Algorithms

Evan Gerbo

Ed Saliklis

2:25pm – 2:45pm

Roof Drainage

Andrew Stephens

John Lawson

2:50pm – 3:10pm

AEI Competition

Kevin Choy

Derek Avrit

Matthew Moore

Sarah Anderson

John Lawson

3:15pm- 3:35pm

AEI Competition

Jason Serda

Joaquin Bermudez

John Lawson
ARCE Scholarship Luncheon
6.5.14
The ARCE department held their annual scholarship luncheon in the KTGY gallery on June 5th.  Over $36,000 in scholarships were donated to the following ARCE students from our generous friends, alumni and industry supporters.  Dean Christine Theodoropoulos was on hand to present the CAED scholarships while department head Al Estes presented the others.  Scott and Julia Starkey, John Edmisten, and Victor Montgomery attended the luncheon in person to present the Carson Starkey Memorial Scholarship, the Hans Mager Scholarship and the RRM Design Group Scholarship, respectively.  Many of the donors who were not able to attend in person (CYS, Forell/Elsesser, Degenkolb, SGH, KNA, kpff) sent short video clips to congratulate the recipients.  The winner of this year's ARCE academy award for the best video goes to CYS in Sacramento.
| | |
| --- | --- |
| Scholarships 2014-2015 |   |
| CAED Scholarships |   |
| Carson Starkey Memorial Scholarship for Merit ($4750) | Jesse Fowler |
| RRM Scholarship ($2700) | Georgine Mooney |
| Herbert E. Collins Scholarship  Undergraduate ($1200) | Georgine Mooney |
| Herbert E. Collins Scholarship  Undergraduate ($1200) | Anthony Tiapon |
| Herbert E. Collins Scholarship  Undergraduate ($1200) | Sheela Vedula |
| Herbert E. Collins Scholarship Graduate ($1200) | Raney, Joshua |
| Herbert E. Collins Scholarship  Graduate ($1200) | Andrew Stephens |
|   |   |
| ARCE Scholarships |   |
| Hans Mager Scholarship ($1200) | Vicente Acuna |
| CYS Eugene Cole S.E. Senior Project Award ($1425) | Cristina Chilin and Shannon Abeling |
| John A. Martin and Associates Scholarship ($1500) | Elena Good |
| Forell/Elsesser Engineers Scholarship ($1000) | Lyndsi Halvorson |
| Fluor Foundation Upper Division Scholarship ($1250) | Kion Nemati |
| Simpson Gumpertz & Heger Inc. Scholarship ($2000) | Simon D. Jardel-Menno |
| Fluor Foundation Lower Division Scholarship ($1250) | Anthony Keshishian |
| Emanuele Barelli Structural Engineering Scholarship ($1050) | Connor Hanlon |
| Degenkolb Engineers Scholarship & Internship ($2500) | Nicole O'Hearne |
| KNA Consulting Engineers Senior Project Scholarship ($1000) | Jared Parker |
| KPFF Los Angeles / Pasadena Scholarship ($1500) | Tyler Poucher |
|   |   |
| Outside Scholarships |   |
| SEAONC | Shawna Peterson |
| SEAOSC | Shannon Lee |
ARCE Senior and Master's Photos
6.5.14
The ARCE department took the annual senior photo and the master's student photo on June 5th as part of the Scholarship Luncheon and Project's Day.
Mwangi Attends Earthquake Perfomance Evaluation Program
10.1.14
Professor James Mwangi attended a daylong Earthquake Performance Evaluation Program (EPEP) training on May 22, 2014 in Sacramento, California.  The training was organized and conducted by the Structural Engineers Association of California (SEAOC) Post-Disaster Performance Observation Committee (PDPOC).  SEAOC deploys EPEP trained engineers after a seismic event to collect information on how building structures performed (structural and non-structural) during the earthquake.  The engineers start their observation from a known strong motion recording station and observe all buildings within a 500 feet radius from the station (pod).  Besides the building data (location, type of construction, occupancy, number of stories, and date of construction), level of damage, possible repair cost, etc. is collected.   The training included deployment procedures, adopt-a-pod program and pod maps and field exercise that included visiting a pod and collecting building performance data.
Mwangi Attends Center for Rebuilding Sustsinable Commuinitites after Disaster
5.19.14
Professor James Mwangi attended the 2014 Center for Rebuilding Sustainable Communities after Disasters (CRSCAD) International conference on Disaster Mitigation, Preparedness, response and Sustainable Reconstruction: The Role of architectural, Planning, and Engineering Education between May 8th and 9th at the University of Massachusetts, Boston.  James' presentation was titled "Engineering Curricula in Disaster Mitigation and Sustainable reconstruction: Haiti".
 https://www.prlog.org/12314860-umass-boston-takes-on-disaster-recovery-in-2-day-conference-may-8-9.html
James also participated in the special panel on Haiti.  The panel discussions were led by officials from the Government of Haiti, World Bank, Non-Governmental Organizations and academia.
https://www.umb.edu/news/detail/international_team_helps_haiti_prepare_shelter_and_sustainable_landscape_de
Abernathy Speaks at SEAOC Luncheon
6.19.14
Steve Abernethy, the President and CEO of SquareTrade spoke at the ARCE SEAOC luncheon on May 8th.  Steve is a 1989 graduate of the Cal Poly ARCE department.  After working for ARUP for several years, Steve attended the Harvard Business School and eventually founded SquareTrade in 1999 in the Bay Area.  SquareTrade provides consumer protection plans for portable devices, appliances, and other electronics, both on-line and through large retailers.  Steve's presentation offered the ARCE students an alternate path to success available with their degree.
Estes and Achaefer Visit Firms in Los Angeles
5.1.14
Al Estes and Natalie Schaefer (Director of Corporate and Foundation Partnerships) visited several firms in the Los Angeles area on April 28-29.  They started with the new Simpson Strong-Tie  manufacturing facility in Riverside and were hosted by Alan Hanson, Damon Ho, Ian Murphy and Angel Leon.  The visit included lunch, an update briefing and a tour of the plant.  The second visit was to the office of KNA in Irvine where partners Larry Kaprielian (ARCE, 1979), Dave Nelson, and Josh Randall (ARCE, 1994) hosted an office tour.  Al gathered around the table with ARCE grads Jason Smith (ARCE, 1997), Jason Schneider (ARCE, 2003), Travis Culp (ARCE, 2011), and Stefan Choise (ARCE, 2011) to discuss the latest developments in the ARCE program.  The KNA partners hosted a dinner that evening and invited ARCE alumni and spouses which included Richard and Sue Foley (ARCE, 1965), C.K. and Laurel Allen (ARCE, 1964), Bill Warren (ARCE, 1978) and Mike and Teresa Gabriel (ARCE, 1979).  It was a great chance to reconnect.  The next day, Al and Natalie joined many ARCE alums from MHP in Long Beach for an office tour and lunch.  The alumni included Jen Hiatt (ARCE 2005), Dan Fox (ARCE, 2006), Eric Berkes (ARCE 2003), Mat Wexler (ARCE 2005), James Kramer (ARCE 1999), and Luc D'Abreau (ARCE 2011).  Finally, Trailer Martin and Kurt Clandening (ARCE, 1986) hosted a visit at John A. Martin and Associates downtown.  They discussed funding initiatives for interdisciplinary projects.  Trailer Martin is the newest member of the ARCE Advisory Board.
Saliklis and Estes Make Quick Trip To Bay Area
4.24.14
Al Estes and Ed Saliklis made a quick trip to the Bay Area on April 18th to meet with Ashraf Habibullah at Computers and Structures Inc. to discuss plans and means for changing the nature of the structural engineering profession.  They next visited the San Francisco office of SOM and met with Mark Sarkisian, Peter Lee and Neville Mathias.  On the way home, Al and Ed stopping in Los Gatos to visit Florian and Lori Barth to discuss progress on the Learn By Doing fund and to thank them again for their support of the ARCE program.
Mwangi Presents At SEAOSC Tri-Counties Chapter Dinner
5.8.14
Professor James Mwangi was the presenter at the SEAOSC April 15th Tri-Counties Chapter dinner meeting held in Santa Barbara.  The presentation titled "THE 2012 IBC / 2013 CBC MASONRY DESIGN CODE UPDATES" provided a background on what changes were made in the transition from the 2008 to the 2011 MSJC.  The detailed code presentation also addressed why the revisions were needed, thus allowing the presentation to serve as a means to update the participants on the important changes and also to making the presentation a future historical reference on the revisions.  The meeting was attended by local building department or plan check company employees and structural engineers from Ventura, Santa Barbara and San Luis Obispo Counties.  This presentation was similar to one James previously presented in Sacramento to SEAOCC members.
ARCE Department conducts its Annual Open House
4.14.14
The ARCE Department conducted its annual Open House celebration on  April 11th and 12th where accepted and prospective students visited the Cal Poly campus.  Department Head Al Estes offered a program overview in the Simpson Strong-Tie Materials Demonstration Building Mezzanine on Friday afternoon.  On Saturday, the department offered displays of student work and activities in A-lab, the Hilti Lab and the Berg Gallery.  Students led tours through the high-bay lab, concrete lab and seismic lab where students took a wooden box beam to failure on the universal testing machine, crushed a concrete cylinder, and demonstrated natural frequencies of buildings on the shake table.  The SEAOC student chapter operated a booth where they sold bratwurst lunches and ARCE merchandise.  The ARCE freshmen taking their first year Architecture studios participated in the Design Village exercise where they designed shelters that they had to carry to Poly Canyon, erect and spend the night inside. Overall, it was a great weekend as the campus came to life and we demonstrated what the ARCE program is all about.
ARCE Dept. Visited by Al Whitecar
4.14.14
The ARCE department was visited by ARCE alumnus Al Whitecar (ARCE, 1975) on April 10th.  Formerly with Forell Elseser, Al is currently the Chief Structural Engineer with Interactive Resources in Point Richmond, California.
ARCE Holds 3Rd Annual Bay Area Alumni Reception
4.14.14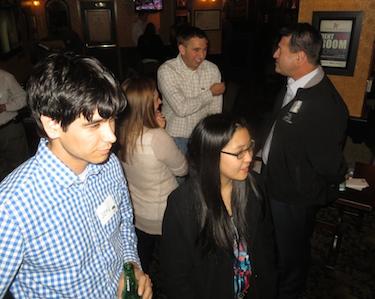 The ARCE Department held its 3rd annual Bay Area Alumni Reception on Friday April 4th at the Elephant and Castle Pub and Restaurant.  Al Estes, Erika Clements, Ed Saliklis, Abe Lynn, and CAED Dean Christine Theodoropoulos represented Cal Poly at this event.  Attendees included Jorge Lee (1971), Nina Munj (2010), Loren Byrne (2010), Jonas Houston (2010), Adam Azofeifa (2008), Anita Crompton (2007), Paul Murray (2005), Brian Biehl (2012), David Martin (2011), George McCluskey (2006), Alese Ashuckian (2011), Carl Payne (2009), Kiernan Kelly-Sneed (2002), Selinda Martinez (2011), Josh Batham (2012), Geoff Neumayer (1984), Reece Relatores (2010), Fred Zerbinski (1970),  Ben Biddick (2011), Derek Ostovani (2011), Allison Konwinski (2007), Kevin Chen (2011), Jen Ton (2011), and Jonathon Rivera (2010).  It was a great time to catch up and reminisce over cocktails and hors d'oerves.
Spring Break in Chicago! .... Really?
4.14.14
Twenty-five SEAOC/AEI students with their faculty advisor John Lawson passed on the sunny beaches of Mexico and Florida to instead enjoy their Spring Break in the Windy City in late March! A structural engineer's dream, Chicago is the birthplace of the modern skyscraper.  Private tours of the earliest high-rises (Marquette, Monadnock, and Rookery buildings) and most modern (John Hancock, Trump, and Willis Tower) and everything in between were fascinating for the students as well as tours of the world famous design firms Wiss, Janney, Elstner (WJE); Thornton-Tomasetti, Skidmore Owings & Merrill (SOM), JAHN and HOK. A visit to Oak Park's Unity Temple provided special insight into Frank Lloyd Wright's early work in concrete. After each day of professional activities, nights were filled with great food, piano bars, and a special night at The Second City Comedy Club. Trip costs were primarily underwritten by the special fundraising efforts of SEAOC Vice President Nicole O'Hearne and proceeds from Structural Forum.
Lawson presents Seismic Design to Southern California Structural Engineers
5.15.14
On March 21st, Assistant Professor John Lawson was one of several speakers
who presented at the Winter Education program for the Structural Engineers
Association of Southern California (SEAOSC). Lawson was invited to speak on
his authored design examples published by the International Code Council in
SEAOC's Structural/Seismic Design Manual. Current SEAOSC President Doug
Thompson (also an ARCE Alum) is pictured here with Lawson at the Long Beach
Grand Event Center where the two-day program took place.
Lawson's travel expenses were fully funded by SEAOSC.
Estes Attends National Civil Engineering Department Heads conference
4.8.14
Al Estes attended the annual  National Civil Engineering Departments Heads Conference at the University of Oklahoma from April 6th – 8th.  The conference is sponsored by the American Society of Civil Engineers.   In his role as a member of the ASCE Civil Engineering Program Criteria Task Committee, Al presented the new proposed ABET Civil Engineering program criteria and the methodology and rationale behind it.  Al also attended the semi-annual meeting of the ASCE Department Heads Coordinating Council for which he is the Architectural Engineering Institute liaison member.
 
Utah Invites Lawson to Speak
5.1514
As part of their Annual Education Conference in February, the Structural
Engineers Association of Utah (SEAU) invited Assistant Professor John Lawson
to present a three-hour lecture on concrete tilt-up engineering and flexible
diaphragm design to the state's licensed structural engineers.
Over 200 engineers from all over Utah attended the event where Lawson spoke.
Because Utah is also at risk for large earthquakes, engineers from
California are often invited to this annual event to present educational
earthquake design lectures to practicing Utah engineers. Lawson's travel
arrangements were made possible with funding from the proceeds of the Paul
and Verla Neal Faculty Scholarship awarded to Lawson. This scholarship
supports faculty who attend professional conferences to remain abreast of
industry practices. Additional funding was obtained from the State of Utah.
Students attend SEAOSC Job Fair and Students Awards Night
2.12.14
On February 5, ten ARCE students and faculty member Pamalee Brady attended the Structural Engineers Association of Southern California Job Fair and Students Awards Night honoring outstanding engineering candidates nominated by Southern California colleges and universities with schools of civil and structural engineering.  Our own Shannon Lee was honored with a $1400 scholarship. 
The student job fair before the awards ceremony featured prominent structural engineering firms from the Southern California area including KNA, Arup, Englekirk and Simpson Strong-tie among others.  Students circulated through the booths with their resumes and connected with Cal Poly alumni representing a number of the firms.
Students Attend Leadership Workshop in Phoenix
2.11.14
On January 31st and February 1st, four ARCE students with their faculty advisor John Lawson attended the ASCE Workshop for Student Chapter Leaders in Phoenix, Arizona. This two-day workshop provides our prospective SEAOC/AEI student officers with the tools and insights necessary to run a successful club in conjunction with benefitting from the ties to a professional engineering organization.  While at the workshop, Junior ARCE students Daniel Menno, Sydney Patrick, and Kendall Johnson, with Sophomore Kristina Lam, networked with engineering students from other western universities as well as practicing civil engineers from across the western United States. Also, the group took a quick tour of Old Town Scottsdale with its outdoor Art Park.
Estes Visits Bay Area Alumni and Friends
1.7.14
Al Estes visited alumni and friends in the Bay Area on December 16th and 17th.  Al had a meeting with ARCE Advisory Board member Ron Hamburger at his SGH office. Ashraf Habibullah hosted Al in the new CSI office in Walnut Creek.  Ashraf will be the keynote speaker at this year's Structural Forum.  Al met with David Mar at Tipping-Mar who will also speak at Structural Forum and linked up with ARCE grads Billy Janhunen (2007), Dago De La Rosa (2010), Ned Adamson (1981), Christian Tipping (2004) and Gina Carlson. Finally, Al met with the Ediface Complex founder Consuela Crosby (ARCE 1985) to discuss ARCE marketing strategies. On Tuesday, Al visited the Oakland office of Degenkolb and met with ARCE faculty member Abe Lynn, former ARCE Advisory Board member Jorn Halle, and marketing director Laurie Lumish.  They discussed the future plans for the upgrade and dedication of the Degenkolb Graduate lab.  Finally, Al met with Florian and Lori Barth in their Los Gatos home to discuss progress on the Parents Learn by Doing fund and future engagement of parents.
ARCE Holiday Party
1.7.14
The ARCE holiday party was held in the home of faculty member John Lawson on the evening of December 14th.  It was well attended and we all appreciate John and Lydia opening their home to the rest of us.
Here is a fun video that was made at the party.
December Graduation
1.7.14
Faculty members Jill Nelson, Pamalee Brady, Ed Saliklis and Al Estes participated in the December 2013 graduation ceremony on December 14th.  Ed Saliklis was the honored faculty speaker.  After some brief words of wisdom, Ed entertained the crowd with a graduation song to the tune of Twist and Shout played on the ukulele.   This year's winter graduation class included:  Bodie Bloyd, Daniel Burkhartsmeyer, Tanner Diaz, Jesse Hoye, Matt Kidd, Neil Lawley, Mirian Martinez, Ethan Meier, Kevin Miller, Anthony Monroy, Chandler Morehardt, Meghan Navarro, Robert Norton, Ki Park, Ricardo Ramirez, Beth Schlacks, Robyn Schmidt and Andy Vallejo.
SEAOC Students Travel to San Francisco
11.22.13
In November, 22 SEAOC students traveled with their advisor John Lawson to northern California to visit three highly regarded structural engineering firms, along with field visits to two projects, and a tour of a structural component manufacturing facility. Simpson Strong-Tie graciously opened their doors to provide lunch and a private tour of their facility in Stockton where prefabricated shear walls and joist hangers are manufactured. In San Francisco, engineering firms Degenkolb, Rutherford & Chekene, and Simpson Gumpertz & Heger all introduced the students to their offices and their noteworthy projects as well as their happy ARCE alumni on staff.  As always, the students' favorite trip experiences are the field tours of specific projects under construction or completed. As the structural engineer of the new Exploratorium, Rutherford & Chekene's Timothy Lucido (ARCE '03) arranged special after-hours access to an adult only event complete with a behind-the-scenes tour of this hands-on museum. Not to be outdone, Simpson Gumpertz & Heger obtained access for the students to tour the new Transbay Transit Center currently under construction. This Pelli designed million square foot project is being called the "Grand Central Station of the West." Ending the trip, Degenkolb's David Martin (ARCE '11) and ARCE Professor Abe Lynn who is currently working with Degenkolb met with the students to socialize at a local night spot.
Saliklis Presents Peer Reviewed Paper
10.3.13
Ed Saliklis presented a peer reviewed paper at the 2013 International Association of Shell and Spatial Structures (IASS) annual conference, held in Wroclow, Poland.  The paper was co-authored by Jonas Houston (ARCE Master's degree 2011) and it emanated from Jonas' Master's Thesis entitled "Developing Dendriform Facades Using Flow Nets as a Design Aid".

The paper was presented at the graphical statics session which started with two presentations by Arkadiusz Mazurek and Alessandro Beghini of SOM, each of these papers was co-authored by Bill Baker. Also in the session were researchers from the ETH in Zurich, Switzerland, Masoud Akbarzadeh and Philippe Block.  Rene Motro, President of IASS was the chair of this historic session and we documented the event with him in a photo.
Dong, Doerfler Present Papers
8.15.13
In July 2013, professors Jim Doerfler from the architecture department and Kevin Dong, presented two papers at the 2nd International Conference of Structures and Architecture in Guimaraes, Portugal from July 23-26, 2013. The conference attracted over 300 participants from over 40 different countries.  Jim and Kevin presented work associated with the Collaboratory Studio, which they team teach with Professor Tom Fowler from the Architecture Department.  Kevin presented an additional paper based on the concrete structural models built in the concrete yard as a testimony to the Cal Poly motto of "learn by doing" and "hands-on learning", and to highlight the contributions of Professor Emeritus Jake Feldman to the department.   The papers may be accessed here, and here.
Nelson and Guthrie Participate in Natural Hazard Workshop
8.15.13
Nelson and Jim Guthrie participated in two natural hazards workshops in early July in Boulder, Colorado. The 8th Annual Natural Hazards Workshop and the planning workshop for the 2014 Third International Conference on Urban Disaster Reduction are by invitation only events and are international gatherings where planners, emergency managers and other professionals compare their experiences with the response, recovery and mitigation of natural hazards such as earthquakes and tsunamis. These topics are closely related to Jill Nelson and Jim Guthrie's  continuing work on the California Vital Infrastructure Vulnerability project whose goal is to identify and mitigate vital, seismically vulnerable, state owned buildings in California.Jill Nelson and Jim Guthrie participated in two natural hazards workshops in early July in Boulder, Colorado.  The 8th Annual Natural Hazards Workshop and the planning workshop for the 2014 Third International Conference on Urban Disaster Reduction are by invitation only events and are international gatherings where planners, emergency managers and other professionals compare their experiences with the response, recovery and mitigation of natural hazards such as earthquakes and tsunamis.  These topics are closely related to Jill Nelson and Jim Guthrie's  continuing work on the California Vital Infrastructure Vulnerability project whose goal is to identify and mitigate vital, seismically vulnerable, state owned buildings in California.
Mwangi Attends ExCEEd Teaching Workshop
Posted 8.15.13
Professor James Mwangi attended the ExCEEd Teaching Workshop from July 21st  – July 26th at Florida Gulf Coast University.  James joins the long line of other ARCE faculty members who have given up a week of their summer to attend this American Society of Civil Engineers sponsored workshop.  The week long experience involves 13 seminars on how to teach, three demonstration class from master instructors and each participant teaches three sample classes followed by extensive assessments from faculty and team members.  Cal Poly has more faculty members attend this workshop in its twelve years of existence than any other university.  Department Head Al Estes participated as a member of the ExCEEd faculty and presented five of the seminars.  This was Al's 25th ExCEEd Teaching Workshop.
ARCE Faculty Present Papers at ASEE
Posted 7.22.13
ARCE faculty members presented 8 papers at the 2013 American Society of Engineering Education conference at the Georgia World Congress Center in Atlanta from June 23 -26th. These included:
Full-scale Mechanical Vibrations Laboratory, Cole C McDaniel and Graham C. Archer
The Bridge House: A Living Dynamics Laboratory, Graham C. Archer and Cole C McDaniel
Structural Elective Course for Special Building Systems, Dr. James P. Mwangi
Teaching Building Professionals Design of Earthquake Resistant Buildings: Haiti Experience, James P. Mwangi
Community Service Driven Student Senior Project and back to Community for Implementation
, James P. Mwangi
Teaching Architecture, Engineering and Construction Disciplines: Using Various Pedagogical Styles to Unify the Learning Process, Jill Nelson and John W. Lawson
Interdisciplinary Design – Forming and Evaluating Teams, Allen C Estes, Brent Nuttall, Jill Nelson, Margot McDonald, and Gregory F. Starzyk.
A Structural Engineering Master's Program – the Trials and Tribulations, Cole C McDaniel and Allen C Estes
Jill Nelson and John Lawson received the Best Paper award from the Architectural Engineering (AE) Division.  Graham Archer won the AE Division award for Best Presentation.  John Lawson received the ExCEEd Educator Award at the Civil Engineering Division banquet.  Faculty member Pamalee Brady co-facilitated a forensic teaching workshop based on bringing failure cases studies into the classroom as part of this conference.
ASEE Conference, Atlanta
Posted 7.9.13
While in Atlanta for the ASEE conference, Al Estes was able to visit with Mark and Pam Haselton (ARCE 1963) on June 27th.  Mark has been an honored alumnus for the university and has sponsored the Haselton Design Laboratory in the ARCE department. 
The visit included a tour of Continental Concrete, the post-tensioning concrete company that Mark founded.  Mark also provided a tour of the Atlanta skyline and the buildings that Continental Concrete helped design such as the Peachtree Center and the Georgia Tech Aquatic Center.
Lawson Earns National Recognition from ASCE
Posted 7.9.13
Cal Poly continues its reputation of having outstanding teachers that engage students. John Lawson, assistant professor in Architectural Engineering, recently earned national recognition from the American Society of Civil Engineers (ASCE) for his effective and engaging teaching style.; He received the ASCE's ExCEEdNew Faculty Excellence in Teaching Award at the American Society for Engineering Education (ASEE) annual conference on June 25 in Atlanta. Norm Dennis (University of Arkansas) who chairs the ASCE Committee on Education presented the award at the ASEE Civil Engineering Division banquet.  Given annually, the award recognizes outstanding engineering faculty who have five years or less full-time teaching experience.
Spring Commencement
Posted 7.9.13
The university Spring Commencement ceremony for the Colleges of Architecture, Engineering and Business took place on Saturday, June 15th in Spanos Stadium.  The diplomas for the College of Architecture and Environmental Design were presented individually in a ceremony immediately following.  ARCE students Talina Barajas, Ivan Castro, Megan Hanson, Chase Kossack, Pablo Ramos, Shahab Shaolian and Brett Shields received masters degrees and the accompanying hoods.  The ARCE undergraduate degrees were presented to Felipe Alfaro, BodieBloyd, Sun Bruns, John Calabretta, Alex Daddow, Stacey Field, Oscar Fuentes, Sean Geronimi, Ryan Hoyt, Sonia Huynh, Andrew Jimenez, Neil Lawley, Lauren Litwiler, Butian Liu, Robert Luemers, Mirian Martinez, Garret McElveny, Juan Robles, Anthony Monroy, Dan Morosan, Huu Nguyen, Robert Norton, Andrew Racette, Victor Ramos, Tanya Rodriguez, John Schoeman, Derek Sereno, Brett Shields, Katie Sumpter, Zac Sweeting, Chelsie Taylor, Ryan Wagner, and Kyle Welsh.  Diplomas were presented by Dean Christine Theodoropoulos and Associate Dean Richard Zweifel.
Congratulations to ARCE Faculty
Posted 7.9.13
The department offered congratulations to faculty members James Mwangi and Peter Laursen at the end of quarter faculty meeting on June 12th.  James will be promoted to Full Professor and Peter attained both tenure and promotion to Associate Professor.  Both promotions become effective at the start of Fall quarter.
Participating Students Visit Chicago
Posted 7.9.13
In May 2013, students participating in the design Collaboratory visited Chicago and toured newer and older works of architecture and visited architectural and engineering design firms.   The field trip is part of the AISC/ACSA steel competition.  Students typically visit the site being used for the competition, perform a site analysis and visit firms to better understand local building practices.  (Photo on left; ARUP-Chicago office tour, photo on right – outside the Willis (Sears) Tower)
Related Content