News & Events 2007-2008
Posted 6.26.08
Seoul Tech Visit Cal Poly
Professor Alfred B. Hwangbo (far right) from the Seoul National University of Technology (Seoul Tech) escorts two of his colleagues on a visit to Cal Poly to discuss international exchange programs.  Seoul Tech has an Architectural Engineering program that is located in the School of Architecture which is part of the College of Engineering.  Professor Kwang-Seop Chung (middle), who is the Dean of the College of Engineering, presents Al Estes with a generous gift from Seoul Tech after they met regarding an international experience with students in Korea.
Posted 6.26.08
Estes Co-Authors Chapter in ASCE Book
In the newly released American Society of Civil Engineers book, Infrastructure Reporting and Asset Management, the chapter on "Using Visual Condition Assessment Data for Life-Cycle Management of Spillway Gate Systems on Dams" was authored by Al Estes, Stuart Foltz and Luc Chouinard. This special report contains 25 papers which are intended to inform on current approaches to asset management as well as highlight the importance of and best practices in infrastructure reporting. This report will be of value to professional organizations and academics and practitioners involved in infrastructure reporting and/or asset management, as well as to political decision makers.
Posted 6.22.08
ASEE Annual Conference
The ARCE Department had a great showing at the American Society for Engineering Education 2008 Annual Conference and Exhibition held in Pittsburgh from June 22 -25th.  Kevin Dong presented three papers while Ed Saliklis and Al Estes presented two papers each. The titles of the papers and hyperlinks that will allow access are listed below:
Dong, Kevin (California Polytechnic State University)
AC 2008-1512: CONNECTING ARCHITECTURE WITH STRUCTURES
AC 2008-1509: KINESTHETIC STRUCTURES
AC 2008-2694: TEAM TEACHING TO INSTILL INTEGRATION IN A MULTI-DISCIPLINARY CLASSROOM
Estes, Allen (California Polytechnic State University)
AC 2008-1639: EXCEED TEACHING WORKSHOP: TENTH YEAR ANNIVERSARY
AC 2008-1122: RESEARCHERS AND PRACTITIONERS: A DUAL TRACK PATH TO TENURE THAT WORKS

Saliklis, Edmond (California Polytechnic State University)
AC 2008-571: ARCH BUILDING FOR KIDS. WHAT DID THEY LEARN? WHAT DID WE LEARN?
AC 2008-572: FOUR RESEARCH PROJECTS, ONE "GREEN" THEME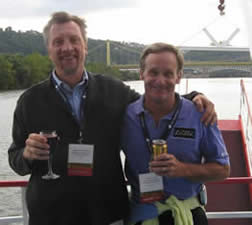 Ed Saliklis' paper on Arch Building for Kids (AC2008-571) received a best paper nomination. The paper on researchers and practitioners (AC 2008-1122) was co-authored by Brent Nuttall and Cole McDaniel.  All of the papers are published in the conference proceedings.  Conference attendees also participated in events sponsored by the Civil Engineering Division and the Architectural Engineering Division of ASEE.
Top pictures (L-R): Kevin Dong and Ed Saliklis.
Bottom picture (L-R): Ed Saliklis and Al Estes.
Posted 6.18.08
Network for Earthquake Engineering Simulation
Professor Cole McDaniel participated in the 2008 Network for Earthquake Engineering Simulation (NEES) annual meeting in Portland, Oregon on June 18-20.  The ARCE Department is an institutional member of NEES and Cole McDaniel is an individual member.  Opportunities for integrating NEES experimental results into ARCE undergraduate and graduate courses were investigated.  Collaboration with NEES researchers in earthquake engineering education was also explored.
Posted 6.15.08
Sixty-seventh Spring Commencement
The commencement ceremonies for June 2008 were held on two separate days this year, Saturday, June 14 and Sunday, June 15. The main ceremony was held outdoors in Spanos Stadium beginning at 10:00 a.m. and lasted just under two hours. The College of Architecture and Environmental Design post-commencement event was held following the main ceremony in the ASI Recreation Center. This year marked the graduation of the first ever Master of Science in Architecture with a Specialization in Architectural Engineering.
Posted 6.14.08
Master's Banquet
The "Pioneers" celebrated the year's end of the first pursuit for a degree in Masters of Architecture with a Specialization in Architectural Engineering. The banquet, held at the Madonna Inn, hosted the ten students as well as a total of 41 of their closest friends and family as well as the departments' faculty and staff. Entertainment was provided by Professor Saliklis on the ukulele with his rendition of "Tip Toe Through the Tulips" to "Tip Toe Through Mechanics" and student Kristin Potterton presented unique "most likely to after graduation" gifts to each of the students. Professor Kevin Dong was honored by Al Estes and the department as well as the entire graduating class for his tireless dedication to seeing the success of the new program come to fruition. Congratulations Masters Candidates!
(Back from left): Students David Lambert, Kristin Potterton, and Lucy Redmond. (Middle from left): Students Eric Nakamoto, Anita Ho, Adam Azofiefa, Elizabeth Kenyon, Taka Yokoyama, Erik Lee. (Bottom from left): Student Michael Brown, Professors Brent Nuttall, Graham Archer, Ansgar Neuenhofer, Kevin Dong, Al Estes, and Peter Laursen.
Posted 6.13.08
Senior Project Conference
The ARCE Senior Project Conference highlights the capstone design and research projects undertaken by Architectural Engineering seniors. Each senior is encouraged to pursue a topic of interest that falls outside of the ARCE program curriculum. Consequently, this annual conference exhibits the best in the ARCE seniors' creativity and problem solving techniques.
This year, 40 ARCE seniors presented their senior projects throughout the ARCE A, B, D, and E labs. Below is a link to the program flyer, which has a list of the students and topics presented.
ARCE Senior Project Conference Program
Posted 6.9.08
Retirement Reception
In the picture on the left, Emeritus Professor Jake Feldman, Instructor Dennis Shallenberger and Emeritus Professor Satwant Rihal unite together representing 98 years of service given to the Architectural Engineering Program at Cal Poly. On June 9th, friends, family and colleagues gathered in the Berg Gallery to celebrate and congratulate Jake, Dennis and Satwant on their retirement. Jake Feldman, and Satwant Rihal, who have shared 37 and 39 years, respectively, both retired from full professorship in 2004 but pledged their dedication to teaching by participating in the Faculty Early Retirement Program, which ended this year. While they are officially retired from Cal Poly, they will join the part-time faculty pool to continue their love of teaching. Dennis Shallenberger, who has shared 22 years of service, has taken the CEO position in the local Earth Systems office and will no longer be able to share his time and wisdom of Soils Foundation with ARCE. The department extends their thanks to each of these special individuals and wishes them the best of luck and happiness in their future endeavors. You all will be missed!
Posted 6.4.08
Al Estes as SEAOSC Guest Speaker
Al Estes was the featured speaker at the Structural Engineering Association of Southern California (SEAOSC) dinner meeting on June 4th.  The presentation focused on the Cal Poly Architectural Engineering (ARCE) program and described how the program serves the structural industry of California through a curriculum that concentrates on structural design with a heavy seismic component, admitting only high quality students, offering practitioner faculty members an equal path to tenure, a priority on small class sizes, student faculty interaction and a emphasis on undergraduate teaching as opposed to research.  The program attempts to develop a partnership with the industry it serves.  As the ARCE program prepares a major assessment of its curriculum, the presentation discussed some areas that can be improved and examined how the curriculum is affected by ABET accreditation requirements and the national trend in civil engineering education brought forth by ASCE Policy 465 and the two revisions of the Body of Knowledge.  
A copy of the presentation can be found here as a pdf document: SEAOSC Presentation
Pictured above: Al Estes with past president, Fred Schott (left) and current president, Bill Warren.
Posted 6.2.08
Special Edition: ARCE Department Newsletter
The department's new and improved newsletter celebrates 60 years of history and success! It features images of the 60th Anniversary Banquet, the inauguration of our featured industry partner profiles and our quest to improve industry and alumni outreach. To view electronically, select the link below.
Posted 5.28.08
Professor Presents Research
Ed Saliklis presented his research on the use of environmentally friendly composites in thin shell structures at the 6th International Conference on Computation of Shell and Spatial Structures.  The conference took place May 28th-31st, 2008 at Cornell University. (http://www.iassiacm2008.us/)   
Participants arrived from 33 different countries to share and discuss their research on the behavior of thin shell and spatial structures.  The study that Ed Saliklis presented was co-authored by Kyle White, who graduated in 2007.  Kyle worked on this research for his ARCE Senior Project.
Extended Abstract: Testing, Modeling and Constructing Wood-Plastic Composite Catalan Vaults
Posted 5.28.08
ARCE and CE at the Civil Engineering Department Head Conference
Al Estes attended the annual Civil Engineering Department Head Conference in Charlotte, North Carolina from May 28 – May 30.  The meeting was attended by over 100 civil engineering department heads around the nation.  The program featured sessions on the future direction of engineering education, mentoring and motivating, the civil engineering body of knowledge, service based learning, and an update from the President of ASCE.  Gregg Fiegel, the Cal Poly Civil Engineering Chair, attended and made a presentation on Engineers Without Borders.  Al also attended the semi-annual meeting of the ASCE Department Head Council Executive Committee, where he represents the department heads from the architectural engineering programs around the country.  After the conference, Al Estes conducted a workshop for department heads on preparing for an ABET accreditation visit.
Al Estes attended the annual Civil Engineering Department Head Conference in Charlotte, North Carolina from May 28 – May 30.  The meeting was attended by over 100 civil engineering department heads around the nation.  The program featured sessions on the future direction of engineering education, mentoring and motivating, the civil engineering body of knowledge, service based learning, and an update from the President of ASCE.  Gregg Fiegel, the Cal Poly Civil Engineering Chair, attended and made a presentation on Engineers Without Borders.  Al also attended the semi-annual meeting of the ASCE Department Head Council Executive Committee, where he represents the department heads from the architectural engineering programs around the country.  After the conference, Al Estes conducted a workshop for department heads on preparing for an ABET accreditation visit.
Posted 5.26.08
ARCE Grad Student as SEAOC Guest Speaker
On May 22nd, 2008, SEAOC featured speaker David Lambert, a current student of our Master's program.  David discussed his senior project, the design and construction of an AIDS Orphan Home in Kenya, Africa, built from adobe bricks.  He also shared his experiences living in East Africa for 6 months and displayed some of the mementos from his trip.  Following the senior project presentation, David also discussed his Poly Kenyan Project in which students from the entire College of Architecture and Environmental Design are working together to design a school in Tanzania.  Dave concluded the presentation by opening up the opportunity for future projects in Africa involving the ARCE program, of which we're sure there will be many.
Posted 5.18.08
ARCE Students Receive Award Recognition
Student award recipients were officially recognized on May 18, 2008 during a college wide reception held in Chumash Auditorium.   R. Thomas Jones, Dean, began the Sunday reception with a welcome to over 250 guests comprised of founders, recipients, faculty, friends, and family. Zeljka Pavlovich Howard, City and Regional Planning Department Professor and CAED Scholarship Committee Chairman along with Don Swearingen, Architecture Department Professor presented awards to 154 CAED student recipients.  Of those recognized, 19 were ARCE students.  An additional four ARCE students won awards for off campus scholarships.  Links to a list of all ARCE recipients and pictures from the reception are available below.
Posted 5.17.08
Class of 2008 Senior Banquet
The senior class of 2008 celebrated this year's upcoming graduation on Saturday, May 17th at Steamers of Pismo. This year's banquet was organized by Carissa Auleb and Emily Morris. Faculty, family and friends shared in the excitement as students presented faculty and staff with a time honored tradition of special gifts specific to each recipient. Faculty members Al Estes and Kevin Dong then presented students with this years senior gift, an engraved ruler. The department recognized student Nathan Hicks for his outstanding academic excellence and student Hayley Soderlund for her dedication to department service.
Posted 5.14.08
Grad Students Attend Conference
On May 9, 2008, two ARCE graduate students, Lucy Redmond and Takayuki Yokoyama, attended the Los Angeles Tall Buildings Structural Design Council Annual Conference. The conference discussed modeling issues in nonlinear structural component properties characterization, planar and core wall systems and components, floor diaphragms, collectors, podium, and backstay effects as well as limit state design to achieve desired structural behavior in tall buildings. Speakers included Professor Jack Moehle (UC Berkeley), Professors Helmut Krawlinkler and Gregory Deierlein (Stanford), Professor John Wallace (UCLA), Professor Jose Restrepo (UCSD), Dr. Joe Maffei (Rutherford and Chekene), and Dr. Farzad Naeim (John A. Martin & Associates).
Pictured (left to right): Professor Gregory Deierlein (Stanford), Dr. Farzad Naeim (JAMA), Dr. Joe Maffei (R&C), Lucy Redmond, Professor Helmut Krawinkler (Stanford), Professor Jack Moehle (UCB), and Takayuki Yokoyama.
Posted 5.9.08
ARCE Industrial Advisory Board Convenes
The Cal Poly ARCE Industrial Advisory Board met on May 9th on campus and the primary topic of discussion was an assessment of the undergraduate curriculum.  The input from this Advisory Board meeting is the first step in a year and a half process to assess and revise the ARCE curriculum. The meeting began with a dinner at Tahoe Joe's and a chance to catch up on the past six months.  The formal meeting began with a discussion on the college vision with Dean Tom Jones.  Fellow department heads Al Hauck (Construction Management) and Henri deHahn (Architecture) joined Al Estes for a discussion of the curriculum and interdisciplinary opportunities.  The Board had a chance to discuss curricular issues with select groups of faculty and students before going into executive session and making recommendations to the faculty leadership.  The Advisory Board members in attendance were co-chairs David Mar and Ken O'Dell along with Art Ross, Bob Desautels, Grace Kang, Dani Paxton, Chris Manning, Jonathon McMurtry, Joshua Moody, Jake Feldman, and Tracy Harris.  The next meeting will occur in the Fall quarter.
Advisory Board Schedule- May 2008
Posted 5.8.08
SEAOC Guest Speaker Darell Lawver
On May 8th, 2008, SEAOC featured speaker Darell Lawver from Weidlinger Associates, Inc.  Darell discussed blast resistant design and its effects on structural engineering.  Blast resistant design is mainly done in government or other high-profile facilities, though its application has broadened as a result of 9/11.  Darell also covered the extensive testing done on specific structural components to ensure their stability during and after a blast.
Posted 5.7.08
Alumni Visit
David Balk visited the ARCE program on May 7th.  Dave graduated from this program in 1981 and is currently a Captain in the Navy working in Norfolk as the Operations Officer for Naval Facilities Command.  Dave visited with his old mentor Sat Rihal, took a tour of the lab facilities and debated with Al Estes as to who would win the next Army-Navy game.
Posted 5.3.08
Simpson Strong-Tie Symposium
On May 3, 2008, Simpson Strong-Tie hosted their 13th Annual Workshop for a record number 65 ARCE, CM and CE students and faculty. Presentations began at 7:30 AM in a lecture room on campus and were led by Cal Poly alumni Ricardo Arevalo, S.E. and Chris Burnett, P.E. Following a walk down to the Engineering West Concrete Yard, Patrick Rozier and Jason Oakley, P.E. led a presentation on Anchor Demonstrations and Alan Hanson, John Krueger and Tom McClain, P.E followed up with Connector Demonstrations. The symposium ended with a BBQ lunch sponsored by Simpson Strong-Tie, which was prepared by our very own members of SEAOC.
Many thanks to Simpson Strong-Tie for their continuous generous support!
Posted 5.3.08
ASCE Committee Meeting
Al Estes attended the semi-annual meeting of the American Society of Civil Engineers (ASCE) Educational Activities Committee in Crystal City, Virginia on May 3 – 4.  Al currently serves as the Architectural Engineering Institute liaison member of this committee.  A primary agenda item for the meeting was integrating the nation's architectural engineering programs into ASCE committees on student activities, curricula and accreditation committees, and the department head council.  Gregg Fiegel, Chair of the Cal Poly Civil Engineering Program is also a member of the ASCE Educational Activities committee.
Posted 5.1.08
SEAOC Guest Speaker Jason Oakley
SEAOC presented speaker Jason Oakley from Simpson Strong-Tie on May 1st, 2008.  Jason talked about the design and construction of the H.M.S. Surprise, the battleship featured in the movie "Master and Commander: Far Side of the World."  The presentation was a great example of just how "fast tracked" a project can be, since many elements of the ship's structural system were literally developed the night before fabrication.  It was also a great example of one of the many unconventional fields structural engineering can come into play.
Posted 5.1.08
Student Explores Sustainability
ARCE student, Lisa Aukeman, explores the role of structural engineers in sustainability in the paper titled " Sustainability and Structural Engineering. To view her paper, please select the link below.
"Sustainability and Structural Engineering"
Posted 5.1.08
Alumni Visit- Bruce Danziger
Bruce Danziger visited the campus as a guest lecturer for Kevin Dong in May.  Bruce is a 1988 ARCE graduate and currently works for Arup in Los Angeles.  Bruce dropped by the new ARCE administrative area with Associate Dean Richard Zweifel and SEAOC Student Hayley Soderlund.
Posted 4.29.08
Faculty Attends ASCE Structures Congress
Al Estes, Pamalee Brady and Brent Nuttall all attended the ASCE Structures Congress in Vancouver, Canada from April 24 – 26 for the purpose of attending the Structural Engineering Institute (SEI) professional society committee meetings.  The conference program featured a variety of technical sessions with topics ranging from bridge and transportation structures and wind engineering to business and professional practices and educational issues.  Al Estes attended the meetings for the Committee on Optimal Structural Design and the Committee on the Safety of Buildings.  Pamalee Brady chairs the Education sub-committee of the Technical Council on Forensic Engineering.  Brent Nuttall attended the SEI Design Practices Committee and the Executive Committee Meeting of the Business and Professional Activities Division of SEI.
Posted 4.28.08
ARCE and ARCH Students in Collaborative Design
This year Architectural Engineering students and Architecture students are working collaboratively in a design studio.  The students are entering the ACSA/AISC steel competition.  In March, the ARCE and ARCH students spent four days in Seattle visiting the project site, conducting site analysis, touring housing developments, touring local landmarks, and visiting architectural and engineering consulting firms.
Posted 4.8.08
Alumni Visit - John Nissen
John Nissen, a principal for JMN Consulting Engineers in Seattle, visited the Cal Poly ARCE program to speak with students about employment and internships on April 1st.  He is a 1979 graduate of the ARCE program. John has been a regular at the annual Structural Forums as the program is seeing an increasing number of employers from Washington participating in our activities and hiring our graduates.
Posted 4.8.08
Alum Receives Award of Excellence
"In January of this year I submitted my Cal Poly Senior Project into a design competition for the Post-Tensioning Institute (PTI) - a concrete industry trade association for high-strength post-tensioned steel design and construction. Today I am proud to announce that my project has been selected for an Award of Excellence for Student Projects.  It is a great honor for me to receive this recognition and I wanted to share the great news! 

The awards are meant to showcase impressive feats in the world of post-tensioned (PT) concrete design and construction.  My project was an experimental study of the ability of high-strength post-tensioned reinforcing to off-set the potential devastating effects of understrength concrete. 

I designed and constructed a 5" thick, 24" wide and 16'-0" long concrete slab using post-tensioned cable reinforcing.  The slab was able to withstand nearly 5,000 lbs of force at mid-span, deflected nearly 3 inches, and when unloaded, it nearly rebounded back to it's original shape - only maintaining a permanent deflection of 1/2".  Think of concrete bending like a bow and arrow - it was pretty amazing. 

What my project showed was that with PT reinforcing, a concrete slab that achieves only 1/2 of its intended design strength can easily withstand it's original design forces, and can even be loaded well past the anticipated failure load, and still retain its structural integrity, and nearly maintain its original shape. 

Thanks to everyone who helped with the project, and to all of you who have supported and encouraged me through the years!"

-Tylor Middlestadt
Class of 2007
PTI Awards Competition 2008 Winners
Posted 4.1.08
Industry Partners
Vern Hastings and Jim Nesbitt visited the Cal Poly Architectural Engineering and Construction Management programs in March to observe the "learn by doing" philosophy in action.  Both are visiting from Arizona and are long time friends of the CM program.  Vern is a retired Air Force colonel with ties to Arizona State University and Jim is the President of Nesbitt Contracting Company in Tempe. Al Hauck, the CM Department Head, provided a tour through both programs.
Posted 4.1.08
Alumni Visit
Jeffrey Haight was one of the first alumni visitors to come check out the new Architectural Engineering administrative area. Jeff is a 1988 graduate of the ARCE program and was visiting from Goleta, California, interviewing prospective students for Ehlen Spiess & Haight Incorporated in Santa Barbara.
Posted 3.25.08
ARCE Selects New Logo
After a year long quest, the Architectural Engineering Department has selected a logo to represent the department.  The department head sponsored a contest for a new logo design among the ARCE students and faculty in the Spring of 2007.  While there were a number of high quality entries, a winner did not emerge.  As an alternative approach, the assignment was offered to a class of Art and Design majors taking ART 332 Symbology taught by Katie McCormick.  Each of the 22 students in the course was required to design two logos.  Al Estes, Christine Cobb, Carrie South, Henri deHahn and Kevin Dong all participated in the in-progress reviews and final presentations.  The collection of logos was then presented to the faculty, students and all interested parties who voted and commented on their choices.  The winning entry which incorporates the Cal Poly hills and reflects the ARCE mission to educate students in the design of building structures was submitted by Chris Tollefson.  Al Estes formally presented Chris with a letter of certification and a $100 gift certificate.
Posted 3.24.08
ARCE in the Bay Area
Al Estes and Abe Lynn visited several prominent structural design firms in the Bay Area on March 24-25.  Abe is currently on difference in pay leave for the year working in the Oakland office of Degenkolb.  The first visit was to Forell/Elsesser Engineers Inc. where Al and Abe met with Mason Walters, Allen Nudel, Russell Berkowitz, and Jim Guthrie.  Jim will be joining the Cal Poly ARCE faculty next Spring.  Al and Abe visited the San Francisco office of Degenkolb and had lunch with Jim Malley.  They visited Marisa Turner (ARCE grad) and Andrew Hogue (ARCE grad and former faculty member) in that office.  After a meeting with Peter Revilli and Thomas Lauck in the office of Rutherford and Chekene, Al and Abe were given an office tour that included a visit with Dave Bleiman and ARCE grads Anne Roche, Tim Lucido, and Kristen Myers.  Al visited Dasse Design Inc. and met with Tim Hart.  Of course, the best part of the visit was an ARCE get-together at the Biersch Brewery on the Embarcadero.  A number of alumni and friends of the department attended to include Andrew Hogue, Anthony Giammona, Aquavi Hine, Brian Caruso, Christian Tipping, Daniel Bastiao, Erin Gibbons, Gordy Wray, Heidi Faison, Hillary Lynn, Jennifer Lynn, Jim Guthrie, Julie Thompson, Justin Yabrof, Lucy Redmond, Makesha Patterson, Marc Samuel, Mario Saldana, Marisa Turner, Petra Schalla, Phillip Bastiao, Rachel Martin, Shane Gross, Steve Patton, Tiffany Martindale, Tim Lucido, Whitney Morris, and Zach Karsh-Kardon.  Aside from strengthening our partnership with industry, one major purpose of the trip was to advertise the first year of the masters program and offer the opportunity for industry to be involved with masters projects.
Posted 3.17.08
SEAOC Speaker
On Thursday, March 6th, 2008, SEAOC presented Tim Hart from DASSE Design.  Tim spoke about a volunteer organization, Build Change, that aimed to rebuild homes in Indonesia after the 2004 earthquake & tsunami, which since then has continued to expand to other regions.  Tim, along with Build Change, worked with local Indonesian builders to design homes to be more earthquake resistant, as well as of a higher construction quality.  Working on a commission from the Indonesian government, they designed a basic plan for a house that could be reproduced in mass quantities to help the people of Indonesia rebuild quickly and efficiently.
Posted 3.1.08
American Society of Civil Engineers 
Al Estes participated in the American Society of Civil Engineers semi-annual meeting of the Committee on Faculty Development held at the University of Texas at Tyler on March 1st and 2nd.  This committee runs the ASCE Excellence in Civil Engineering Education (ExCEEd) Teaching Workshops that are held every summer.  In addition to evaluating the applications for this summer's workshops and choosing this year's ExCEEd teaching awards, the committee discussed the "Who Should Teach" chapter of the Body of Knowledge, a 10th year anniversary journal article, and future initiatives.  Al is the Department Head Council Executive Council Liaison to this committee.
Posted 3.4.08
SEAOC Speaker
On Thursday, February 28th, 2008, SEAOC featured speaker Fred Schott, President of the Structural Engineers Association of Southern California.  Fred spoke about a movable brace frame system designed for launching missiles.  The presentation was a great example of a non-building structure that is still similar in design to a building.  Some of the project's notable elements included "sanitary" rooms near the top of the structure, as well as a movable roof that covered the missile launch area.
Posted 2.27.08
Industry Partners Visit ARCE
Al Estes met with Paul Kovach and Ian Chin from WJE (Wiss, Janney, Elstner Associates) Engineers, Architects, Material Scientists on February 27th.  Paul is a Senior Associate at WJE and is a 1997 graduate of the ARCE program.  Ian Chen is a vice president and senior principal at WJE.  Paul, Ian and Al had dinner at Café Roma and discussed potential research collaboration between WJE and the Cal Poly ARCE program.
Posted 2.27.08
"Simplicity, Scale, and Surprise: Evaluating Structural Form"
Ed Saliklis' latest article, "Simplicity, Scale, and Surprise: Evaluating Structural Form", appears in the March 2008 issue of the ASCE Journal of Architectural Engineering.  Ed co-wrote the article with Michael Bower and David Billington, both from Princeton University.  The article presents the aesthetic and ethical issues of building design to encourage meaningful discussion among today's architectural engineering students and practitioners. The evaluative aesthetic ideas of scale, simplicity, and surprise are applied to two important structures designed by Fazlur R. Khan. Khan's profound understanding of load flow in his buildings influenced his aesthetic ideas. Furthermore, his aesthetic ideas were intimately intertwined with his ethical ideas about structural logic and the role of structure in architecture. The article explores these ideas and presents new insights as well. Professor Saliklis' goal is to encourage a public discourse within our profession on the topic of evaluating structural form. 
Article: "Simplicity, Scale, and Surprise: Evaluating Structural Form"
Posted 2.17.08
Alumni Visit
Al Estes met with John F. Jones, a 1987 graduate of the Architectural Engineering program, when John visited San Luis Obispo on February 22nd.  John has recently started his own firm, JF Jones Company Consulting Engineers, in San Rafael.
Posted 2.15.08
Ed Saliklis Visits Princeton
Ed Saliklis was invited to give a seminar to structural engineering graduates students at Princeton University on February 15th, 2008.  His talk was entitled "Material Testing and Finite Element Modeling and Benchtop-Scale Construction of "Green" Catalan Vaults"
This seminar showed the progress that Ed is making on the use of recycled plastic tiles as a structural unit of a thin shell roof structure.  After the seminar, Ed met with several of the graduate students to further discuss the project and to explore possible future mentoring of some of the new Masters candidates at Princeton.
Posted 2.1408
SEAOC Guest Speaker
On February 14th, 2008, SEAOC featured Jan Dougalas from KPFF.  She spoke about Exterior Cladding and the issues structural engineers face when designing for this type of system.  Specifically, she addressed issues such as slip joint considerations, building corners, precast systems, and metal stud systems.
Posted 2.7.08
SEAOC Guest Speaker
On February 7th, 2008, SEAOC featured ARCH, ARCE, and CM alumni from Cal Poly speaking about the new Kaiser Permanente hospital being constructed in Vacaville, CA.  The featured speakers included Richard West who is the Senior Project Manager from Kaiser Permanente, Kevin Clinch from ARUP who is the structural engineer on the project, and Mike Gipson from Rudolph and Sletten who are the general contractors on the project.  The project was presented through the eyes of the owner, engineer, contractor and architect.  The hospital is unique in that its design is derived from a "template" plan in use by other Kaiser hospitals around the state.  A general overview of the "template" floor plan was given, as well as a description of the building's structural system and issues they faced in its design.  The intense governmental regulations surrounding the design and construction of hospitals were also discussed, including the issues faced by the design team when dealing with the various state agencies involved in the process.
Posted 2.2.08
18th Annual Structural Forum
SEAOC's 18th Annual Structural Forum went off without a hitch this year, thanks to the support and participation of everyone involved.  The theme was "Engineering for Entertainment" and the guest lectures covered a wide variety of topics and projects.  Edward McCue from Kirkegaard Associates, who traveled all the way from Colorado, gave a presentation on acoustic design and its impact on architectural and structural design.  Janah Risha of Risha Engineering Group spoke on structural engineering for movie sets, focusing on a few key projects that he has completed recently.  Chuck Whitaker from John A. Martin and Associates closed out the afternoon of lectures with a talk covering numerous large-scale entertainment venues such as stadiums and concert halls.  Also from John A. Martin and Associates, Kurt Clandening acted as the keynote speaker for the event, providing a light hearted and motivating speech that successfully ended the 18th Annual Structural Forum.
The evening's Career Symposium and dinner was as full as ever, demonstrating the continuing and growing success of Cal Poly's Student Chapter of SEAOC; in attendance were roughly 170 students, 90 company representatives, and 20 Faculty and Staff.  Be sure to view the list of attending companies whose contributions and support make Structural Forum happen.
Posted 2.1.08
60th Anniversary Celebration
The ARCE department is 60 years old and we celebrated the occasion on February 1st with a grand banquet at the Shorecliff Lodge in Pismo Beach.  Over 130 people attended which included a wide range of alumni who spanned our entire history as a department, as well as faculty, former faculty and students.  Through the generous sponsorship of alumni and industry partners, twenty-two students were able to attend.  Ken Schwartz, the last surviving member of the original founding faculty attended and shared several anecdotes with the audience.  Tracey Hasslein represented her late father George Hasslein at the head table. 
After a cocktail hour that featured a sunset over the Pacific Ocean, the official ceremonies began with a welcome from Department Head Al Estes and Dean Tom Jones.  Dinner ended as Ken Schwartz and Al Estes officiated the cake cutting ceremony.  Faculty member Ed Saliklis and college photographer Josef Kasparovich provided the musical selections.  Ed wrote and sang songs that parodied the LRFD design code and romanticized the ARCE program.  The highlight of the evening was a 20 minute video produced by Josef Kasparovich that combined music, photographs and video interviews that celebrated the history of the ARCE department.  Short video vignettes were provided by Ken Schwartz, Bill Brown, Paul Neal, George Ikenoyama, John Edmisten, Sat Rihal, Mike Botwin, Nick Watry, Jake Feldman, Pamalee Brady, David Wright, Mike Brown, and Lucy Redmond. The 
Al Estes shared his thoughts on the future of the department which include upgraded facilities, endowed practitioner professorships, partnership with industry, a growing masters program, outreach to alumni, curriculum revisions and more creative opportunities for students.  To showcase the new masters program, current graduate student Dave Lambert previewed his masters project which involves designing a school in Tanzania.  The evening ended with the judging of the centerpieces.  Each table was provided with a bag of K'nex toys and challenged to create a centerpiece for their table.  The competition was co-judged by Tom Jones and the ARCE Advisory Board Chair, Ken O'Dell.  The winning creation was built by Associate Dean Dick Zweifel and his table.
*To view the video and slide show, you will need to the latest version of Firefox internet browser or Internet Explorer and an updated version of Flash player.
Posted 2.1.08
60th Anniversary Celebration
Celebration: ARCE Turns 60!
Join us for the 60th anniversary of the Cal Poly Architectural Engineering Department February 1st, 2008 at the Shore Cliff Lodge in Pismo Beach. Scheduled for the night prior to Structural Forum, the dinner will provide an opportunity to reconnect with old friends as well as celebrate the department's many achievements, applaud the alumni who continue to provide a valuable connection between academia and practice, and learn of a vibrant future. For more information, please see links provided below or contact the ARCE office at 805.756.1314.
60th Anniversary Invitation (PDF)
60th Anniversary Response Card and Banquet Menu (PDF)
Posted 1.31.08
Alumni Visit
Julius Mirza visited with Al Estes on January 31st. Julius is an ARCE graduate of the class of 1957 who was not able to make the class reunion in November, but was able to join us from his home in Turlock, California for the 60th Anniversary Banquet.
Posted 1.31.08
SEAOC Speaker, Bob Glasgow
On Thursday, January 31st, 2008, Bob Glasgow from Miyamoto International Inc. addressed the SEAOC Student Chapter regarding the Niigata, Japan and Sumatra, Indonesia earthquakes which struck those regions in 2007.  Both earthquakes caused considerable structural damage, though thankfully the loss of life was much less than it could've been.  Miyamoto was sent to the region to analyze the after effects of the earthquakes and provide recommendations to the governments on how to protect against future disasters.  Bob's presentation included numerous photos Miyamoto took while in Indonesia and Japan, as well as various statistics compiled by Miyamoto to help in analyzing the scope of the earthquakes.  Bob Glascow is a Principal in the firm and works in Miyamoto's Sacramento office
Posted 1.26.08
Heavy Timber Design Speaker at Cal Poly
On Saturday, January 26, Ben Brungraber Ph.D. P.E. of Firetower Engineered Timber gave a guest lecture, sponsored by TAESF (ARCE Student Fees Advisory Board), on Heavy Timber Design.  Over seventy students turned out to hear about Ben's twenty year experience in designing heavy timber structural systems.  His projects have ranged from straight forward covered bridge and church retrofits, to curvilinear framing for a project designed by Frank Gehry at a Napa winery.  The lecture was quite informative and extremely interesting, and allowed students to gain an insight on a subject only briefly touched upon in the ARCE curriculum.  It is the goal of TAESF to continue to bring in guest lectures and help enrich the education received in the ARCE department.
Posted 1.26.08
TAESF Speaker on Heavy Timber Design
This Saturday January 26th from 1:00 – 3:00 pm TAESF (ARCE College Based Fees) will be hosting a guest lecturer in Philips Hall. 
Ben Brungraber Ph.D. P.E. will be speaking on Heavy Timber Design.  Ben is hailed as "…the engineer largely responsible for the modern timber frame revival" (http://bensonwood.com/).  This is an excellent opportunity for students and faculty to learn more about an exciting topic from the man who pioneered many of the applications used today.  For more information please refer to the attached flyer or email Lucas Hogan: lhogan@calpoly.edu .
Posted 1.16.08
SEAOSC Meeting in Santa Maria
Clay Pharoah and Al Estes attended the Structural Engineer Association of Southern California (SEAOSC) Dinner Meeting in Santa Maria on January 16th.  Three ARCE students (Hayley Soderlund, Brian Planus and Emily Morris) were able to attend as well.  The dinner was held at the Radisson Hotel and was combined with a seminar series on the new International Building Code by S.K. Ghosh and Associates.  The dinner provided a great opportunity for students and faculty to socialize with industry practitioners in the local area. 
Posted 1.16.08
Department Head Meets with Industry Partner
Al Estes met with Sanjay Pandya, a Managing Principal from Walker Parking Consultants in San Francisco.  They discussed how Walker Parking Consultants can become more involved in the Cal Poly ARCE program.  In particular, they considered interdisciplinary internships, joint master degree projects, guest speakers, and sponsoring various ARCE activities.
Posted 1.16.08
ARCE Student Receives SWE Award
Hayley Soderlund has been named as one of Cal Poly's five Outstanding Women in Engineering by the Society of Women Engineers.  Hayley received the award as part of the Society of Women Engineers annual Evening with Industry (EWI) banquet on January 18, 2008 at the Embassy Suites in San Luis Obispo.  There were 19 highly qualified nominees for this award from every engineering department on campus and five were chosen for the award which was based on grade point average, industry experience, demonstrated leadership and faculty recommendation.  Hayley's accomplishments included service as the SEAOC student chapter president, an experience abroad in Italy, her internship with Buehler and Buehler in Sacramento, and one of the highest grade point averages in the ARCE program.  Hayley was the only nominee and award winner outside of the College of Engineering
Posted 1.16.08
ARCE Student Wins EERI Student Paper Competition
Alma Garcia, a fourth year ARCE student has been selected as the winner of the 2008 Earthquake Engineering Research Institute (EERI) Student Paper Competition in the undergraduate student category for her paper, "Experimental Seismic Fragility Assessment of Nonstructural Components and Systems in Multistory Buildings."  Her award includes attendance at the 2008 EERI Annual Meeting, February 6–9, 2008, and covers airfare, the meeting registration, and lodging for up to three nights in New Orleans, LA.  Alma's paper can be accessed below.
Alma Garcia EERI Student Paper
Posted 1.3.08
Wind and Seismic Seminar at Cal Poly
The San Luis Obispo office of John A. Martin and Associates and the Cal Poly ARCE Department started the New Year by collaborating to offer a joint seminar on the wind and seismic provisions of the new International Building Code.  The two day seminar was held in the ARCE Department (Graphic Arts building) and presented over two days on January 3rd and 4th by Dr. S.K. Ghosh, President, S.K. Ghosh Associates Inc.   Dr. Ghosh actively participates in the development of national design standards as a member of: ACI Committee 318, the ASCE Standards Committee on Minimum Design Loads for Buildings and Other Structures (ASCE 7), the Masonry Standards Joint Committee, and the Provisions Update Committee of the Building Seismic Safety Council. He is on the Board of Directors of the American Concrete Institute (ACI) and the Earthquake Engineering Research Institute (EERI).  The seminar was attended by full time faculty member Ed Saliklis, master's student Erik Lee, and part time faculty members David Carter, Jake Feldman, Thomas Hawkins, Andrew Hogue, Kelsey Parolini, Michael Parolini, and Jon Tarantino.  Joshua Moody, a member of the ARCE Advisory Board and Head of the John A Martin and Associates SLO office hosted the seminar and made all of the logistical arrangements
.
Posted 1.2.08
ARCE Department Newsletter
Retrofit: Strengthening ARCE for the Futuer
ARCE Advisory Board Is Reconstituted
Outreach Into The Professional Community
"Engineering For Entertainment," Cal Poly SEAOC's 18th Annual Structural Forum.
Check out our annual winter newsletter to see what the ARCE Department is up to.
Posted 1.2.08
Alumni Visit
Curtis Yokoyama visited the ARCE program to conduct student interviews on behalf of the Fluor Corporation. Curtis graduated from the Cal Poly ARCE program in 1996.  The Fluor Corporation has been a generous and consistent supporter of the Architectural Engineering program.
Posted 11.19.07
SEAOSC Student Scholarship
SEAOC Student Members:
SEAOSC is giving away a scholarship up to $2,000 to one Cal Poly student!!!
You can e-mail the following requirements to Pamalee Brady at pbrady@calpoly.edu before the deadline of December 3rd.
Requirements: Statement of purpose about interest in structural engineering - 2 pg max
Resume with phone number and email address
If you have any questions contact Hayley Soderlund at hsoderlu@calpoly.edu
Posted 11.13.07
James Mwangi Attends Masonry Society Annual Meeting
James Mwangi attended the Masonry Society Annual Meeting in Pittsburgh, PA from 8 - 13 November, 2007.  James was elected to both "Construction Requirements" and "Shear" subcommittees of the 2011 Masonry Standards Joint Committee (MSJC).  His first task in the subcommittee will be to review the existing MSJC code shear provisions in regard to the interaction between steel shear reinforcement and masonry.  He will be comparing these provisions with similar ones in the New Zealand design code.
Posted 11.10.07
Alumni Visit ARCE
Dick Neill and Don Mills, two ARCE graduates from the class of 1957 returned to campus on November 9-10 to celebrate their 50th year reunion.  Dick brought his grandson Michael.  They took the campus tour on Friday and joined Al Estes and Linda Kristenson for dinner at the Buona Tavola restaurant on Saturday evening.  Both Dick and Don came with a multitude of stories about what the architectural engineering program was like a half-century ago.
Posted 11.9.07
Craig Baltimore Attends Masonry Society Annual Meeting
Craig Baltimore attended the Masonry Society Annual Meeting in Pittsburgh on November 9th and 10th. His involvement is active participation the Technical Activities Committee and on the Standards Development Committee.  In addition to his committee work, he attended the General Sessions discussions. The morning General Sessions focused on façade preservation and rehabilitation,while the afternoon sessions were on the building and the continuing development of the IBC.
Posted 11.8.07
SEAOC Speaker, Brenda Guyader
On November 8th, SEAOC featured speaker Brenda Guyader from Degenkolb Engineers out of San Diego.  She spoke about a 15-hour continuous pour of a mat slab that was done in no less than 100 degree temperatures, as well as the impact it had on the surrounding community.
Posted 11.3.07
SEAOC Field Trip to Bay Area
Twenty members of the SEAOC Student Chapter attended a field trip in San Francisco on November 2 and 3, 2007. A site tour of the Campion Hall renovation at the University of San Francisco was given by Vincent Pasquini (ARCE 2003) of DEVCON Construction. The students then preceded to the structural engineering firm of Nishkian and Menninger who provided lunch and an extremely informative presentation / office tour.
The afternoon was devoted to the Cathedral of Christ the Light in Oakland. Skidmore, Owings and Merrill's San Francisco office outlined design process of the structural system for the Cathedral as the highlight of their office tour. The students then took advantage of the unique opportunity to visit the Cathedral construction site. The mix of construction sites and office visites on the field trip provided the students with an excellent opportunity to experience what they will be involved in after graduation. The morning of November 3 the students absorbed the culture available at the De Young Museum of San Francisco before heading back to San Luis Obispo.
Posted 11.2.07
ARCE Advisory Board
The ARCE Advisory Board met on November 2nd at Cal Poly to continue to provide advice and counsel to the Architectural Engineering program.  The first meeting of the newly constituted board took place on June 8th and we built on the progress made at that time.  Board members in attendance were Ken O'Dell (co-chair), David Mar (co-chair), Chris Manning, Bob Desautels, Jake Feldman, Jorn Halle, Josh Moody, Art Ross, Tracy Harris and Jonathon Mcmurtry.  The board members met for dinner at Café Roma the night before the meeting.  The Board meeting began as Al Estes provided an ARCE Program assessment that assessed the state of the program, discussed the upcoming accreditation, and set the priorities for the year.  The Board toured Engineering West to observe the ongoing renovation and visited Crandall Gym to assess its value as a CAED asset.  The Board then interviewed groups of faculty, masters students and undergraduate students.  After lunch, the Board focused on the issues of advancement, interdisciplinary cooperation with construction management and architecture, and the masters program.  Al Hauck, the Head of the CM department visited to discuss interdisciplinary opportunities and Linda Kristensen, the assistant Dean for advancement, represented the college for the advancement discussion.  Kevin Dong presented the update on the masters program.  Afterwards, the board moved to executive session for a discussion with the department leadership.  The next meeting will take place in the Spring and will focus on the curriculum.
Posted 10.27.07
ARCE Faculty Receive Grant from California Military Department
Kevin Dong and Cole McDaniel have received a grant for $10,800 from the California Military Department to lead ARCE students through the design of structures located on the California National Guard Base, Camp San Luis Obispo, in San Luis Obispo, California.  The goal of the grant is to introduce students to real world projects while they are still in school so that upon graduation they will be better prepared to successfully design structures, keeping in mind the need to clearly communicate with the client and other building disciplines throughout the design process, the need to be sensitive to the project timeline and budget, and the need to develop the final design while focusing on both the integrity and the constructability of the structure.
Posted 10.18.07
SEAOC Speaker, Ken O'Dell
On Thursday, October 18th, SEAOC featured speaker Ken O'Dell from MHP in Long Beach, California.  A graduate of Cal Poly's own ARCE program, Ken gave an engaging presentation about the challenges facing structural engineers in today's world and how they fit into each phase of the design process.  After his initial presentation, Ken held a brief Question & Answer session in which he addressed some of the concerns students had about the profession
Posted 10.11.07
SEAOC Speakers, Anne Roche and Kristen Myers
On October 11th, the SEAOC student chapter hosted Anne Roche from Rutherford and Chekene as part of the weekly guest lecture series.  Anne is a 1985 graduate of the ARCE program and was accompanied by Kristen Myers who graduated from the ARCE program last year.  Anne and Kristen discussed their work on the seismic retrofit of the San Francisco Cannery
Posted 10.1.07
ARCE Student Receives Scholarship from SEAOSC
Marga Lamoreaux, a senior architectural engineering student, received one of two scholarships awarded by the Structural Engineers Association of Southern California (SEAOSC) and the Structural Engineers Auxiliary. 
Posted 9.28.07
ARCE Reception at SEAOC Annual Conference
Structural Engineer Association of California (SEAOC) Annual Conference at Lake Tahoe on September 28th.  Over 50 alumni and friends of the department attended the event held in the Squaw Creek Lodge.  Al Estes made a presentation that included introduction of faculty members,
an explanation of the department's new initiatives, a reminder of what makes the Cal Poly ARCE program unique, and a raffling of door prizes.  ARCE faculty and staff members who attended the conference included James Mwangi, Cole McDaniel, Clay Pharaoh, Christine Cobb and Abe Lynn.  Abe is currently on difference in pay leave working for Degenkolb in the Bay Area.  We used this opportunity to present Abe with his Cal Poly Faculty Advisor of the Year Award.  Hayley Soderlund, the SEAOC Student Chapter President, made a few comments about this year's events and introduced the other student SEAOC officers in attendance: Taka Yokoyama, Leigh Guggemos, and Jackie Webber.  This is the second year in a row that the department has hosted a reception at the SEAOC Conference.  Last year's event took place in Long Beach.  The reception is intended as an outreach to our industry partners who hire our graduates.  The conference program and technical sessions were a great professional development opportunity for both the students and faculty who attended.
Posted 9.21.07
Al Estes attends ASCE Education Activities Committee Weekend
Al Estes attended the American Society of Civil Engineers Educational Activities Committee Weekend in Reston, Virginia on 21 – 22 September.  The annual weekend event consists of meetings of all constituent sub-committees that support the educational efforts of ASCE.  Al is a member of the Educational Activities Committee, Committee on Faculty Development, and the Department Head Council Executive Committee.
Posted 9.10.07
Alumni Visit
David Galarza, ARCE Class of 1995, visited the department on September 10th.  He is currently living in Pacific Grove and is working as a structural representative for Caltrans.
Posted 8.24.07
ARCE Alumni and Friends- SEAOC 2007 Convention LOCATION UPDATE!
A Message from Al:
I am pleased to announce that the Cal Poly Architectural Engineering Department will be hosting a reception for graduates and industry friends of our program in conjunction with the annual Structural Engineers Association of California (SEAOC) 2007 Convention.  If you are attending this year's SEAOC Convention or just happen to be in the Lake Tahoe area on the evening of Friday, September 28th, please join us.  It will be an ideal opportunity to meet with fellow alumni, receive a quick update on your ARCE program and socialize with some current ARCE faculty members.  It will be fun and I hope that you will consider attending.  Please see the attached postcard for more details.  If you are planning to attend, we would appreciate an RSVP at arce@calpoly.edu or (805) 756-1314
The reception will be held on Friday, September 28th from 5:30 pm-8 pm. The location is the Resort at Squaw Creek- Alpine A Room, 400 Squaw Creek Road, Olympic Valley, CA.  I hope to see you there.
Al Estes
Email: acestes@calpoly.edu
Posted 8.18.07
Alumni Visit
Paul Ring, who is currently working on real estate development in San Jose, visited Al Estes and  the ARCE department in conjunction with a gymnastics reunion on May 26th.  Paul and his wife both graduated from the Cal Poly ARCE program in 1993.
Posted 8.15.07
2007 ASCE Structures Congress - May 16th - 19th, Long Beach, CA
ARCE faculty members Pamalee Brady, Cole McDaniel and Brent Nuttall attended the 2007 ASCE Structures Congress from May 16th – 19th in Long Beach, CA.  Pamalee Brady participated in the ASCE Technical Council on Forensic Engineering Executive Committee meeting and the ASCE Education Committee meeting.  As the chair of the Design Practices Committee, Brent Nuttall participated in the ASCE / SEI Business and Professional Activities Division Executive Committee meeting.
All three faculty members attended numerous presentations on a variety of topics including earthquake engineering, seismic rehabilitation, sustainability, concrete design and steel design.  Main points from the conference presentations were reviewed with ARCE students upon return to Cal Poly.  For example, a very informative power point presentation focusing on ASCE 41 by Mike Valley of Magnusson Klemencic Associates was presented to the ARCE 483 class.
All three faculty members also enjoyed the opportunity to network with a number of structural engineers, professors, and former Cal Poly ARCE students who are now practicing in the field of structural engineering.
Posted 8.2.07
Alumni Visit
Jeff Sorenson, a 1981 graduate of the Architectural Engineering program, visited campus and met with Al Estes on August 2nd.  Jeff was traveling from his home in Goodlettsville, Tennessee.  Jeff is a Vice President and Program Manager for CH2M Hill Constructors, Inc.
Posted 8.2.07
ARCE and CAED in the News!
How safe are the bridges along the Central Coast?
KSBY, Thursday, August 2, 2007
The head of Cal Poly's Architectural Engineer Program said the Minnesota bridge collapse is a surprise to many but it is not the first. The Silver Bridge event in 1967 was the catalyst for a mandate that all highway bridges in the country be inspected every two years. "This happens so rarely. You look at the number of collapses and there's maybe one per decade out of 600,000 highway bridges in the system. So it's extremely safe," said Cal Poly Architectural Engineer Allen Estes.
SLO cultivates an architectural style all its own: A number of new structures features a 'neo-agrarian' design, taking cues from barns, silos and other agricultural elements
The Tribune, Sunday, Jul 1, 2007
The agricultural sciences building at Cal Poly echoes the shapes of a barn and silo with a built-in greenhouse. CAL POLY AGRICULTURAL SCIENCE BUILDING  Cal Poly campus, San Luis Obispo  Mirroring a nearby barn and silo on the Cal Poly campus, the structure is one of the first in the county to exemplify the neo-agrarian look.
CAMPUS SHAKE-UP
Inside Bay Area, CA
Jul 1, 2007
WHEN VOTERS PASSED the 13,651-word Proposition 1D in November to give $10.4 billion for school construction, few realized that embedded in it were 59 words that would lower seismic safety standards at community colleges across California. "This change is for the benefit of the builders, and not the benefit of the students," said Paul Neel, dean emeritus of the California Polytechnic State University's College of Architecture and the California state archiQUAKEINews 15tect from 1989 to 1991. "It's hard for me to fathom that you would gamble with safety like that."
Posted 8.2.07
Al Estes and Ed Saliklis attend American Society for Engineering Education annual Conference
Al Estes and Ed Saliklis attended the American Society for Engineering Education annual conference in Hawaii from June 24 – 27. 
Ed Saliklis presented his paper 2007-313: EVALUATING STRUCTURAL FORM: IS IT SCULPTURE, ARCHITECTURE OR STRUCTURE?
Saliklis surveyed nearly 1000 college students who were studying either civil engineering, architectural engineering or architecture.  In his survey, he asked the students their subjective opinions on categorizing structural form as either sculptural, architectural or structural. 
Al Estes authored four papers and presented three at various sessions during the conference. 
Paper 2007-875: SURVIVING ABET ACCREDITATION: SATISFYING THE DEMANDS OF
Paper 2007-1356: TRAINING FOR ADJUNCT FACULTY
Paper 2007-871: ORIENTATION FOR NEW DEPARTMENT HEADS
Paper 2007-870: ARCHITECTURAL ENGINEERING PROGRAMS: FINDING COMMON GROUND
Al was also a presenter during the Ethics Live session which examined specific case studies.  Both Al and Ed participated in many of the Civil Engineering Division and Architectural Engineering Division business activities and social events.
Posted 8.2.07
Pamalee Brady and Al Estes attend ExCEEd
Al Estes and Pamalee Brady attended the American Society of Civil Engineers ExCEEd (Excellence in Civil Engineering Education) at Northern Arizona University in Flagstaff from  15-20 July.  Pamalee attended as a participant.  During the workshop, Pamalee attended seminars, assessed demonstration classes and taught three sample classes in front of her peers. Al served as a member of the workshop faculty where he delivered a demonstration class, taught a seminar, and lead a small-group team of participants.  This was Al's 14th ExCEEd workshop over the past nine years.
Posted 8.2.07
Keith Cullum and Paul Sargent win Lifecycle Building Challenge
Keith Cullum and Paul Sargent have just been selected as a winning team in the Tool/Service Student category of the Lifecycle Building Challenge! They entered this competition as their ARCE Senior Project and both graduated from the Cal Poly Architectural Engineering program in June. As winners, they will be given free admission to the West Coast Green Conference + Expo in San Francisco, CA, held September 20-22 and will have a chance to present their findings. The expert Lifecycle Building Challenge judges and other leaders in lifecycle building will come together at the awards ceremony to discuss their ideas with the green building public. In addition, Paul and Keith will share the $2,500 prize.  Al Estes served as their ARCE faculty advisor on the project
The Lifecycle Building Challenge was developed by the U.S. Environmental Protection Agency, the American Institute of Architects, West Coast Green and the Building Materials Reuse Association. This national competition, sponsored by http://www.greenbuildingblocks.com/, BMRA and AIA, invited engineers, designers, planners, contractors, builders, educators and students to submit their ideas for buildings and building materials that facilitate and anticipate future changes to and eventual adaptation, disassembly, or dismantling for recovery.
Also known as design for disassembly and design for deconstruction, lifecycle thinking encompasses the idea of creating buildings that are stocks of resources for future buildings. By creating building components that can be easily recovered and reused, materials are kept at their highest value, which reduces energy and resource consumption. The winners' ideas will appear in national publications, and their posters will be distributed at AIA and EPA offices, conferences, and other green building events.
There is also a People's Choice award that will be announced with the jury-selected winning entries at West Coast Green on September 20th in San Francisco. To vote for the People's Choice Award, send an email with your vote to peopleschoice@lifecyclebuilding.org by August 15, 2007.
Here is a press release from the EPA on the life-cycle building challenge.
Posted 8.1.07
Professor Ed Saliklis Researches Thin Hyperbolic Paraboloid Shells
Ed Saliklis spent two days this July doing research at the Maillart Archives of Princeton University. He worked alongside his mentor and colleague, Professor David Billington.  Their current project is a biographical sketch of the prominent thin shell designer Milo Ketchum.  This study will culminate in a parametric study of thin hyperbolic paraboloid shells, proposed by Ketchum shortly before his death in 1999.
Posted 7.26.07
Professor Brent Nuttall attends Light Gauge Steel Conference
Brent Nuttall attended the California Steel Framing Alliance Cold Formed (Light Gauge) Steel Conference on July 26th at the Disneyland Resort.  The topics included: steel design for those familiar with wood framing, the use of cold formed steel for mid-rise construction, diaphragms and shear walls in cold formed steel, construction issues for the Cal Poly Student Housing project here on campus, the current state of practice for shear walls with light-gauge steel plate sheathing, and new floor sheathing products of non-combustible cement based boards that have tested / approved diaphragm shear capacities.
Posted 7.1.07
Getting ConnectED Down Under
In July 2007 the inaugural conference for ConnectED met at New South Wales University (NSW) in Sydney, New South Wales, Australia.  The conference theme was multi-disciplinary approaches to design and to design education.  The conference was a collaborative effort sponsored by three departments at NSW; the College of Engineering, the College for the Built Environment, and the College of Liberal Arts.  Three Cal Poly faculty members attended the conference, Kevin Dong (ARCE), Jim Doerfler (ARCH), and Robert Arens (ARCH).  Kevin and Jim presented a paper based on their experience team teaching an Integrated Building Envelope class.  Students from Architectural Engineering, Architecture, and Construction Management formed project teams to better understand design and construction issues related to the building skin. 
The conference attracted speakers from industry and academia and the presentations provided thoughtful discussions about collaborative enterprises and multi-disciplinary education.  The conference theme and the ConnectED philosophy are a natural fit with the departmental and college mission to integrate interdisciplinary learning in our curriculum and for those interested the next conference will be in 2009 in Milan, Italy.
ConnectED 2007 at New South Wales University: (pictured above)
Kevin Dong (left) and Robert Arens (right)
Related Content