News & Events 2010-2011
Posted 6.14.11
Archer and Estes Represent Cal Poly At ASEE

Graham Archer and Al Estes represented Cal Poly at the annual ASEE (American Society for Engineering Education) annual conference and convention in Vancouver, Canada from June 26 -29. The department presented the following three papers in various sessions which appeared in the proceedings:
Cole McDaniel, Graham C. Archer and Blake Roskelley. Experimental Exploration of Common Modeling Assumptions. Session T203.
Architectural Engineering Division. (link to paper)
Brent Nuttall, Jill Nelson, Allen C. Estes. Interdisciplinary Design: The Saga Continues. Session M603. Architectural Engineering Division. (link to paper)
Allen C. Estes. How the New Architectural Engineering Program Criteria Differs from the New Civil Engineering Program Criteria. Session W213. Civil Engineering Division. (link to paper)
Posted 6.14.11
Estes Visits Bay Area
Al Estes visited the Bay Area on 14 - 15 June to meet with alumni, industry partners and parents. Al met with Peter Lee, Neville Mathias, and Eric Long who are all structural engineers at Skidmore, Owings and Merrill in San Francisco. They discussed the master's program and participating in student thesis projects. Al also visited the home of proud ARCE parents Florian and Lori Barth. The lunch discussion focused on incorporating sustainability of concrete into the curriculum and fund raising opportunities for the department.
Posted 6.14.11
Students Design Telescope Base for Senior Project
As part of a summer senior project, three ARCE students (Laura Rice, Mounir el Koussa, and Mike Vicker) are assisting Russ Genet (an astronomy professor at both Cuesta and Cal Poly) in designing and building the base for a portable 1.0 meter telescope made primarily from Baltic birch plywood that fits in the back of a Jeep Cherokee. The three dimensional truss support structure will be also be made of wood and has very strict deflection tolerances. Abe Lynn is serving as the faculty advisor for this effort. In the ¼ scale model shown, the azimuth base is hexagonal, with each leg of the hexagon (when set up) running between six piers or jacks. Four azimuth wheels roll around on top of a metal a circular metal track inset into the hexagon. Russ hopes the telescope design will be described in a number of publications, and will be presented at the "Portable Meter-Class Astronomy" conference in Waimea, Hawaii.
Posted 6.14.11
54 ARCE Students Graduate
The university conducted its Spring graduation on the morning of June 11th. The university ceremony was conducted at 9:00 a.m. in Spanos stadium with President Armstrong as the commencement speaker. The CAED ceremony followed immediately after in Spanos stadium and diplomas were presented to 54 ARCE students who included Daniel Albright, Alese Ashuckian, Kim Bowen, Kendra Bradley, Tri Van Bui, Emily Carlip, Daisy Che, Kevin Chen, Stefan Chiose, Luc D'Abreau, Devin Daniel, Tyler Denio, Branden Dong, Hannah Ellis, Kraig Estrada, Lindsey Finger, Annemarie Gresh, Garrett Hagen, Megan Hanson, Zane Kime, Ross Klein, Vivian Lai, Fernando Lara, Hayle Lipp, Dan Loesch, Jonathan Lund, Pedro Cabrera, Steven Manuel, Thomas Marley, Nick Marrs, David Martin, Kristine Morales, Myles Parr, Brian Planas, Nelson Pureco, Pablo Ramos, Kaitlin Ransford, Adam Rendon, Emma Ronney, Caleb Rosado, Tony Rosemann, Justin Ripley, Sandra Schmitz, Branden Seabert, Michael Spangenthal, Tiffany Steele, Jennifer Ton, Kevin Towers, Adrian Tulbure, Kalen Turner, Manuel Ureno, Josue Urrutia, Gunner Van Erden, and Caroline Yarber. Congratulations to them all.
Posted 6.14.11
Students Hold Pre-Graduation Surf
ARCE students David Martin, Hannah Ellis, Brian Planas, and Ben Biddick along with EE student Tyler Blauvelt enjoy an early morning surf with ARCE Department Head Al Estes and Professor Cole McDaniel at Morro Strand beach on June 10th…..the day before graduation.
Posted 6.14.11
ARCE Advisory Board Holds Spring Meeting
The ARCE Advisory Board held its Spring meeting on campus on June 3rd, the final day of class. As such, this Board Meeting was a bit different. The afternoon focused on ARCE student presentations where the board observed and assessed senior project presentations, master's thesis proposals, and ARCE 415 (interdisciplinary course) presentations. The board also attended the scholarship presentations during lunch. The meeting was preceded by the traditional Thursday night dinner which was held at Ventana Grill in Shell Beach. We were briefly joined by Dean Tom Jones and John Pangrazio (NBBJ, Seattle). It is our pleasure to welcome Hayley Soderlund (X-L Construction), Steve Schiller (John A. Martin), Geoffrey Neumayr (S.F. International Airport), Ron Hamburger (SGH) and emeritus faculty member Mike Botwin to the Board. Similarly, we thank Bob DeSautels (ATI), Jonathan McMurtry (Lionakis), Chris Manning (Overaa Construction) and emeritus faculty member Jake Feldman who are completing their tours of service on this board. Ken O'Dell (MHP) who has chaired this board for the past four years stepped down after this meeting to become the past chair and passed the baton to Grace Kang (Forell / Elsesser) who will chair the board for the next year.
Posted 6.14.11
ARCE Holds Senior Banquet
The ARCE senior banquet was held at the Edna Valley Winery on the evening of Memorial Day (May 30th). The even classier than usual event was planned by ARCE seniors Lisa Henry, Linda Huang, Jill Weinberg Huyette, Kristi Guerrero, and Su Tran. After a great dinner, the evening program consisted of thanks from the department head, award presentations, distribution of senior gifts, and a talent show consisting of everything from Irish dancing and a rap song to accordion solos and various songs played on the guitar and even the ukulele. The department academic achievement award was presented to David Martin and the department service awards went to Emily Carlip, Brian Planas, and Caelen Ball.
Posted 6.14.11
Verco Lab Dedicated
The department conducted the Verco Lab Dedication on May 26th in conjunction with the weekly SEAOC luncheon. Keith Cullum, a Verco engineer and 2007 ARCE graduate, offered a technical presentation on Verco products while the students were treated to a catered lunch. The ceremony followed immediately after with words of thanks from both Department Head Al Estes and CAED Dean Tom Jones. Jeff Martin, the engineering manager of the Fremont office presented a check for $50,000 to the department and offered remarks on behalf of Verco decking. The ceremony which followed included an unveiling of the plaque outside the laboratory, a ribbon cutting and a cake cutting ceremony. Verco provided a sign for the front of the classroom made out of decking and a table that shows the details of Verco product and how it is assembled. The generous funding has so far allowed for painting of the interior walls, rehabilitation of the drafting desks, and new window treatments Verco has exclusive naming rights for this laboratory for five years. Holly Schaubert and Chris Brown also represented Verco at the ceremony.
Posted 6.14.11
Estes Attends Annual CE Department Head Conference
Al Estes attended the annual Civil Engineering Department Head Conference at the University of Wisconsin – Madison from May 22 – 24. The conference theme featured innovations in teaching and learning where department heads from around the country made presentations on best practices at their institution. Al made a presentation on the Integrated Project Delivery course which represents an upper-division, interdisciplinary collaboration between the ARCE, CM, and ARCH departments at Cal Poly. The conference featured presentations from the ASCE president, the Executive Director of ABET, and the Deans from the consortium of Wisconsin universities who sponsored the conference. Al assisted with a presentation on the ExCEEd Teaching Workshop DVDs recently created by the ASCE Committee on Faculty Development and helped run a four hour preconference training workshop on ABET accreditation.
Posted 5.16.11
Baltimore and Forte Host Industry Round Table
On Tuesday, May 10th; Craig Baltimore and Mary Forte (English Professor co-teaching ARCE 598) hosted an Industry Round Table Discussion on the Importance of Communication in the Industry.  The Round Table discussion was presented to the incoming ARCE graduate students and was open to all students of ARCE.

The industry panel volunteers were:
Ed Sapigao, AIA: ARCE graduate turned Architect;  SC Consulting, Irvine, CA 
Alan Kroeker, AIA:  President, PMSM Architects: Paso Robles and Santa Barbara, CA
Jim Baldovin, LATC: President, Conceptual Designs & Planning Company, Irvine and Atascadero, CA
Mario Esola, SE:  John A. Martin & Assoc. – San Luis Obispo, CA
Topics in the three hour discussion varied from the importance of e-mail versus a phone call, to mistakes made and lessons learned.  The panel members and student alike found the discussion to of great value.
Posted 5.16.11
Knowles visits Cal Poly
Ed Knowles, a 1976 graduate of the ARCE program, visited Cal Poly on May 5th and 6th. Ed is currently with Walters and Wolf in Fremont. Ed was here as a guest lecturer in Sat Rihal's ARCE 316 Large Scale Structures. This class is the final course in the five course structures sequence for ARCH and CM students. Ed met with both Al Hauck (CM) and Al Estes to discuss industry support and collaboration for both programs.
Posted 5.16.11
Milazzo Visits ARCE Program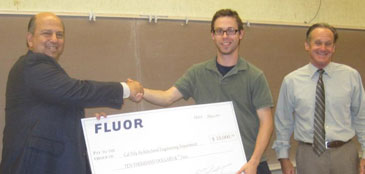 Mike Milazzo visited the ARCE program on May 5th to present a check for $10,000 from the Fluor Corporation to the students of the program. Caelen Ball, the SEAOC student President accepted the check on behalf of the ARCE program. The funds are used to fund two Fluor scholarships each year, the purchase of the ACI Concrete code books for the upper division students, and support to the Student Leadership Fund. This fund supports student attendance at national competitions, workshops and conferences. This fund provided support that allowed 47 students to attend the AEI conference in Oakland this year. We offer our thanks to the Fluor Corporation for the continued and generous support.
Posted 5.23.11
Scholarships
Craig Baltimore attended the SEAONC Dinner Meeting on May 3rd where the focus of the meeting was "Excellence In Structural Engineering Awards Ceremony". His attendance was in support of two of our students receiving tops honors in the annual student scholarship competition - Branden Dong ($5000) and David Martin ($5000). In addition Craig Baltimore was able to speak with Mark Sarkisian, Director of Structural Eng. at SOM; Colin Blaney, Partner of Crosby Group; Tim Heiman, Principal at kpff; Professor Greg Deierlein of Stanford Univ.; two recent ARCE grads Anthony Giamonna and Eric McDonald. Also, Joe Maffei of Rutherford and Chekene won an award for the Bowles Hall project (Berkeley Campus) made comment to Lucy Redmonds Master Project in assisting the analysis.
Posted 5.16.11
Contingent from CAED attend CSI 36th Anniversary
A large contingent from the CAED attended the Computers and Structures Inc. 36th anniversary celebration in City Hall in San Francisco on April 23rd. The event was hosted by Ashraf Habibullah, the President and CEO of CSI with this year's theme being Cirque du Soleil. Dean Tom Jones attended with his wife Lisa along with Dick and Pam Zweifel representing the Dean's office. Representing the ARCE program were Al Estes, Christine and Randy Cobb, Melissa and Brian Minor, and Nick and Stella Watry. The department remains grateful to CSI for the sponsorship of the CSI Computer Lab that was dedicated in February.
Posted 6.1.11
Lawson Undergoes Confined Space Entry Training
In May, Assistant Professor John Lawson underwent special fire service training for confined space entry and rescue as part of his FEMA Urban Search & Rescue duties as a Structures Specialist. Lawson is one of six engineers in California Task Force 5 which is one of 28 National US&R Task Forces that respond as a FEMA or California EMA resource during National or regional emergencies such as earthquakes, terrorist attacks, hurricanes or any other natural or manmade disaster that requires highly skilled search and rescue personnel. All FEMA US&R Task Forces are made up of highly trained responders from a wide variety of disciplines. Those disciplines include; Search Specialists, Heavy Rescue Specialists, Haz-Mat Specialists, Medical Team, Heavy Riggers, Structural Engineers, and Logisticians.
In the past, Lawson has been deployed to conduct search and rescue operations in conjunction with the Oklahoma City bombing disaster, Hurricane Gustav and Hurricane Ike.
Posted 4.29.11
Haselton Design Lab Dedicated
The department formally dedicated the Haselton Design Lab on April 18th in a late afternoon ceremony that included a ribbon cutting, plaque unveiling, and cake cutting ceremony. Al Estes opened the festivity by welcoming everyone, describing the transformation of the laboratory, and thanking Mark and Pam Haselton for their generous gift. Associate Dean Dick Zweifel and Dean Tom Jones followed with thanks from the college. Mark Haselton spoke about the importance of the ARCE program to him personally, his involvement on two blade structures in Poly Canyon, and some reflections on his career. Mark and Pam brought a number of friends to include Louis and Estonia Ruf who travelled from Germany to be there. Estonia offered words of her own and ARCE classmates Ken Minor and Steve Gilmore both spoke about their experiences as students on the blade structure. There were around 60 faculty and students present for the ceremony which was followed by hors doerves and cake. Mark hosted a dinner at the Ventana Grill later that evening to celebrate the laboratory dedication.
Posted 4.29.11
Mason Walters Visits Cal Poly
Mason Walters, principal at Forell/Elsesser Engineers, Inc. and ARCE alumnus, visited the Cal Poly campus on Thursday, April 14th to speak with the ARCE 316 (Large Scale Structures) students and Friday, April 15th to speak with the ARCE 511 (Structural Systems Behavior) students.  Mason discussed interesting projects he has worked on over the past few years.  In addition, Mason spoke on Performance Based Engineering in ARCE 511.  In tribute to his undergraduate studies in ARCE, Mason began with a quiz asking students to identify damage from recent earthquakes.
Posted 4.18.11
Laursen Attends SEI Structures Congress
Professor Peter Laursen travelled to Las Vegas to attend the 2011 SEI Structures Congress April 14-16. Appropriately, the theme was: Don't Gamble Your Future. Peter presented a paper entitled "Evaluation of the ASCE 7-05 Standard for Dual Systems: Response History Analysis of a Tall Buckling-Restrained Braced Frame Dual System". The paper was co-authored by Lisa Aukeman as part of Lisa's Master's Thesis research. The research was carried out in collaboration with Lucie Fougner from Degenkolb Engineers, Oakland. The conference provided Peter an excellent opportunity to reconnect with colleagues and keep abreast of recent advances in Earthquake Engineering, and to visit Hoover Dam and the new arch bridge crossing the Colorado River.
Posted 5.16.11
ARCE Conducts Annual Open House
The ARCE Department conducted its annual Open House on April 15-16 in the department area. The activities on Friday (April 15th) consisted of a college orientation in Chumash Auditorium hosted by the Dean and CAED Department Heads and department level activities. Al Estes offered a program introduction to prospective students and parents in A-Lab which consisted of a formal presentation and a question and answer session. On Saturday, the department was ready for display with A lab displaying student work from the first and second year students and the Hilti Lab displaying work from the upper division students. Students led tours through the experimental labs where a timber beam was loaded to failure in the High Bay lab, concrete cylinders were crushed in the Concrete Lab, and balsa wood structures were shaken in the Seismic Lab. Students also conducted the experimental tests. Meanwhile, the SEAOC student chapter was cooking and selling beef and pork ribs for lunch in the Dexter Lawn area.
Posted 5.23.11
Estes Completes Life Goal
Department Head Al Estes completed a life goal on April 12th at Spikes. He completed his five year quest to complete the 40 beers on his card and sign the log book of those who had gone before. He was publicly awarded a Spike's t-shirt to commemorate the event. Faculty members Jim Guthrie, Peter Laursen, Abe Lynn, Jill Nelson were there in support along with our former administrative assistant Carrie South.
Posted 4.27.11
Estes Attends ASCE Meeting
Al Estes attended the semi-annual meeting of the ASCE Educational Activities Committee in Tucson, Arizona on 9 – 10 April. Al serves as the Architectural Engineering Institute liaison and the Committee on Sustainability liaison to the EdAC committee. Topics of discussion included accreditation, scholarships, student chapters and activities, faculty development, the ExCEEd workshops, and award selections.
Posted 4.27.11
ARCE Provides Show of Force at AEI Conference
The ARCE department provided a show of force at the Architectural Engineering Institute conference in Oakland on March 31 – April 1st. Through the support of instructional related activities funding and generous support from the Fluor Corporation through the student leadership fund, the department was able to send 47 students to attend this conference. The professional conference which provided a variety of technical sessions was combined with the annual AEI student conference and AEI national student competition. Students were able 

to attend professional paper presentations, network with students and industry partners from around the country and attend student social events and meetings. In addition, six ARCE faculty members attended as well. Abe Lynn was one of the conference organizers. John Lawson, Graham Archer, Cole McDaniel and Al Estes attended to present papers that appeared in the conference proceedings. Craig Baltimore is a member of the rules committee for the AEI national competition and moderated the student presentation sessions. Al Estes also attended the AEI Academic Council meeting and the AEI Board of Governors meeting as part of the conference.
 As part of the AEI Conference in Oakland, the ARCE department hosted an informal alumni get-together at the Lavende East restaurant in Oakland on March 31st. We relied on Facebook contacts and word of mouth to advertise the event and invited alumni and friends of the department who live and work in the Bay Area. The event was heavily attended by current ARCE students and faculty who were attending the conference. Alumni who attended included: Erica Jacobson, Lucy Redmond, Selinda Martinez, Gordy Wray, Taka Yokoyama, Lorne Byrne, Liberty Lewis, Mary Bland Knowles, Kyle Glen, Emmett Seymour, Melissa Humber, Rae Arizabel, Michelle Kam Biron, Lisa Auckman, Kate Caffaro, Matt Williams, Walt Busch, Dago De La Rosa, Billy Janhunen, Steve DeJesse, Stefanie Chaprallis Hionis, Shane Gross, Eric Ahlberg, Whitney Woods, Yvonne Tsui, Nina Munj, Loren Byrne, Heidi Faison, Petra Shcalla Patton, and former faculty member Dave Weigel
Posted 4.27.11
ARCE Wins in AEI Competition
The Architectural Engineering Institute (AEI) of the American Society of Civil Engineers (ASCE) held the finals of the second annual ASCE Charles Pankow Foundation Annual Architectural Engineering Student Competition in conjunction with the 2011 Architectural Engineering Conference in Oakland, California on March 31, 2011.
Cal Poly was the only school with two teams in the finals and the ARCE students brought
home more


prize money than any other university. ARCE students Dan Loesch and Brad Stevens (Faculty Advisor Peter Laursen) won the Structures Category and ARCE students Julie Bolander and Linda Huang (Faculty Advisor Jim Guthrie) and ME students Alexandre
Batista and Brian Croshal won the Mechanical Category and were runners up in both the Structures and Building Integration categories. Fourteen teams from twelve universities entered the competition and only the top three in each category were invited to present at the competition. The finalists in each category made presentations to a distinguished panel of industry judges and answers their questions afterward. The winners were announced at the conference awards luncheon.
The competition website lists the details of the 2011 competition. The project this year is the Contemporary Art Museum in the San


Francisco Bay area. The design submittals were due in March and addressed the following as a minimum: design in a high seismic area, green building design and construction, and high performance building criteria. The competitors were provided with a schematic floor plan, sections, and soils report. The completion categories are building integration design, structural systems (foundation and wall, floor, and roof framing systems), mechanical systems (HVAC, plumbing, and fire suppression systems), electrical systems (power, lighting, and emergency systems), and innovative construction management and construction methods. Every team must enter the building integration category. A winner and two runner-ups were announced in each category. The winning teams were awarded $1000 and the runner-ups were awarded $400 in each category. Additionally, for the presentation at the conference each finalist team are reimbursed for travel expenses to the conference.
The winners of the 2011 competition were: Building integration – Drexel (Runners Up: Cal Poly team #2, Illinois Inst of Tech); Structures – Cal Poly team #1 (Runners Up: Drexel, Cal Poly team #2); Electrical – Kansas State (Runners Up: Nebraska, Missouri S&T); Mechanical – Cal Poly team #2 (Runners Up: Nebraska, Drexel); and Construction – Kansas State (Runners Up: Illinois Inst of Tech, Univ of Texas). More details on the competition can be found in this news release. A document that provide more detailed about the competition can be found here. The competition has expanded considerably in just a year. Last year, there were 16 submissions from 10 teams. This year there were 50 submissions from 17 different teams.
Posted 5.16.11
Scott and Julia Starkey Return to Cal Poly
Scott and Julia Starkey returned to Cal Poly on March 30th from their home in Austin, Texas, for a dedication of a bicycle rack on campus in their son's name. The Starkeys also contributed two $5,000 scholarships to support CAED students in memory of Carson. Carson Starkey was an ARCE freshman who died Dec. 2, 2008, at age 18 after his first quarter, while pledging with the Sigma Alpha Epsilon fraternity. Two years after their son's death from hazing-related alcohol poisoning, Carson Starkey's parents want to make sure young people and those around them take precautions to prevent a similar tragedy. Al Estes and Dick Zweifel attended a luncheon in Carson Starkey's honor that brought together the entire SLO and university community.
Posted 4.28.11
Estes and Kristenson Travel to Los Angeles
Al Estes and Linda Kristenson travelled to Los Angeles on 16-18 March to meet with alumni and industry partners. They met with Richard Franco (ARCE 1995) and Anuj Bansal to discuss participation in the ARCE masters projects and to thank Degenkolb for their continued support of this program. This was Al's first visit to
the Los Angeles office of Degenkolb. Bret Green (ARCE 1990) joined Al and Linda for lunch. Bret is currently a principal engineer at SPEC Services, Inc. in Fountain Valley. Bill (ARCE 78) and Melissa Warren hosted a dinner at the Balboa Yacht Club and provided lots of insights into the


industry and how the program can be serve it. Bill recently completed his tour as President of SEAOC and is very active in NCSEA and has been a vocal supporter of the ARCE program. The next day, Doug Thompson (ARCE 1976) hosted a visit in his office where he is currently a Principal at STB Structural Engineers. Al and Linda

joined C.K. (ARCE 1964) and Laurel Allen for lunch in Newport Beach. C.K. invited ARCE graduates Ab Samiian (ARCE 1965), Bill Tapp (ARCE 1964) and Anthony Rubalcava (ARCE 1993) to the lunch. Mike Milazzo, Vice President and General Manager for the Fluor Corporation, hosted a visit in his office in Aliso Viejo. The Fluor Corporation has contributed generously each year to two scholarships and the student leadership fund that allows the department to support student participation in workshops, conferences and competitions. Finally Al and Linda met with Jim (ARCE 1964) and Sally Elmlinger. Jim has been active with the college CAEDF board and we were lucky to catch Jim and Sally in between their many RV trips.
Posted 5.13.11
ARCE Faculty and Staff have St. Patrick's Day Party
The ARCE faculty held a Staff and Faculty St. Patrick's Day party at the home of Al and Peggy Estes on March 12th. The party featured Irish music, decorations, Black and Tans, and a complete Irish meal. Erin Go Braugh and kiss the Blarney Stone.
Posted 4.15.11
Lawson Invited to Code Simplification Workshop
Assistant Professor John Lawson was an invited contributor in a code simplification workshop at the offices of Simpson, Gumpertz & Hager (SGH) in Boston. This workshop sponsored by FEMA/BSSC was dedicated to the exchange of information between researchers and practitioners to provide building code simplifications and more accurate modeling of rigid wall / flexible diaphragm buildings.  This type of building is common among big box retailers (Wal-Mart, Costco, Home Depot) and large warehouse buildings throughout the United States and Canada, and suffers from inaccurate engineering models within the building code. With partial funding from FEMA and the Building Seismic Safety Council (BSSC), the group hopes to provide a rational approach to seismically designing these types of buildings. The workshop panel pictured includes (right to left), John Lawson (Cal Poly), Bill Holmes (Rutherford & Chekene, FEMA Technical Advisor), Dominic Kelly (SGH), Andre Filiatrault (Director of MCEER, University at Buffalo), Bob Hanson (BSSC, Univ. of Michigan), and Pierre Fouche (Graduate student, University at Buffalo).  Not pictured: Ken Elwood (University of British Columbia) and Robert Trembley (Polytechnique Montréal).
Posted 5.16.11
Structural Forum Held On Cal Poly Campus
The annual Structural Forum was held on February 12th on the Cal Poly campus and the Embassy Suites hotel. The Forum is an annual event run entirely by students where prominent guest speakers offer presentations during the day and industry partners join us for a job fair and a banquet at the Embassy Suites. It is one of our premier events of the year and industry partners contribute $1000 per table to participate. We had 24 firms participating this year. The Forum begins the night before with a dinner to honor the guest speakers. The guest speakers for this year were John A. "Trailer" Martin (John A. Martin and Associates), Kit Miyamoto (Miyamoto and Associates), and MaryAnn Phipps (E-Structure) who made presentations on the theme of "no ceilings" throughout the day. Lunch was provided as part of the CSI Lab Dedication.
The evening event consists of a career exposition where the 24 participating firms presented information at display tables. Students moved between the tables from 5:30 – 8:00 p.m. at the Embassy Suites. The scheduled guest speaker for the banquet was Ashraf Habibullah who was too ill to attend. Miriam Leigh represented Ashraf and offered words in his behalf. Ed Saliklas and student Brian Planas offered a song for the evening and Ken O'Dell (Partner at MHP and chair of the ARCE Advisory Board) substituted as the guest speaker. The after Forum party, as always, took place at Novo's downtown. Our thanks go out to all of the students for organizing this event, but especially to Luc D'Abreau and Caelen Ball for leading the effort.
The attending companies were:
-WISS, JANNEY, ELSTNER ASSOCIATES, INC.
-HOLMES CULLEY/HOLMES FIRE STRUCTURAL ENGINEERS
-KNA CONSULTING ENGINEERS, INC.
-KPFF CONSULTING ENGINEERS
-LIONAKIS
-JMN CONSULTING ENGINEERS, PLLC
-JOHN A MARTIN & ASSOCIATES
-HOPE ENGINEERING
-SIMPSON GUMPERTZ & HEGER, INC.
-SIMPSON STRONG-TIE
-FICCADENTI & WAGGONER CONSULTING STRUCTURAL ENGINEERS, Inc.
-MHP STRUCTURAL ENGINEERS
-BROOKS-RANSOM ASSOCIATES STRUCTURAL/CIVIL ENGINEERS
-RINNE & PETERSON STRUCTURAL ENGINEERS
-ZFA STRUCTURAL ENGINEERS
-DES ARCHITECTS + ENGINEERS
-RUTHERFORD + CHEKENE
-FLUOR
-FORELL/ELSESSER
-DEGENKOLB
-CROSBY GROUP
-TAYLOR & SYFAN CONSULTING ENGINEERS, INC.
-HILTI
-MIYAMOTO INTERNATIONAL
Posted 5.16.11
Kim Attends ASCE Annual Workshop
ARCE Student Paul Kim attended the American Society of Civil Engineers annual Workshop for Student Chapter Leaders in Anaheim from 11-12 February. The workshop brings together students from schools all over the western region of the United States for a conference on leading effective student chapters. The workshop is a mix of seminars, social activities, networking opportunities and practical exercises to develop students leaders. Paul's attendance was made possible by a combination of ASCE subsidies, a university IRA grant, and the Fluor Student Leadership Fund.
Posted 5.13.11
CSI Computer Lab Dedication
The Computers and Structures Incorporated (CSI) Design Laboratory was formally dedicated on February 12th in conjunction with the Structural Forum. CSI President and CEO Ashraf Habibullah had planned to attend, but took ill and was represented by Miriam Leigh, the CSI Marketing Director, who spoke in his behalf. President Jeff Armstrong attended and made remarks along with Al Estes and CAED Dean Tom Jones. The dedication ceremony featured a ribbon cutting, plaque unveiling, and cake cutting followed by a lunch for all who
attended. The laboratory underwent a complete transformation between when the students left in the Spring and returned in the Fall thanks to the hard work of Cheryl Mollan, Christine Cobb and Melissa Minor. The transformation was only made possible by the gift of $80,000 plus a commitment of $10,000 per year for five years from Ashraf Habibullah and CSI.
Posted 4.29.11
Estes Travels To Los Angeles
Al Estes travelled to Los Angeles on 9 – 10 February to meet with industry partners and friends of the program. Al met with Jan Dougalas and Dani Paxson at kpff. He used the visit to promote participation in the industry oriented masters projects, to thank kpff for sponsoring this year's upcoming newsletter, and to present Dani Paxson with a gift for her three years of service on the ARCE Advisory Board. Al also visited Bob Tener who is the


Executive Director of the Charles Pankow Foundation. Bob and Al discussed research needs of the industry and those types of projects where Cal Poly ARCE may have a role.
Posted 4.28.11
Estes and Carlip Attend SEAOSC Scholarship Night
Al Estes and ARCE student Emily Carlip attended the SEAOSC Scholarship Night and Job Fair at the Luminarias Restaurant in Monterey Park on Feb. 2nd. There were 10 scholarships of varying amounts awarded to students from 10 schools in the southern California area. Emily Carlip won the largest $3000
scholarship.


Ken O'Dell, Chair of the ARCE Advisory Board, was on-hand to congratulate Emily as well. Six other ARCE students (Tiffany Steele, Yoni Sadka, Garrett Hagen, Pablo Ramos, Josue Urrutia, and Caelen Ball) came as well to support Emily and attend the job fair.
Posted 2.14.11
Estes Participates as S.M.A.R.T. Judge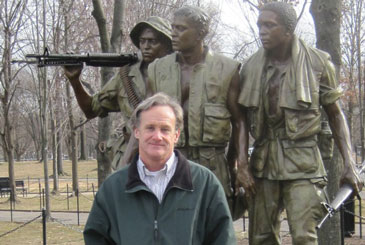 Al Estes participated as a judge for the Science, Mathematics And Research for Transformation (SMART) Scholarship for Service Program in Washington D.C. from January 21 -22. The panel consisted of 350 educators and practitioners from around the country. Al was on the panel that ranked applicants for the Civil Engineering scholarships. The program aims to increase the number of civilian scientists and engineers working at Department of Defense laboratories. The program is administered by the American Society of Engineering Education and the Naval Post Graduate School. Students are provided with a full scholarship and are required to serve in the Department of Defense for a year after graduation. Applications are due at the beginning of December and Al hopes to use this experience to encourage more ARCE students to apply.
Posted 2.14.11
Dong, Students Travel To Brian Head, UT.
The ARCE graduate students in ARCH 551 and undergraduate students in ARCE 453 travelled to Brian Head, Utah from January  20th -23rd.  Led by faculty member Kevin Dong, the field trip was part of their design project to develop a scheme for a mid-slope facility at the Brian Head Ski Resort.  During their visit they met with their client, Nick Vasals, the town manager, and the ski resort manager to better understand the design constraints associated with the project.  Additionally the students visited the site by ski and snow mobile and were able to mix a little business with pleasure – always a treat.  (Photo on right, from left to right: Leslie Quiter, Eliza Alcantara, Talina Barajas, Kristi Guerrero, and Amos Mellbom)
Posted 1.24.11
Estes and Kristenson Visit Bay Area

Al Estes and Linda Kristenson (Assistant Dean for Advancement) visited the Bay Area from January 11 – 13 to meet with ARCE alumni, parents and industry partners.  The first meeting was with Jeff Beam (ARCE 1974) in his office. He is currently the President at Engineering West Consulting Engineers in San Jose.  Next Larry and Claudina Madsen (ARCE 1955) invited us into their home for an update of the ARCE program and sharing what Cal Poly was like a half century ago.  Larry is currently retired and has been a steady donor to the ARCE program over the last two decades.  In the continuing effort to involve parents of current students in the ARCE program, Al and Linda joined Hans and Martha Luemers for dinner in Palo Alto.  Next, Cindy Freid (ARCE 1981) invited us into her home in Castro Valley.  She owns her firm, Cal Design, and emphasizes the design of residential renovation and construction.  Cindy has also given generously to the program over many years.  The next visit was to the Oakland office of Degenkolb to see Jorn Halle (ARCE Advisory Board) and Gordy Wray (ARCE 2002) who announced that the firm would be sponsoring the ARCE graduate laboratory. Degenkolb has hired many Cal Poly ARCE grads in their Oakland office to include:  Sarah Wagner (2007), Shane Gross (2000), Melissa Vickery (2007), Kate Caffaro (2008), Erik Kneer (2001), Lisa Auckeman (2009), James Liu (1997), Taka Yokoyama (2007), and Adam Azofeifa (2007).  Al and Linda met with Ashraf Habibullah and Miriam Leigh at Computers and Structures Inc in Berkeley.  They discussed the preparations for the dedication of the CSI computer lab on February 11th.  Ashraf will be the dinner speaker at this year's Structural Forum. The firm of Simpson, Gumperz and Heger hosted a meeting with Ron Hamburger, Karen Vogt-Wilcox (ARCE 1982) and Carolyn Searles (ARCE 1979).  The discussions included the industry sponsored master's projects and an update on the ARCE program.  Ron Hamburger will be joining the ARCE Advisory Board in the Spring.  The final visit was with Nancy Tannebaum-Manheim (ARCE 1980) and Dan Manheim in their office in San Francisco.  While one purpose was to visit a smaller structural engineering firm, the major intent was to thank Nancy and Dan for their support of the program over the years.
Posted 12.21.10
ARCE 446 Students Construct Catalan Vault
The students in Ed Saliklis' ARCE 446 completed the construction of a Catalan vault in the ARCE concrete yard on Friday, November 18th. The students developed four different designs and then voted on which one to actually construct as part of the class on Halloween. After several weeks of construction, Interim President Robert Glidden visited the site and placed the final tile in the structure under the artificial lights hastily erected by the students.
The project depicted is a small Catalan vault. ARCE 446 Advanced Structural Systems students designed the vault using a combination of graphical statics and modern finite element analyses. The project was a culmination of a series of presentations made by Prof. Saliklis to his class on the work of the Guastavinos. Prof. Saliklis has published scholarly work on this father and son team, who brought over the Catalan vaulting tradition from Spain to the United States in the early 1900s. The most astounding feature of this structure is the fact that no formwork was used to create the soaring central vault. The Catalan tradition of laying tiles end-to-end using fast setting mortar allows the thin tiles to spring almost magically from the side arches.
Posted 12.21.10
Autodesk Visits ARCE

Jerry Jackson and Jim Cowan from Autodesk visited the ARCE department on December 7th to offer a seminar on their new software package Vasari. Faculty members from Architecture, Landscape Architecture, and City and Regional Planning joined several ARCE faculty members at this event to learn how the software can be incorporated into our interdisciplinary courses. Jerry will return in March to offer a seminar on REVIT Structure to the ARCE faculty.
Posted 12.21.10
Sadka Spends Fall Quarter in Israel

Jonathon (Yoni) Sadka, a fourth year ARCE student, is spending the Fall quarter in Israel. He is currently living in Tel Aviv and attending Tel Aviv University. His studies this semester consist of five classes (Israel and the Environment, Modern Jewish History, Business Ethics, The Israeli Economy, and Israeli Politics). The two primary reasons that he chose to study abroad were to learn about other cultures and to see other parts of the world. Also, Yoni felt that it was very important to take a step back from the focused life at Cal Poly and see what else life has to offer. So far, he has traveled to Israel, Italy and Egypt, with future plans to visit Jordan and Greece before returning to Cal Poly. So far, Yoni's time abroad has exposed him to new and interesting life experiences and he highly recommends this experience to any student. Yoni will return to Cal Poly in time to start winter quarter.
Posted 5.13.10
ARCE Faculty and Staff Christmas Party

The ARCE Staff and Faculty Christmas party was held on 11 December at the home of Christine and Randy Cobb. The party featured a full dinner, great company and the spirit of Christmas. The department thanks Christine for hosting the event and putting up Christmas
decorations earlier than usual to accommodate us all.

Posted 12.17.10
ARCE Advisory Board Meets

The semi-annual meeting of the ARCE Advisory Board took place on December 3rd on campus.  The board meeting agenda included visits from University Provost Bob Koob and CAED Dean Tom Jones. The major topics for the meeting include an update on the interdisciplinary course, industry-oriented master's projects, advancement opportunities, laboratory priorities, and the replacement of the board members who will rotate off in Spring.  A copy of the agenda can be accessed here.  The meeting was preceded by the Advisory Board dinner at Ciopinot Seafood Grill and the Board was invited to the CAED Christmas party after the meeting.  The meeting was attended by advisory board members Jonathan McMurty, Chris Manning, Bob DeSautels, Jake Feldman, Steve Pelham, Jorn Halle, Dave McMaster, Michelle Kam Biron, and Paul Kovach.  Grace Kang served as chair for the meeting.
Posted 12.17.10
Estes Conducts Accreditation Visit at Texas A&, Kingsville

Al Estes conducted an accreditation visit for the Architectural Engineering program at Texas A&M at Kingsville from November 6th-8th.  Al is an experienced ABET evaluator and this was his ninth accreditation visit in the past nine years.  The evaluation visits provide a service to the profession as well as help keep the ARCE program current on any changes in the accreditation process. The photo shows Al Estes, Joseph Sai (Department Chair), and David Chin (evaluator).
Posted 12.17.10
Halloween in ARCE

Sticking with tradition, the ARCE faculty dressed up to teach class on Halloween.  Those participating are  Graham "cracker" Archer, Al "weary-wolf" Estes, Peter "cottontail" Laursen, John "Obiewan" Lawson, Christine Cobb, Melissa Minor, Jill Nelson, Abe Lynn, Pamalee Brady, Ed "operation" Saliklis, and George Hasslein.
Posted 12.17.10
Dong Visits Iowa State University
In early December 2010, Kevin Dong visited Iowa State University to work on a number of projects.  As part of his sabbatical in Fall 2009, Kevin helped the faculty in the College of Architecture redevelop the technology sequence for structures.  During the latest visit he discussed the progress of the new course work and discussed ideas about course work for the next term.
Additionally, Kevin was invited to serve as a juror for Professor Tom Leslie's Comprehensive Design Studio for 5th year architecture students.  The project was a proposed  Velodrome in Boston, MA and reviewers commented on design and technical issues related to the environment, space, form, and of course architecture and structures. 
As an extension of their studio work, it is proposed that Kevin and Professor Leslie re-unite to offer another Interdisciplinary Studio in summer 2010.  Kevin and Tom initiated the interdisciplinary studio to ARCE students in 2005 and it is hoped to re-unite the two schools for another collaborative design experience.
Posted 12.17.10
Ureno Featured in Cal Poly Magazine

Manuel Ureno is a fourth year ARCE student and was one of a group featured in the Cal Poly magazine. 
Posted12.17.10
Estes Attends Semi-Annual ASCE EdAC Meeting in Denver
Al Estes attended the semi-annual meeting of the American Society of Civil Engineers Educational Activities Committee (EdAC) in Denver on 13-14 November.  Al is the Architectural Engineering Institute and the Committee on Sustainability liaison to this committee.  The committee oversees the ASCE participation in accreditation, student activities, scholarships, department head issues, and faculty development.
Posted 11.2.10
McDaniel Attends EERI FEMA 547 Seminar
"Professor Cole McDaniel attended the EERI FEMA 547  (Techniques for the Seismic Rehabilitation of Existing Buildings) seminar in San Francisco on October 28th.  The seminar focused on determining seismic deficiencies in existing buildings and selecting appropriate rehabilitation schemes including insight into the associated details and construction issues inherent with building rehabilitation.  The FEMA 547 seminar notes will be directly incorporated into ARCE 483 (Seismic Analysis and Design) , ARCE 448 (Seismic Rehabilitation Laboratory) and ARCE 511 (Structural Systems Behavior). The photo includes conference presenter James Malley, Senior Principal – Degenkolb Engineers and recent ARCE Master's graduate Erica Jacobsen, Designer – Degenkolb Engineers."
Posted 11.1.10
Baltimore Attends Annual Conf. of the Assn. for Integrative Studies
Craig Baltimore attended the Annual Conference of the Association for Integrative Studies (AIS) as part of the annual forum to bring together scholars and administrators from across the country with a keen interest in developing and promoting research, pedagogy, and programs in integrative and interdisciplinary studies at the collegiate level.  The conference was held October 7-10 in San Diego, California and was hosted by CSU San Diego.  Craig presented his work in Rural East Africa and how the integration of academia and industry can accomplish successful long term knowledge and information transfer to under developed nations.  In addition he attended a seminar on the progress of CSU San Francisco's effort to create a degree in Integrative Studies. Craig's presentation my be seen here.
Posted 11.1.10
ARCE Hosts First Ever Parents Weeekend Reception
The ARCE Department hosted its first-ever Parents Weekend reception in the department area on October 23rd.  Over 150 students, parents, and family members representing over 70 families of students attended the event.  The student officers of the SEAOC/AEI student chapter cooked a BBQ lunch of hamburgers, chips, soda, and cake.  The formal program consisted of welcome comments from CAED Dean Tom Jones, a new song "Oh, What a Beautiful Program" played by Ed Saliklis on the ukulele and John Lawson on bass, a presentation by ARCE student leaders Caelen Ball, Emily Carlip and Luc D'Abreau on student activities, and a department update and question/answer session with Department Head Al Estes.  Families were able to tour the renovated ARCE labs and were treated to a musical slide show of students in action created by Melissa Minor.  Other faculty and staff on hand were Pamalee Brady, Jill Nelson, Christine Cobb, and Michael Salmon.  We extend our thanks to all of the ARCE families who travelled to San Luis Obispo to attend this event.  We fully expect to host a similar event again next year.
Posted 10.27.10
Mwangi on Sabbatical in Haiti
James Mwangi is on sabbatical for the year working in Haiti.  He is conducting workshops for architects, engineers and the construction trades that focus on best design and construction practices in a high seismic zone.   He is learning French Creole, the language of the Haitian construction industry and living in Port au Prince.  He just finished a one week "learn-by-doing" workshop for the crafts people or "bos masons".  This involved a one day seminar followed by the hands-on repair of a concrete building damaged by the quake. James' first major project is a partnership with another international NGO and two local NGO's to repair more than 250 homes for the handicapped.  James will return to Cal Poly to teach in the Fall 2011 quarter.
Posted 10.19.10
Neuenhofer Teaches in Cologne
Ansgar Neuenhofer is on difference in pay leave this year in Germany.  He is currently teaching statics and dynamics at the University of Applied Sciences at Cologne. He is also completing an article in a German Civil Engineering Handbook on Lateral Force Resisting Systems. ARCE student Brian Planas visited Ansgar this summer. In the photos, Brian and Ansgar took a bike ride up the mount of olives -- the highest peak (460 m above sea level) in the Siebengebirge (the seven peaks) near Bonn. Ansgar and his family will return to Cal Poly for the Fall 2011 quarter.
Posted 10.19.10
Autodesk Visits ARCE
Jerry Jackson, the Education Program Manager for Autodesk Education visited the ARCE department on October 5th and 6th.  He visited a faculty meeting and had individual meetings with the faculty members and the Dean.  He also met with Brent Nuttall, Margot McDonald and Greg Starzyk who are teaching the upper division interdisciplinary course for the ARCE, ARCH and CM students.  An Autodesk training team will tentatively return in December to provide faculty orientation sessions on structural analysis using REVIT and an introduction to the new program Vasari.
Posted 10.19.10
Hilti Design Lab Dedication
The ARCE department conducted the dedication of the Hilti Design Laboratory on October 15th.  The dedication was held in conjunction with the weekly SEAOC/AEI luncheon.  Marcus Oden, Vice President and General Manager of the Western Marketing Organization for Hilti, was the guest speaker for the pizza luncheon.  After the presentation, Marcus formally presented a $10,000 check jointly to ARCE Department Head Al Estes, CAED Associate Dean Dick Zweifel, and SEAOC/AEI Student Chapter President Caelen Ball.  Marcus Oden and the other Hilti members attending (Steven Che, Jessica McGaffie, Peter Zahn, and Frank Brown) joined Al Estes for the unveiling of the lab exterior signage and the cutting of the ribbon on the door.  Once inside the new design laboratory, Al thanked Hilti for their generosity and specifically thanked ARCE staff Christine Cobb and Melissa Minor and ARCE students Megan Hanson and Chase Kossack for transforming this laboratory.  Marcus Oden offered supportive words on behalf of Hilti and raffled off door prizes for the students.  The ceremony ended with Al and Marcus cutting the celebratory cake which was served to the approximately 100 guests who attended the ceremony.  The lab dedication ceremony is one of five that will take place this year.
Posted 10.19.10
Estes Attends ASCE Committee on Faculty Development
Al Estes attended the Fall Meeting of the American Society of Civil Engineers Committee on Faculty Development meeting as part of Educational Activities Weekend in Denver on October 9 -10.  The focus of the meeting was to plan the ExCEEd Teaching Workshops for the upcoming summer, propose a plan to host an ExCEEd II workshop, and to review the DVR discs of ExCEEd seminars and workshops that will be completed and distributed within the next year.  Al was serving as the Educational Activities contact member for the committee.
Posted 10.19.10
ARCE Department Hosts SEAOC Reception
The ARCE Department hosted a reception for alumni and friends of the ARCE program at the annual Structural Engineers Association of California (SEAOC) Annual Convention in Indian Wells on September 24th at the Indian Wells Golf Course Club House.  The reception was attended by over 30 friends and  alumni to
include Richard Foley, C.K. Allen, Joyce Fuss, Sandra and Dan Harle, Jeff Crozier, Diane Thompson, Brian and Nancy Cochran, Fred Schott, David Van Volinburg, Bill and Melissa Warren, Elizabeth Kenyon, Juan Carlos Esquivel, Steve Tipping, Rawn Nelson, Garrett Mills, Richard Dreyer, Carol Yates, Erik Kneer, Jen Alviso, Stephen Kerr, Marcello Scambellunig, Pirouz Oliase, Manoush Bayh, Gary Tiedgen, Doug Thompson, Taka Yokoyama, Mason Walters, Jeff and Lindsey Kovach, Keith Cullum, Mark Gilligan, Matthew Wexler, Steve Pelham and Michelle Kam-Biron.  ARCE faculty and staff in attendance were Melissa Minor, John Lawson, Craig Baltimore, Graham Archer, and Al Estes. We also brought four students using funding from the university IRA and from the Fluor Leadership Fund.  They included Megan Hanson, Jill Weinburg-Huyette, Brian Planas and David Martin. The wine was generously donated by Jerry Lohr, the owner and CEO of J. Lohr wineries.  Jerry is a structural engineering by education which makes his gift more meaningful.  Al provided an update on the department to include lab renovations, the master's program and the interdisciplinary experiences.  Steve Pelham (new SEAOC President and member of the ARCE Advisory Board) made comments on behalf of the Advisory Board.  The door prizes from San Luis Obispo and Cal Poly were raffled.  The grand prize gift basket was won by C. K. Allen (ARCE class of 1964)
Posted 10.19.10
ARCE Department Presents Papers at SEAOC
Three members of the ARCE department submitted papers and made presentations at the annual Structural Engineers Association of California (SEAOC) Annual Convention in Indian Wells from September 23rd – 25th.  Craig Baltimore moderated the plenary session on the Haiti and Chile earthquake reconnaissance.  His paper "Lessons Learned in Sustainable Information and Technology Transfer Considering Culture and Resources" can be accessed here.  Part time faculty member Michael Parolini and ARCE Advisory Board member Michelle Kam Biron presented a paper titled, "Heavy Timber Braced Frames – A Non-prescriptive Seismic Load Resisting system Solution for a High Seismic Zone Project" which can be accessed here.  Similarly, John Lawson presented a paper, "Concrete Slender Wall Design – Back to the Future" which can be accessed here.  The SEAOC Convention Business Meeting featured the transition of leadership within the organization from President Bill Warren (ARCE class of 1978) to current President Steve Pelham (ARCE class of 1976).
Posted 10.19.10
ARCE Department Holds Annual Retreat
The ARCE Department conducted their annual retreat at the Inn at Morro Bay on September 16th.  The agenda items included the Department Head's annual program assessment, an assessment of program outcomes, comments from the Dean, and several special topic break-out sessions.  The break-outs featured small group discussion with reports back to the group on the topics of going from good to great, curriculum sub-committee discussions, master's program assessment, and laboratory updates.  The traditional lunch included part time faculty members.  There was an team building exercise that involved traversing a minefield with a blindfold.  The retreat was followed by a department dinner at The Galley in Morro Bay.
Posted 10.19.10
Cobb Wins Outstanding Staff Member Award
Christine Cobb, the ARCE Administrative Coordinator, was awarded her Outstanding Staff Member of the Year Award at the Cal Poly Academic Convocation on September 14th.  She was introduced by the CAED Dean Tom Jones and presented the award by Interim President Bob Glidden.  Christine received a plaque and a cash award for her superior performance.  Christine is the first member of the CAED to win this award since 1972.
Posted 10.19.10
ARCE Dept. Holds BBQ to Welcome Students
The ARCE Department held a BBQ to welcome the new freshmen students on September 15th as part of the Week of Welcome.  The SEAOC/AEI student chapter cooked the food
and the faculty


and new freshmen had a chance to meet over lunch.  The meal was followed by a department orientation led by Al Estes which included group introductions, an overview of the program, a welcome by the SEAOC/AEI students, and a period of initial academic counseling.  The composition of the new class of 53 freshmen consists of 40% out-of state students and two international students.  The class is roughly 35% women which is consistent with the composition of the previous classes.
Posted 10.19.10
Baltimore and Students Visit Tanzania

Dr. Craig Baltimore, SE and three Architectural Engineering students (Hanna Ellis, Nichole Brandt, and Ashley Moraes) have returned from Samé, Tanzania in continuing efforts with Dr. Baltimore's Developing Nations Design Build Consortium and Instructionally Related Activity. The current project is to help design and build a polytechnic school in Same, Tanzania. He and three students performed a site survey (approx. 300 acres) and continued to foster a strong relationship with the local population.
The some real life experience included having local cattle and goat herders tend to their flocks while the survey was being conducted; seeing creatures not commonly encountered in the United States (spiders and big as your hand); and being stuck, scratched, and poked by thorny acacia trees.
The survey will be used to assist in the land transfer, and the survey contour map will be used by the future students (at Cal Poly) with the oversight of industry professional to develop master plans, site drainage, and building layout.
In addition to the site survey, the students were able to experience the local living conditions; the cultural way-of-life; and a safari.
The project is in its 5th year and its goal is give CAED students real world experience and an opportunity to make a difference on the global level through technology and knowledge transfer to the rural communities of East Africa. It is important underscore that successful long term knowledge transfer must be made in terms of the local culture and not in terms of Western culture. Thus, relationship building and a strong understanding of the local culture is a large focus for the student learning.
The project is a collaboration of academia (Dr. Baltimore), NGO non-profit (The Mbesese Initiative), and industry (ARUP – Los Angeles).
Posted 10.10.10
New Building Code

Provisions the Subject of Lawson's Paper

On September 30th, Assistant Professor John Lawson presented his paper "New Code Changes under the 2009 IBC" at the annual TCA (Tilt-Up Concrete Association) convention held in Irvine, California. TCA's Executive Director Ed Sauter invited Lawson to present based on Lawson's twenty-five years of design experience in concrete tilt-up construction as well as in other materials.


Lawson continues to be active in maintaining his ties to building code development while teaching full-time. It was also announced in late September that Lawson was selected to author a portion of the 2009 IBC Structural/Seismic Design Manual illustrating proper methods of applying the building code to example tilt-up buildings involving concrete, wood, and steel materials.
Posted 10.10.10
Laursen Travels to Berkeley
Peter Laursen travelled to UC Berkeley to attend a two-day workshop on OpenSees, September 2-3, 2010. OpenSees, the Open System for Earthquake Engineering Simulation, is an open source finite element computer application for simulating the non-linear response of structural systems subjected to earthquakes. The application is well suited for parametric analysis of structural systems, e.g. for graduate student level research. The conference provided Peter an excellent opportunity to connect with practitioners and researchers, and keep abreast of recent advances in Earthquake Engineering Analysis.
Posted 8.30.10
CAED Class of 1970 Reunion

Al Estes participated in the opening reception of the CAED Class of 1970 Reunion at the Quality Suites on August 27th.  The ARCE alumni in attendance were Ken Archuleta and his wife Kathy, David Ball and his wife Julie, and 1968 graduate Ray Byrne and his wife Jeanne.  Jeanne was a class of 1970 graduate in Architecture and their son Loren graduated from the ARCE program last Spring.
Posted 8.30.10
Nuttall Wins Award

Brent Nuttall was formally awarded the National Society of Professional 2010 Engineering Education Excellence award at a luncheon in Orlando on July 15th.  The Sustaining Universities Program of NSPE's Professional Engineers in Higher Education established the $5,000 award to recognize engineering faculty who link engineering education with professional practice. The award was presented by  Brad Aldrich, NSPE Past President and Lawrence A. Jacobson, NSPE Executive Director.  More details about this prestigious award and Brent's background can be found at: 
http://www.nspe.org/InterestGroups/PEHE/Resources/Awards/engineeringexcl.html
Posted 9.11.10
Estes and DeHahn Travel to Bay Area


Al Estes and Tracee DeHahn travelled to the Bay Area from 25-27 August to visit alumni, industry partners and friends of the department.  A major purpose of the trip was to discuss the master's program with prominent structural design firms to promote thesis project collaboration with industry.  The first stop was Forell and Elsesser where Jim Guthrie joined us for a meeting with Allen Nudal  (ARCE 1994), Principal, Tim Hart (ARCE 1989), Senior Associate and Simin Naaseh, President and CEO.  ARCE student David Martin is working at Forell and Elsesser this summer on a three-part interdisciplinary internship.  A visit to the Oakland office of Degenkolb followed where we were hosted by


Jorn Halle (ARCE Advisory Board Member), Senior Principal, Jay Love, Senior Principal, and Gordie Wray (ARCE 2002), Project Engineer.  ARCE student Emily Carlip is working at Degenkolb this summer on her internship.  Tipping-Mar partner David Mar (former ARCE Advisory Board member) joined us for dinner at the Gather Restaurant in Berkeley which he helped design.

The next morning began with a visit to the San Francisco office of Degenkolb and a meeting with Senior Principal Jim Malley.  Erica Jacobson (ARCE Master's 2010) and Matt Williams (ARCE Master's 2009) were available to provide their insights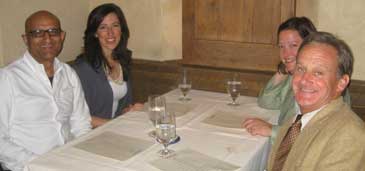 on industry partnerships with the ARCE thesis projects.  Al and Tracee joined Ashraf Habibullah (CSI President and CEO) and Miriam Leigh (Director of Marketing and Communications) for lunch at Kokkari.  Computers and Structures Inc. (CSI) has sponsored a new computer laboratory for the department which will be dedicated in the Fall.  The next meeting was with Kevin Menninger

(ARCE 1981) an owner of Nishkian Menninger Consulting and Structural Engineers.  Included in the visit were ARCE graduates Patrick Dewey (1975), Maribel Delgadillo (2007), and Bahman Ghassemzadeh (2008).  The final visit of the day included the monthly happy hour festivities at Rutherford and Chekene and dinner afterwards with Joe Maffei, Principal and Ann Roche (ARCE 1989) Senior Associate.

Al and Tracee finished the trip in Carmel by visiting Barbara Mills, the widow of California architect Mark Mills who passed away in 2007.  Because of Mark's respect for the Cal Poly ARCE program, Ms. Mills wants to donate her husband's original drawings to Cal Poly.  Tim Strawn and Catherine Trujillo from the Cal Poly library joined the visit to discuss how the drawings can be preserved


and displayed in the Cal Poly archives.  Barbara provided a tour of Mark Mill's most famous houses.
Posted 8.30.10
Archer and Laursen Travel to Toronto

Graham Archer and Peter Laursen travelled to Toronto to present papers at the 9th US National and 10th Canadian Conference on Earthquake Engineering July 25-29th.  Peter presented a paper entitled "Seismic Performance of Unreinforced Masonry Walls Retrofitted with Post-Tensioning Tendons".  The paper was co-authored by Daniel Lazzarini as part of Dan's Master's Thesis research.   Graham presented a paper co-authored with fellow faculty member Cole McDaniel.  The paper is entitled "Full-Scale, Real-Time Building Dynamics Laboratory".  The conference provided both Peter and Graham an excellent opportunity to reconnect with colleagues and keep abreast of recent advances in Earthquake Engineering.
Posted 8.30.10
Saliklis Participates in ExCEED Teaching Workshop
In July 2010, Ed Saliklis participated as an Assistant Mentor at the ASCE ExCEEd teaching workshop in West Point New York.   The ExCEEd Teaching Workshop is a six-day practicum that provides engineering educators with an opportunity to improve their teaching abilities through seminars and practice classes. This collaborative "learn by doing" format ensures that participants will make substantive improvements in their teaching skills by the end of the course.  ASCE has successfully presented this workshop each summer for the past eleven years. Faculty members across the country and around the world have benefited from this workshop.

After the workshop, Ed visited Avery Library at Columbia University where he studied some of the drawings in the Guastavino Archive.  Ed has been researching Guastavino and the use of graphical statics to analyze thin shell structures.  The photo shows a drawing of the graphical statics analysis of the dome of St. Paul's Chapel at Columbia University.
Posted 8.30.10
Saliklis Co-Authors Two Papers
Ed Saliklis co-authored two papers which were presented at the 1st International Conference on Structures and Architecture.  In the spirit of this interdisciplinary conference, Ed wrote a paper with Prof. Robert Arens of Cal Poly's Architecture department entitled "Interdisciplinary form finding in the development of a sustainable emergency shelter".  This paper described the design methods used by their team in their ongoing research that is funded by the California Central Coast Research Partnership.  The second paper was written with Prof. Marc Neveu entitled "Myron Goldsmith: The development of the diagonally braced tube".  This paper was supported by a grant from the Canadian Centre for Architecture which houses the Goldsmith archive.  

Both papers were well attended and much lively discussion ensued each presentation.  


The photo shows Ed with his wife Dr. Ruta Saliklis at the Braga Municipal Soccer Stadium.  It was home of the European Football Championship in 2004 and it is considered to be one of the most original and beautiful stadiums in the world.  It was designed by the Portuguese architect Eduardo Soto de Moura.
Posted 8.13.10
Estes and Kristenson Travel to LA
Al Estes and Linda Kristenson travelled to the Los Angeles area to visit alumni and friends from August 10 -12th.  The first stop was the firm of Ehlen,  Speiss and Haight Inc. in Santa Barbara and a meeting with firm owners Jeff Haight (ARCE 1988) and John Speiss.  ARCE graduates working at the firm include Mark Crittenden (ARCE 1976) and Edward Cruz (ARCE 2008).  That evening, C.K. Allen (ARCE 1964) and his wife Laurel hosted a dinner in Laguna Beach and invited several ARCE alumni to join us.  It was great to see Dirk Bondy and his wife Kristen (ARCE 1988), Dennis Bashaw and his wife Flo (ARCE 1981), Richard Foley and his wife Sue (ARCE 1964), Mel Martin (ARCE 1979), and Ab Samiian (ARCE 1965). 
Linda and Al had breakfast on Wednesday with Ken Stone who is the father of Daniel Stone who just completed his freshman year as an ARCE student.  They discussed how to invite more parent participation in the program.  Al and
Linda visited Larry Kaprielian (ARCE 1979) and Josh Randall (ARCE 1994) who are both principals in KNA Consulting Engineers, Inc. in Irvine.  We were joined around the table by ARCE graduates Jason Smith (ARCE 1997), Kevin Westervelt (ARCE 2004), Alan Tonissen (ARCE 2009), and Kirk Snell (ARCE 2002) to discuss aspects
of the ARCE program.  The next visit was lunch with George Richards (ARCE 1980), the owner and founder of Borm Associates in Irvine.  The finished at NCE (Nelson Consulting Engineers) in Irvine and a discussion with Bill Nelson (ARCE 1984) and Tom Neilsen (ARCE 1985).  Paul Rohrer (ARCE 1991) also works with the firm.
Thursday began with a trip to John A. Martin and Associates in the Los Angeles office and had a meeting with Kal Benuska (ARCE 1985) and Kurt Clandening (ARCE 1987).  They discussed the master's program and work on the ARCE advisory board.  Al presented Kurt with a gift of appreciation as Kurt ends his three year tour of service on the Advisory board. The final stop was the office of Englekirk and Sabol and a discussion with Tom Sabol (ARCE 1979) about the masters program and the state of the industry.  The visits are a continuing part of the ARCE department's effort to visit industry partners at least quarterly and to stay connected.
Posted 8.9.10
ARCE Alumni and Friends Reception Sept. 24
Posted 8.9.10
Lawson Attends ExCEED Workshop at US Military Academy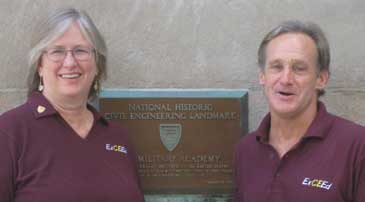 Lawson attended the ExCEEd (Excellence in Civil Engineering Education) Teaching Workshop at the United States Military Academy from July 28-August 2.  The workshop is an intense one-week experience in how to teach.  Each year 24 participants are selected from around the country to attend.  John taught three sample classes as part of this event and received extensive assessment.  John joins the ranks of Abe Lynn,
Pamalee Brady, Cole McDaniel, and Ed Saliklis as graduates of this workshop.  Ed attended this year's workshop serving as an assistant mentor for one of the teams.  Ed has become famous for writing and singing creative songs about the experience.  Al Estes attended the workshop to conduct a demonstration class and present four seminars.  With John's attendance at ExCEEd, Cal Poly is now tied with Texas A&M for the largest number of participants from one school (14) to attend this workshop. 
Posted 8.9.10
Estes Supports ExCEED Workshop at Univ. of Colorado
Al Estes attended the ExCEEd (Excellence in Civil Engineering Education) Teaching Workshop at the University of Colorado at Boulder from July 18-23.  This was Al's 21st ExCEEd workshop in the past twelve years.  He presented a demonstration class, two seminars, and served as the senior mentor for one of the small group teams.  This was the first time the workshop was held in Boulder.
Posted 8.9.10
Estes Visits Liberty Lewis
Al Estes visited with Liberty Lewis, ARCE class of 2002, while visiting Colorado on July 14.  Liberty is currently the Director of Construction Engineering Compliance for SBSA (Solutions Before, Solutions After), a forensics engineering firm in Golden.
Posted 7.1.10
ARCE Newsletter Available
The Spring 2010 issue of the ARCE magazine is currently available.
Degenkolb Engineers is profiled in this issue which celebrates their support
of the ARCE program over the years. This issue contains top stories that
highlight student, faculty and department activities over the past year.
Related Content