News & Events 2011-2012
Posted 9.25.12
Saliklis Travels to Lithuania, Poland
Ed Saliklis traveled to Vilnius Lithuania where he gave two lectures at the Vilnius Gediminas Technical University (VGTU).  His lectures described his research on the history of the development of tall building design.  Then he conducted a workshop for the Architectural Engineering students and faculty where he introduced them to Graphical Statics.  Following the workshop, Ed had a series of meetings with the Provost of the University and the Vice President for International Affairs.  These meetings set in motion a possible Study Abroad experience for Cal Poly's ARCE students, and possibly for VGTU's students to come here.

Then Ed traveled to Poznan Poland where he presented a paper and led a roundtable discussion.  The conference was the Third International Conference on the Image.  There, Ed presented the research that he and Prof. Robert Arens of Cal Poly's Architecture Dept. have been conducting on rapidly assembled emergency shelters.
Posted 6.29.12
Estes attends ExCEEd Workshop in Florida as a Mentor
Al Estes attended the Excellence in Civil Engineering Education workshop at Florida Gulf Coast University in Fort Myers, Florida from June 24th to June 29th.  This was Al's 24th ExCEEd workshop over fourteen years.  Al served as the mentor for one of the teams, taught a demonstration class and presented seminars on Speaking and the Systematic Design of Instruction. 
The workshop invites 24 professors from civil and architectural engineering programs around the nation for this one-week intense training experience. The event was followed by the ExCEEd II workshop from June 29th to July 1st which is offered every three years as an advanced educational experience for those who have completed the initial ExCEEd workshop.  Al again was the mentor for a team, taught a demonstration class and presented a seminar on Dealing with Difficult Students.
Posted 6.14.12
ARCE Hosts 2012 University Professor's Masonry Workshop
From June 12 – 14th, 22 professors from the United States along with professors from 3 other countries converged in the ARCE department for the 2012 University Professors Masonry Workshop. The Masonry Society (TMS) led the workshop with assistance from a number of sponsoring and co-sponsoring organizations. ARCE Professors, Dr. James Mwangi and Dr. Craig Baltimore, served as hosts for the Workshop. They both presented topics in (1) Why Teach Masonry and Incorporating Masonry into the Curriculum and (2) Innovative Approaches to Masonry Education. Formal and informal discussions took place where attendees could ask questions and offer their ideas and suggestions related to teaching masonry in architecture, engineering, and construction management programs. Presentations were given related to exposing students to masonry, improving masonry education, available teaching resources, and masonry design and detailing. Attendees participated in a "hands-on" masonry wall building demonstration. This year's University Professor's Masonry Workshop (UPMW) built on the success of 22 workshops since 1988 in providing provide professors with resources and background needed to effectively teach masonry design and construction classes at the university level. 
Major Financial Sponsors for the UPMW included the Concrete Masonry Association of California and Nevada (CMACN), Masonry Institute of America (MIA), NCMA Education and Research Foundation, and Western States Clay Products Association. Other Contributing Organizations included the Brick Industry Association, Mason Contractors Assoc. of America, National Concrete Masonry Association, Portland Cement Association, BAC Local 1 and Air Vol Concrete Block. For more UPMW photos.
Posted 6.14.12
Sponsor from Berridge Manufacturing Plants
Al Estes visited the Berridge Manufacturing plants in San Antonio and Seguin, Texas on June 14th.  Executive Vice President Grant Gillum hosted the visit which also included lunch with company founder Jack Berridge (ARCE '59).  Jack Berridge is sponsoring the Berridge Manufacturing Laboratory in the ARCE Department and has been chosen as the honored alumnus for the College of Architecture and Environmental Design for 2012.  We hope to see Jack Berridge and his family on campus for Homecoming on October 19-20 for the honored alumni festivities and to dedicate the Berridge Laboratory.
Posted 6.13.12
ARCE Faculty Members at the ASEE Conference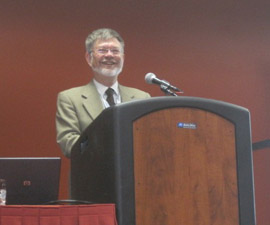 Faculty members Jill Nelson, Jim Guthrie and Al Estes all attended the American Society for Engineering Education annual conference in San Antonio from June 10th – 13th.  The following papers were presented by ARCE faculty at the conference:
AC 2012-3765: STRUCTURAL ENGINEERING FOR ARCHITECTURE AND CONSTRUCTION MANAGEMENT STUDENTS – TEACHING METHODS & CHANGING NEEDS -- James B. Guthrie
AC 2012-3452: TRAINING APPLES TO PERFORM LIKE ORANGES: A LOOK AT UNIVERSITY TEAMING EDUCATION -- Jill Nelson and Andrew J. Holtz
AC 2012-3494: TEN YEARS OF ABET EC 2000: ONE PERSON'S REFLECTIONS -- Allen C. Estes
AC 2012-3497: INTERDISCIPLINARY CAPSTONE DESIGN ARCHITECTS, STRUCTURAL ENGINEERS AND CONSTRUCTION MANAGERS -- James B. Guthrie, Jill Nelson, Brent Nuttall and Allen C. Estes
AC 2012-4218: CIVIL ENGINEERING PROGRAM EVALUATOR REFLECTIONS: THE MOST RECENT LESSONS LEARNED -- Karl F. Meyer, Allen C. Estes, and Paul Mlaker
AC 2012-5288: COLLEGE AND INDUSTRY PARTNERSHIPS: THE SAME, TANZANIA POLYTECHNIC AND WELD QUALITY -- Craig Baltimore and Allen C. Estes
Congratulations to Jill Nelson who was selected for the Best Paper award in the Architectural Engineering Division.
Posted 6.10.12
Spring Graduation 2012
The annual June graduation took place on Sunday, June 10th and started with the university ceremony in Mustang stadium. ARCE students Zhi Long Liu and Kevin Sepulveda were recognized on stage for having the highest grade point averages in the college. The graduation speakers were Bert and Candace Forbes. The college ceremony was held in Spanos stadium immediately after and was hosted by Dean Tom Jones. Masters degrees were awarded to Eliza P. Alcantara, Alia Talina Barajas, Eric W. Bateman, David I. Carmona, Garrett R. Hagen, Nicholas A. Herskedal, Nicholas R. Marrs, Amos H. Mellbom, Pablo D. Ramos Jr., Caroline N. Yarber along with a presentation of their hoods. The ARCE undergraduate degrees were awarded to: Caelen A. Ball, Joshua J. Batham, Brian S. Biehl, Taylor A. Case, Jose M. Chig, Stephen S. Coan, Justin E. Cook, Alton P. Dehaan, Diana M. Durany, Leslie J. Edwards, Mounir S. El-Koussa, Nikolas A. Gomes, Rafael
S. Gonzalez Jr., Robert F. Gottselig, Lisa M. Henry, Patrick A. Heye, Alexander W. Kikendall, Kareena D. Killam, Jonathan P. Lehmer, Zhilong Liu, Christopher D. Lockridge, Andrew C. Martin, Myles T. Parr, Nelson Pureco, Geoffrey A. Recker, Joseph H. Rice, Laura E. Rice, Jennifer N. Roth, Jonathan E. Sadka, Daniel J. Samson, Kevin A. Sepulveda, Bradley G. Stevens, Samantha D. Trehearne, Michael I. Vickery, and Jillian R. Weinberg-Huyette.
A reception was held following the ceremony in the Simpson StrongTie Materials Demonstration building.

Posted 6.09.12
47th Reunion of ARCE Class 1965
Al Estes attended the 47th year reunion of the class of 1965 at the Madonna Inn on June 9th.  The class celebrated with a picnic at Laguna Lake earlier in the day.  The reunion was a lively and well attended event from a class that included both architects and structural engineers and lots of stories.  Bill Brown, Paul Neel, John Edmisten, and Ken Schwartz represented the faculty who taught the class.  Al provided a quick update on the current department and college.
Posted 6.08.12
ARCE 316 Student Project with Emeritus Faculty
Emeritus faculty member Jake Feldman has produced a time lapse video that demonstrates learn by doing at its finest. The project is a concrete village constructed by architecture and construction management students in ARCE 316 large scale structures. This is their final course in a mandatory five-course structures sequence required for graduation. Students build the concrete structures in the same sequence as on a real project using fiber board for formwork and wire mesh for rebar. There are required architectural features in the assignment and teams of students must coordinate with their neighbors as water must flow through the entire site.
Posted 6.05.12
Lawson Wins 2012 CFA Distinguished Educator Award
ARCE faculty member John Lawson has won The Cal Poly chapter of the California Faculty Association (CFA) 2012 Distinguished Educator Award.  The Educator Award is given to recognize faculty who are not yet tenured.  The award criteria are teaching excellence, outstanding professional development, and outstanding service, which John has clearly demonstrated.  John was recognized and formally presented the award on June 5th at the CFA end-of-year picnic at Cuesta Park.  John received a check for $500 and a plaque.
Posted 5.31.12
ARCE Projects Day - Senior Projects & Thesis Proposals
The department conducted its third annual Projects Day on the afternoon of May 31st where undergraduate students formally presented their senior projects in one classroom while the new master's students presented their thesis proposals next door. The presentation titles and students are:

Here are pictures of Mounir El-Koussa, Laura Rice, and Mike Vickery presenting the portable telescope:
Posted 5.31.12
ARCE / CAED Scholarship Recipients for Year 2012-2013
The department hosted a luncheon to honor scholarship winners on May 31st.  Dean Tom Jones and Associate Dean Dick Zweifel presented the college level awards and Department Head Al Estes presented the department level awards.  Emeritus faculty member John Edmiston presented the Hans Mager scholarship.  The department thanks the alumni and industry partners who have generously provided these scholarships year after year.  In sum, $46,000 were provided to students in the form of scholarships.  Thanks go out as well to the Scholarship Committee (Pamalee Brady, Graham Archer, James Mwangi, Melissa Minor) who completed all of the administrative efforts associated with these scholarships.  We were glad to have some ARCE parents join us for this event. This year's scholarship winners are: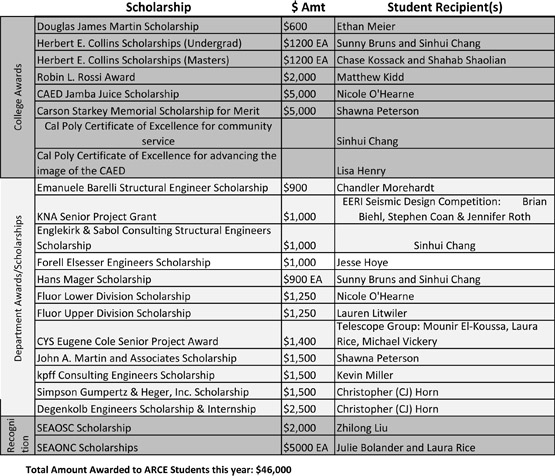 Posted 5.24.12
ARCE Advisory Board comes to SLO for a Semi-Annual Meeting
The ARCE Advisory Board conducted its semi-annual meeting on campus on May 24th. We are pleased to welcome Maryann Phipps, Ricardo Arevalo, Rob Gayle, and Rick Ransom as new members of the Board and to Ken O'Dell who signed on for a second term. We are grateful to Steve Pelham, Dave Lambert, Jorn Halle and Art Ross for their service on this Board as they rotate off but remain as great friends of this department. Grace Kang who has chaired this board for the past year passed the leadership baton to Geoff Neumayr who will chair the board for the next year. Grace will move to the Past Chair position. Joe LaBrie was a guest who shared his expertise in the area of shake tables and business of running a laboratory. The proposed curriculum changes for the catalogue year 2013-2015 were discussed, along with plans for continued advancement activities. The agenda is posted at: attached above. Tom Jones spent an hour with the Board to discuss strategic planning and the budget. The traditional pre-meeting dinner was held at the Upper Crust restaurant.
The number of outgoing advisory board member has reduced. Three outgoing members on the left are:
David Lambert
Steve Pelham
Art Ross
Posted 5.24.12
Official RISA 3D Training at ARCE Lab
Amber Freund (ARCE 2001) RISA Marketing Director and Kaitlin Potter Metcalf RISA Applications Engineer (ARCE 2009) visited the department on May 23-24th to offer training for ARCE students on the RISA software to include the interface between REVIT Structure and RISA structural analysis programs. Amber was the guest speaker at the SEAOC luncheon and spoke about career alternatives with an ARCE degree.
Posted 5.19.12
ARCE Senior Banquet
The ARCE students conducted their Senior Banquet on May 19th at the Madonna Inn. This is a final opportunity for the seniors to celebrate their completion of the ARCE program before they go their separate ways. Our thanks to Courtney Nichols for organizing this year's event with assistance from Felipe Alfaro, Kyle Welsh and Niko Gomes. Department Head Al Estes presented the seniors with a departing gift and recognized Kevin Sepulveda and Zhilong Lui for the highest grade point averages in the program and Laura Rice for her service to the department.
Posted 5.19.12
NSF-NEESR Payload Project
ARCE faculty Graham Archer and Cole McDaniel recently were awarded a NSF-NEESR payload project (CMMI-1135037) in which the ultra-low forced vibration testing (UL-FVT) procedure is applied to a full-scale five-story building structure built on the NEES-UCSD Outdoor Shake Table.  The complete building structure is accurately represented including cladding, interior partitions, and a working elevator.  At four opportunities during the seismic testing of the building structure, the co-PIs determined the natural frequencies, mode shapes, and equivalent viscous damping ratios.  The UL-FVT procedure has also proven effective at determining how the dynamic characteristics of the building change as the structure experiences damage.  Preliminary results will be presented by the co-PI's at the CMMI/NEES conference in Boston, MA in July 2012.
Posted 5.17.12
Al Estes Visits the Barths
Al Estes and Tanya Kiani (University Interim VP Advancement) visited Florian and Lori Barth at their ranch in Hollister on May 17th.  As parents of an ARCE student, the Barths have established an ARCE Parents "Learn By Doing" fund.  The purpose of this fund is to enhance the educational experience of those students that the parents have entrusted to the ARCE program.  Parents have a vested interest in enhancing the education of their sons and daughter and seeing the department succeed.  The intent of the fund is to encourage other parents to collectively match this gift. The Barths have agreed to establish this fund in increments of $10,000 up to a total of $50,000.  For every $10,000 that the ARCE parents match, the Barth's will provide another installment until the gift is complete.  Department Head Al Estes is very grateful to the Barth family for this generous gift and accepts the challenge to double the money.  Al states, "I am confident that as I report back on how these funds are used, more parents will see the value and be inspired to contribute."  Al expects that the funds will be used to bring physical demonstrations into the classroom, support hands on learning experiences and foster activities where students connect their education to the design industry and the real world.
Posted 5.12.12
SEAOC Students Travel to LA and OC
Continuing the tradition of bringing students and the profession together, nineteen students traveled with their faculty advisor John Lawson to Southern California from May 10-12  to visit the LA office of Thornton Tomasetti and the Orange County offices of Miyamoto International and KPFF Consulting Engineers. With a diverse group of Freshmen, Sophomores, Juniors and Seniors, the students saw first-hand many professional issues related to their Cal Poly coursework. One highlight was a guided tour by Thornton Tomasetti of the Rose Bowl renovation with structural steel framing for its new press box, private suites and huge scoreboard. The next day, ARCE Alum Nick Murphy of KPFF arranged a tour of the 7-story steel frame Torrance Memorial Medical Center under construction, and a virtual fly-through tour of the structural and HVAC systems by McCarthy Construction, the General Contractor for the hospital.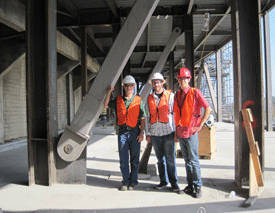 Posted 5.11.12
Nucor Information Session
Scott A. Russell, Engineering Manager, Nucor Building Systems – Utah, LLC and Daniel Gao (Engineering Manager for CBC Buildings in Lathrop, CA, a division of Nucor) visited the department on May 10-11th to conduct an information session for students and to conduct interviews. This is one of the first times that Nucor steel has come to campus. Verco Decking which has sponsored one of the ARCE labs is also a division of Nucor steel.
Posted 5.05.12
Annual Simpson Strong-Tie Symposium
The annual Simpson StrongTie symposium took place on campus on Saturday May 5th for ARCE, Construction Management, and CE students. The morning started with breakfast and a series of technical and practical lectures from the Simpson StrongTie staff, many of whom were Cal Poly graduates.  The hands-on portion of the day consisted of round-robin stations where student were able to use Simpson tools, test the strength of products and observe demonstrations.  The symposium ended with a barbeque lunch prepared by the SEAOC student chapter.
Posted 5.03.12
Flour's Donation to ARCE Department
Mike Milazzo visited the ARCE department on Thursday 3 May to presented a check for $10,000 to newly elected SEAOC Student President Alex Daddow.  The check represents Fluor Corporation's continued support of the ARCE program through scholarships, student development, and support of student activities.  Fluor is also sponsoring the current edition of the department newsletter.
Posted 5.01.12
ARCE Students Win Structural Engineers Scholarships
The Structural Engineers Association presents three $5000 scholarships per year to deserving students in the Bay Area.  For the second year in a row, ARCE students won two of the three scholarships. This year's winners were ARCE students Laura Rice and Julie Bolander.  Both are graduating this year and will be attending the UC San Diego master's program in the Fall.  The scholarships were presented at the SEAONC awards dinner in the San Francisco City Club on May 1st.
Posted 4.29.12
ASCE Semi-Annual Meeting
Al Estes attended the semi-annual meeting of the American Society of Civil Engineers Educational Activities Committee in Tucson, Arizona on April 28-29th.  Al serves as the liaison to the committee for the Architectural Engineering Institute and the Committee on Sustainability.  The Educational Activities Committee oversees the areas of faculty development, accreditation, scholarships, and student activities.
Posted 4.24.12
Aware, Awake, Alive
Scott and Julia Starkey toured the ARCE department and met with Department Head Al Estes and Administrative Coordinator Christine Cobb on April 24th.  Scott and Julia Starkey are the parents of Carson Starkey, an ARCE freshman who died in 2008 in a fraternity hazing incident.  The Starkeys are the founders of Aware, Awake, Alive: a non-profit organization dedicated to prevent the senseless loss of young adult lives from alcohol poisoning.
Flour 100th Anniversary
Al Estes and recently graduated ARCE student Kristi Guerrero attended the 100th Anniversary celebration of the Fluor Corporation at the Disney Hotel in Anaheim on April 21st.  The celebration was simulcast from Fluor Headquarters in Dallas to Fluor locations around the world. Mike Milazzo, Vice President and General Manager, hosted the dinner and festivities in Anaheim. The formal program included historical tributes to Fluor's successes, performance by acrobats, an original composition commissioned by Alexander Prior for the event performed by the Dallas symphony, and a speech by Colin Powell.  The ARCE department thanks Fluor for their generous support of this program and wishes them continued success for the next hundred years.
Posted 4.14.12
Phillips and Brown visit ARCE
Emeritus ARCE faculty members Bill Phillips (taught from 1957 – 1987) and Bill Brown (taught from 1957 – 1992) visited the ARCE department on April 14th.  Bill Phillips currently resides in New Mexico and Bill Brown still lives locally.
Posted 4.14.12
Open House 2012 at ARCE Dept.
The ARCE Department conducted their annual Open House festivities on April 13 and 14th to welcome prospective incoming freshmen and their families.  The activities on the 13th consisted of a college welcome in Chumash auditorium and an information session by Department Head Al Estes.  The festivities on Saturday included classroom display areas and student led tours through the laboratories.  Students demonstrated the testing of timber connections, the crushing of concrete cylinders, and the demonstration of resonance frequency on a building.  Meanwhile, the SEAOC student chapter cooked pork and beef ribs as a fund raiser for the organization.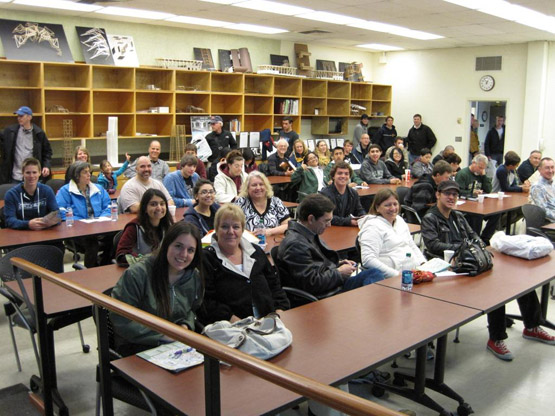 Posted 4.5.12
ARCE Alumnus from KNA visits
Larry Kaprilian, ARCE class of 1979 and Principal at KNA, visited the ARCE department with his family on Thursday, April 5th. Larry and his firm have been tremendous supporters of the ARCE program and consistent attendees at Structural Forum.
Posted 4.3.12
SEAOC Students Travel to New York!
Eleven SEAOC students Alton Dehaan,  Leslie Edwards, Garrett Hagen, Lisa Henry, Megan Navarro, Nick Pajak, Laura Rice, Emiel Schaap, Katie Schwall, Kyle Welsh, and Naomi Wentworth, with their faculty advisor, John Lawson, toured New York's premiere engineering offices, construction sites, and iconic structures for a week during Spring Break. Besides the usual sites of Ellis Island, Statue of Liberty, Grand Central Station, Times Square, Central Park, Brooklyn Bridge and the 9/11 Memorial, the group also toured the New York offices of ARUP, Wiss Janney Elstner, and Thornton Tomasetti. These firms were very gracious providing not only office tours and presentations of their notable work in progress, but also special access to some of the City's most exciting buildings and construction sites. On their first day, the students met with Yoram Eilon of WSP Cantor Seinuk for a tour of the recently completed Hearst Tower composed of a unique diagrid system, and a then a bird's eye view of the World Trade Center site from Silverstein Properties offices in WTC 7. With Yoram's office as the Engineer on four of the World Trade Center towers (WTC1, WTC2, WTC3, WTC7), the students had a special opportunity to see an engineer's personal involvement at such a monumental scale. At ARUP, student were exposed to the unique world of building envelop expertise and the important role it is now playing in iconic structures. ARUP also provided students with a tour of the spectacular Fulton Transit Center under construction adjacent to the World Trade Center site. Wiss Janney Elstner introduced the students to the importance of building restoration and forensics in east coast structures, and concluded with a tour of the recently restored New York City Public Library.  Thornton Tomasetti provided rare access to the CitiCorp Building's tuned-mass damper and building's private observation deck. After a fascinating presentation of their custom 3D software capabilities, the group got a private tour of the new Barclay Stadium in Brooklyn. Special travel funds were provided by industry partners listed at www.cpseaoc.com
.
Posted 3.29.12
Masonry Society Meeting
Craig Baltimore attended the 2012 Masonry Society Spring meeting in Chicago on March 28 and attended the Structural Engineers Institute annual conference technical sessions, also in Chicago on March 29.  Dr. Baltimore is Chair of TMS Design Standards Committee, where the committee is currently updating the Masonry Sound Transmission Standards.
Posted 3.27.12
Estes and Archer visit Dynamic Certification Laboratories
Al Estes and Graham Archer visited the Dynamic Certification Laboratories (DCL) on March 27th in Reno, Nevada.  The tour was hosted by Joe LaBrie, CEO of MakeItRight in Los Angeles.  Joe is assisting the ARCE department in its efforts to obtain an updated shake table.  The visit also included the shake table laboratory at the University of Nevada – Reno.  Joe visited Cal Poly on April 12th and offered a presentation to the ARCE SEAOC/AEI student chapter.
Posted 3.24.12
CSI 37th Anniversary Gala
ARCE faculty and staff members Al Estes, Christine Cobb, Abe Lynn, Sat Rihal and Melissa Minor attended the Computer and Structures, Inc. (CSI) 37th anniversary gala on March 24th at City Hall in San Francisco. The annual party hosted by CSI CEO Ashraf Habibullah featured a Moulin Rouge theme with the encouragement to wear Can-Can dresses and top hats.  Recently graduated ARCE students Luc D'Abreau, Walt Busch, and Yoni Sadka attended the event as did CAED Dean Tom Jones and Advancement Director Allie Jones.
Posted 3.23.12
Alumni in San Fransisco
The ARCE Department hosted a get-together of alumni and friends at Schroeder's German Restaurant in San Francisco on March 23rd.  We had almost 100 people join in the festivities.  With Abe Lynn on sabbatical at Degenkolb Engineers for the year, he was able to help get the word out among those in the Bay Area.  Department Head Al Estes and Administrative Coordinator Christine Cobb travelled from Cal Poly to join the event.  The attendees included Alese Ashukian, Adam Azofeifa, Daniel Bastiao, Josh Batham, Kim Bowen, Dewane Bradford, Walt Busch, Loren Byrne, Stan K. Chase, Daniel Chavez, Manuel Chen, Stephen Coan, Luc D'Abreau, Dago De la Rosa, Aleeta Dene, Brad Erickson, Daniel Espino, Saied Gafhali, Kyle Glen, Lisa Glen, Leigh Guggemos, Daniel Hall, Jim Hart, Jonas Houston, Linda Huang, Melissa Humber, Erica, Jacobsen, Kieran Kelly-Sneed, Jorge Lee, Abe Lynn, Jennifer Lynn, Dave Martin, Rachel Martin, Mike Martinez, Selinda Martinez, Nikole McCollum, Ashley Moraes, Saul Moran, Geoff Neumayr, Joe Nunneley, Alex Penning, Matt Quan, Reece Relatores, Jaclyn Rimando, Jonathan Rivera, Paul roberts, Ann Roche, Marlou Rodriguez, Grace Rose, Mario Saldana, Paul Sargent, Justin Schwaiger, Emmett Seymour, Maya Sneller, Sean Timon, Jen Ton, Su Tran, Marisa Turner, Manuel Ureno, Melissa Vickery, Gordy Wray, Taka yokomaya.. A larger group of photos can be found on the ARCE Facebook page at http://www.facebook.com/pages/Cal-Poly-ARCE/86219053434
Posted 3.17.12
St. Patrick's Day Party!
The ARCE Department faculty and staff celebrated St. Patrick's Day on March 17th at the home of Al and Peggy Estes.  In traditional Irish style, they dined on corned beef, cabbage, shepherd's pie, black and tans, and of course, Irish coffee.
Posted 3.5.12
Perkins and Will Visit
On Monday March 5th, Ed Saliklis visited the global architectural firm Perkins&Will.  Ed met with the principals of the firm;  Nick Seierup the Design Principal and Carl Meyer, the principal of corporate, commercial and civic practice. The purpose of the meeting was twofold.  First, Ed described in detail the structurally rational projects created by his ARCH and CM students in ARCE316 Large Scale Structures. Second, Ed sought further ways of establishing a relationship between P&W and the ARCE department.
Posted 3.03.12
Bill Baker Visit
The SEAOC student chapter hosted the first annual racquetball tournament on March 3rd in the newly renovated Cal Poly Recreation Center.  The tournament included 30 ARCE students and two faculty members. 
Posted 2.24.12
Bill Baker Visit
Ed Saliklis hosted the world's preeminent structural engineer, Bill Baker from Chicago's SOM office.  Mr. Baker has been called "King of the Supertalls" and he was on campus to visit with ARCE students, with ARCH students and to
give a Hearst Lecture.
While on campus, Mr. Baker met with ARCE graduate students, with ARCE senior students, and he provided critiques to students in two separate fifth year architecture studios.  He lectured to a standing room only crowd in the Business Rotunda and signed many, many autographs afterwards, including one student's skateboard!
It was an event that we will remember for many years to come.
Posted 2.24.12
Structural forum 2012
This year's Structural Forum was held on February 18th and attracted 29 companies for 22nd occurrence of this annual event. This year's theme, "Rebuild and Reuse," reflected Forum Chair Kyle Welsh's interest in retrofitting and also brought back more technical speakers and topics to the event. Three industry experts spoke during the morning session, held in the Rotunda in the Business Building on campus: Mason Walters (ARCE '78), a principal at Forell/Elsesser Engineers, spoke on the Utah State Capitol Retrofit project; David Mar, principal of Tipping Mar, gave a presentation on UC Berkeley's Greek Theatre retrofit project; and Yoram Eilon, vice president of WSP Cantor Seinuk in New York, talked about One World Trade Center, the  lead building of the new World Trade Center complex. Mark Sarkisian, director of seismic and structural engineering in the San Francisco office of Skidmore, Owings & Merrill, delivered the keynote address at the evening banquet, held at the Embassy Suites Hotel. He addressed about 200 people -- 140 of them students -- on new ways to look at engineering design – ways that incorporate nature into the design. 
A highlight was the Friday night before the forum. Kyle Welsh and fellow students Lisa Henry, Laura Rice and Chelsie Taylor; faculty members John Lawson, Al Estes, Abe Lynn, Graham Archer, Ed Saliklis; and Administrative Support Coordinator Christine Cobb sat down to an informal dinner with the speakers. "All the speakers were extremely nice, down-to-earth and personable," Kyle said. "I learned a lot.
We extend our thanks to the following firms who attended this year's Forum:
ATI Architects and Engineers, Danville
Brooks Ransom & Associates, Fresno
Buehler & Buehler S.E. Inc., Sacramento
Crosby Group, Redwood City
Degenkolb, Oakland
DES Architects + Engineers Inc., Redwood City
Englekirk Structural Engineers, Los Angeles
Ficcadenti & Waggoner Consulting Structural Engineers Irvine, 
Fluor, Aliso Viejo
Forell/Elsesser Engineers Inc., San Francisco
Hilti, Tulsa, Okla.
Holmes Culley/Holmes Fire, San Francisco
John A. Martin & Associates, Los Angeles
KPFF Consulting Engineers, Los Angeles
Lionakis, Sacramento, CA
MHP Structural Engineers, Long Beach
Miyamoto International, Santa Ana, CA
Paradigm Structural Engineers, San Francisco 
Peoples Associates Structural Engineers, Milpitas
Rinne & Peterson Structural Engineers, Palo Alto
Rutherford + Chekene, San Francisco
Simpson Gumpertz & Heger Inc., Waltham, Mass.
Simpson Strong-Tie, Riverside
Taylor & Syfan Consulting Engineers Inc. Pasadena & San Luis Obispo
Verco Decking Inc., Pheonix, Ariz.
Wiss, Janney, Elstner Associates Inc., Northbrook, Ill.
ZFA Structural Engineers, Santa Rosa
Posted 1.30.12
ARUP LA Presentation by Saliklis
On Monday March 5th, Ed Saliklis presented a seminar to approximately 30 members of the ARUP LA office.  The seminar was entitled: "Myron Goldsmith and the Development of the Diagonally Braced Tube".  The presentation gave an overview of the research that Ed has performed with Prof. Marc Neveu on the career and the contributions of Goldsmith during his tenure at SOM's Chicago office in the 1960s.
The seminar was enthusiastically received, with many questions from the audience members about Goldsmith and about Ed's wider research interests. The ARUP host was Dave Lambert (BS..... MS>......) and it is fully expected that Ed will return to the LA ARUP office for another seminar in the near
future.
Posted 2.24.12
Al Estes and Allie Jones Visit Alumn
Al Estes and Allie Jones traveled to Los Angeles to visit alumni, parents and industry partners from February 1st – 3rd.  They visited Tom Sabol (ARCE 1979) to discuss potential master's projects and the state of the industry and visited with Margaux Burkolder (ARCE 2009) as well.  At kpff, Al and Allie met with Jan Dougalas to discuss scholarships and her impending visit to speak with students at a SEAOC luncheon.  Kpff has hired a number of ARCE grads lately as they saw JR Aube (ARCE 2010), Michael Doremus (ARCE 2003), and Jamie Jones (ARCE 2010) on the visit.  Al and Allie had a great visit with Joe LaBrie (SEAOSC President-elect) in his office of Makeitright to learn more about the shake table industry and existing laboratories. They also visited with Jason Kono (ARCE 09). Ken Stone (ARCH 1979) linked up in the afternoon to share his ideas on the upcoming capital campaign, advancement strategies and the future of the ARCE program.  Thursday finished with a visit to Fluor Corporation and Mike Milazzo (ARCH 1978) V.P. and General Manager to thank them for their generous support of the ARCE program.  Friday's first visit was to RISA Corporation where Al and Allie met with Debbie Brisbin and Caitlin Potter (ARCE 2009) to discuss possible training opportunities and involvement in the ARCE program.  The final meeting was with Michael Waggoner and Kirsten Zeydel at Ficcidenti, Waggoner and Castle to discuss the ARCE master's program and to thank them for their steadfast support of Structural Forum.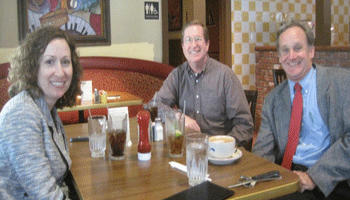 Posted 4.3.12
SEAOSC Job Fair, Scholarship Presentation
ARCE students Zhi Long Lui, Alex Daddow, Eliza Alcantara, Felipe Alfaro, and Lauren Litweiler attended the annual Structural Engineers Association of Southern California (SEAOSC) Job Fair and Scholarship Presentation on February 1st at the Luminarias Restaurant in Monterey Park.  Department Head Al Estes and Advancement Director Allie Jones also attended. There were 9 scholarships of varying amounts presented to students from nine universities in Southern California.  The largest, the Kenneth Narver and Margaret Narver Blair scholarship, for $2,000 went to Cal Poly ARCE student Zhi Long Lui.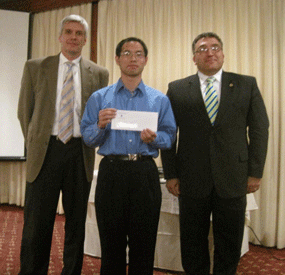 Posted 1.30.12
Al Estes and Allie Jones Travel to the Bay Area
On January 23-25, Al Estes and the new CAED Director of Development Allie Jones traveled to the Bay Area to visit alumni, parents and industry partners.  The first visit was with Florian and Lori Barth, parents of ARCE student Florian Barth, at Steamers Grillhouse in Los Gatos.  Discussion focused on the sponsorship of a design laboratory and a fund raising event in the Barth home.  Pleasanton and the corporate headquarters for Simpson StrongTie was next where Ricardo Arevalo (ARCE 1985 and Vice President for Engineering) hosted a tour and dinner.  ARCE graduates Rachel Martin (2005), Scott Fischer (1998), Brad Erickson (1998), Emory Montague (1998), and Brandon Chi (1998) made a formal presentation on their career paths as ARCE graduates at Simpson. Ricardo has agreed to join the ARCE Advisory Board this Spring.  Allie and Al visited Maryann Phipps in her home office at EStructure and Maryann also agreed to join the ARCE Advisory Board in the Spring. This was followed with a visit to CSI and a meeting with Ashraf Habibullah and Miriam Leigh to discuss the CSI laboratory, the next visit to campus, and future initiatives.  Jorn Halle (ARCE Advisory Board member) hosted a visit to the Oakland office at Degenkolb.  Al and Allie had lunch with Jorn, ARCE faculty member Abe Lynn who is on difference in pay leave at Degenkolb for the year, and Alethea O'Dell and discussed dedication of the Degenkolb Graduate lab and an ARCE alumni event in the Spring.  Al and Allie visited the home of ARCE 1965 graduate Bruce Cameron and were joined by his brother Brian Cameron who is a member of the CAED Dean's Leadership Council.  Stephen Mincey (ARCE 78 and CEO) provided a tour of DES Architects Engineers in Redwood City followed by a discussion of the industry sponsored masters projects.  The final visit was to Rinne and Peterson Structural Engineers in Palo Alto where ARCE 1998 graduate Maya Sneller hosted the visit.  ARCE grads Sean Timon (2007) and Kevin Michelmore (2008) were also available.  Both DES Architects and Rinne and Peterson have been loyal supporters of the ARCE Structural Forum.
Posted 1.30.12
ASCE Workshop
On January 13-14th, four ARCE students with their faculty advisor John Lawson attended the ASCE Workshop for Student Chapter Leaders in Portland, Oregon. This two-day workshop provides our prospective SEAOC/AEI student officers with the tools and insights necessary to run a successful club.  While at the workshop, Junior ARCE students Andrew Jimenez, Beth Schlacks, Shawna Peterson, with Sophomore Ricky Stewart, networked with other university students as well as practicing civil engineers from across the western United States. Additionally, ASCE National President  Andrew Herrmann (pictured with Lawson) took part in a student question/answer session.
Posted 1.19.12
Laura R. & Jill W. Receive Outstanding Women in Engineering Awards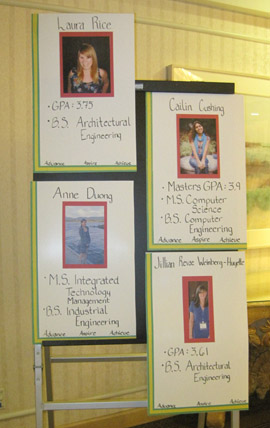 Two ARCE students, Jill Weinberg-Huyette and Laura Rice, were honored by the Cal Poly Society of Women Engineers at their 36th annual Evening with Industry on January 19th at the Embassy Suites hotel. Both Jill and Laura were nominated for the Outstanding Women in Engineering award along with 23 other students.  Laura Rice was ultimately one of the five winners of this award.  Laura was actually unable to attend the banquet as she was in Hawaii presenting a conference paper on her senior project
.
Posted 1.09.12
Conference on the Constructed Environment in Chicago
In November 2011, Kevin Dong attended the 2nd International Conference on the Constructed Environment in Chicago.  Kevin presented a paper he prepared with Jake Feldman titled, "Design, Engineer, and Construct:  Building Concrete Structures".  The paper described how design, construction, and engineering can be integrated into technology courses and used the concrete models constructed in their sections of ARCE 316 as an example.  The event was attended by practitioners and academics from over 20 different countries.  The conference theme focused on issues related to construction and design, but more specifically on how collaboration, sustainability, and sociology impact the constructed environment.  (Photo on right; works discussed relating Chicago public art and society)
Posted 12.6.11
SEAOC Students Travel to San Francisco
In November, over 30 SEAOC students traveled with their advisor John Lawson to the north to experience two high-profile construction sites, two top-notch engineering firms, and a research/testing facility. Simpson Strong-Tie graciously opened their doors to provide lunch and a private tour of their research, testing and manufacturing facility in Stockton, where students witnessed static and cyclic tests of several seismic resisting products. In San Francisco, engineering firms Forell & Elsesser and Rutherford & Chekene both introduced the students to their offices and projects as well as their happy ARCE alumni on staff. No surprise they are happy: Forell & Elsesser was judged as the nation's "Best Firm to Work for" in 2010. Student's favorite experiences were the tours of unusual construction sites. At UC Berkeley, students toured the structural retrofit of Memorial Stadium designed to accommodate a six-foot earthquake fault rupture directly beneath. In San Francisco, students toured the large UCSF Hospital project which utilizes hundreds of special buckle-restrained braced frames. Both of these projects had plenty of exposed steel framing under construction, providing a working classroom experience for the students.
Posted 12.6.11
AL Estes Attends American Society of Civil Engineers Activity
Al Estes attended the American Society of Civil Engineers Educational Activities Weekend on 7 – 9 October in St. Louis.  The weekend occurs annually and involves meetings of all of the constituent sub-committees which include student activities, scholarships, accreditation, faculty development, and publications.  Al met with the Committee on Faculty Development which plans the ExCEED teaching workshops held every summer.
Posted 11.22.11
2011 Parents Weekend
The ARCE department hosted its second annual Parents Weekend reception on October 29th in the courtyard behind the department area.  We had approximately 200 faculty members, students and parents in attendance.  The student SEAOC Chapter hosted the cook-out and the reception offered a welcome from both university President Jeffrey Armstrong and CAED Dean Tom Jones. The official program included several presentations by students, a new song performed by faculty members Ed Saliklis and John Lawson, a learn-by-doing video, and a question-answer session with the department head.  It was terrific to see so many ARCE parents in attendance.
Posted 11.22.11
2011 SEAOC Convention Las Vegas, NV
Four ARCE students (Lisa Henry, Laura Rice, Kyle Welsh, and  Niko Gomes) attended the annual Structural Engineer Association of California (SEAOC) Convention in Las Vegas on September 25-27th. All four students are officers in the SEAOC student chapter and were accompanied by SEOAC faculty advisor John Lawson and department head, Al Estes.  The students attended technical sessions, social events, and the ARCE reception.  The department thanks Bill and Melissa Warren, Jim Malley (Degenkolb), Jim Amundson (Hope Engineering), and Larry Kaprelian (KNA) for their financial gifts that allowed the students to attend.
.
Posted 12.6.11
ARCE Annual Reception in Las Vegas
.
The ARCE department hosted their annual reception at J.C. Wooloughan's Irish Pub in the Marriot Hotel at the SEAOC annual conference in Las Vegas on September 25th.  Approximately, 45 alumni and friends of the ARCE program were in attendance.  Al Estes made some remarks on the state of the ARCE program and held the door prize drawing.  The grand prize gift basket winner was Alan Hanson form Simpson StrongTie.  The department thanks Jerry Lohr for his donation of J. Lohr wine to support the reception.
Posted 12.13.11
Ed Saliklis, Ph.D., P.E. Travles to London
Ed Saliklis presented a paper at the IABSE-IASS 2011 which took place in London England in September 2011. Ed is a member of the IASS (International Association of Shell and Spatial Structures) and he presented his peer reviewed paper "Milo Ketchum Jr and the Exploration of Form."  The paper was co-authored by Prof. David Billington of Princeton University and by Peter Laursen of the ARCE department.
The photo shows Ed with Prof. Billington.  Besides Prof. Billington, the conference had many distinguished participants including Lord Norman Foster who spoke of his visionary designs for emerging cities, Bill Baker of SOM (who will speak at Cal Poly on March 2nd 2011!), Les Robertson, designer of the original World Trade Center, and the Bank of China in Hong Kong, and Jorge Schlaich, arguably the premier structural engineer in the world today.
Ed Saliklis also met with his colleague Prof. Michael Ramage at Michael's home institution, Cambridge University.  There they explored a nearly physically impossible spiral staircase (photo) and the "Mathematical Bridge" designed by James Essex the Younger (1722-1784).
Posted 11.22.11
ABET Accredidation Visit
Al Estes conducted an ABET accreditation visit for the Architectural Engineering program at the University of Nebraska at Omaha from 29 September to 1 October.  Al has served as an ABET program evaluator for over a decade and has made numerous accreditation visits to various civil and architectural engineering programs.
Posted 12.13.11
Lawson attends Faculty Advisor Workshop at ASCE headquarters
As seen in the photo, Assistant Professor John Lawson had a chance to sit down and kick-back in the ASCE President's chair while she was out of her office. However, the main purpose of Lawson's attendance of this Faculty Advisor workshop in Virginia was to encourage students to use Cal Poly's SEAOC/AEI Student Chapter as a stepping stone for more active involvement in ASCE and AEI, and maybe one day sitting in this same chair as ASCE President. With Abe Lynn taking a sabbatical, Lawson has stepped in to being the new Faculty Advisor for the SEAOC/AEI student chapter. The workshop illustrated how student run clubs associated with AEI can establish a critical link between the profession and education, and assist in satisfying some of the more difficult ABET accreditation criteria. Cal Poly's ARCE students have a wonderful opportunity to join the SEAOC/AEI club which is a combined organization representing the Structural Engineers Association of California and ASCE's Architectural Engineering Institute.
Posted 7.30.11
Estes, Lynn and Guthrie attend ExCEEd Workshop
Al Estes, Abe Lynn, and Jim Guthrie attended the Excellence in Civil Engineering Education (ExCEEd) Teaching Workshop at the United States Military Academy at West Point from July 24 – 29th. Jim attended as a participant, Abe as an assistant mentor for a participant group and Al presented five seminars and a demonstration class. The workshop is an intense one-week experience on how to teach. Each year 24 participants are selected from around the country to attend. Jim taught three sample classes as part of this event and received extensive assessment. Jim joins the ranks of Abe Lynn, Pamalee Brady, Cole McDaniel, Peter Laursen, John Lawson, Jill Nelson and Ed Saliklis as graduates of this workshop. This is Al's 23rd ExCEEd workshop in the past thirteen years. Cal Poly is one of the leading institutions to support this workshop. With Jim's attendance at ExCEEd, Cal Poly now has the largest number ofparticipants from one school (16) to attend this workshop.
Posted 7.11.11
Estes and Nelson attend ExCEEd Workshop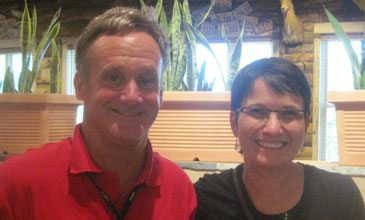 Al Estes and Jill Nelson attended the ExCEEd Teaching Workshop held at University of Texas in Tyler from July 10 – 15. Jill attended as a participant and is the eighth member of the ARCE faculty to attend this intense one-week teacher training program. Twenty-four participants from around the nation attend thirteen seminars and three demonstration classes. Each participant teaches three sample classes and receives extensive assessment from team mentors, assistant mentors and fellow participants. Al participated as a material presenter and group mentor. This was his 22nd ExCEEd workshop over the last decade.
Related Content