News & Events 2017-2018
To skip to past News/Events & Magazines click here
EERI SDC Team travels to LA for 15th Annual Undergraduate Competition
june 25-29, 2018
This year, the Annual Seismic Design Competition (SDC) coincided with the 11th National Conference on Earthquake Engineering. This provided students the unique opportunity of not only competing against teams from all over the globe, but getting the opportunity to listen to numerous industry professionals. 15 students accompanied by EERI SDC's faculty advisor, Anahid Behrouzi, rendezvoused at the Westin Bonaventure Hotel in downtown Los Angeles for the week-long conference.
Teams representing Universities from United States, Canada, Dominican Republic, Turkey, Malaysia, China, and Romania came together for the competition. The competition judges the team's technical communication through a written proposal, poster, and oral presentation. They are also judged on their analysis of their structure based on the accuracy of their computer simulation predictions with the measured results from the shake table test in which each team's 5-foot tall balsa-wood model is subjected to two earthquake ground motions. ARCE students Jeret Buerger, Brooke Lipsey, and Jerry Luong gave the oral presentation, receiving 2nd place and amazing feedback from the audience and judges.
Berridge Lab Dedication
june 15, 2018
The rededication of the Berridge Materials Laboratory was conducted on Friday, June 15th and represented a $50,000 sponsorship commitment for an additional five years.  Jack Berridge (ARCE '59) sponsored the lab in 2011 and it was initially dedicated in conjunction with his being named the CAED honored alumnus.  The re-dedication coincided with the graduation of Jack's grandson Christopher Berridge (ARCE '18) this Spring.  Christopher's parents, Mark and Helen Berridge, attended the dedication along with 15 other members of the Berridge family.  Jack was unfortunately not able to travel for the event.  Kim Gillam, Jack's daughter, presented the check for $50,000 and spoke on behalf of the Berridge family.  CAED Dean Christine Theodoropoulos spoke and thanked the Berridge family for their generous support.  After a cake cutting ceremony, the guests enjoyed J. Lohr wine and pre-dinner hors d'oeuvres.  Improvements to the lab include new lab tables, two new Tinius Olsen testing machines, and a new computer station with large TV monitors.  The next improvement will be new furniture.
Al Estes attends ASCE Conference
May 29 - June 1, 2018
Department Head Al Estes attended the annual ASCE Civil Engineering Department Heads Conference in Philadelphia from May 29 – Jun 1.  Following the conference, Al attended the semi-annual meeting of the Department Head Coordinating Council and a second joint meeting with the Committee on Education.  Al made presentations on "20 Years of the ExCEEd Teaching Workshop" and on the "New ABET criteria 3 and 5" before an audience of almost 100 CE department heads. ASCE President-elect Robin Kemper presented the Walter LeFevre award to Al Estes on behalf of the Cal Poly ARCE program at a lunchtime ceremony at the conference.
2018 Senior Banquet
May 19, 2018
The annual ARCE Senior Banquet was held on May 19th at the Ventana Grill.  Over 60 ARCE graduating seniors were in attendance along with ARCE faculty and staff Al Estes, Erika Clements, Ed Saliklis, Pamalee Brady, and Jill Nelson.  The ARCE academic scholar award was presented to Sydney Gallion.  The ARCE service award went to both Cory Ihnotic and Tia DeHarrport.  The department presented senior gifts to each students.  The students awarded "most likely" awards to their classmates.  The senior banquet represents the students final evening together before they graduate and go their separate ways….a night to celebrate completing the rigorous ARCE program with those who did it with them.
Spring Advisory Board Meeting
May 11, 2018
The ARCE Advisory Board met on May 11th for its 23rd consecutive semi-annual meeting since it was reconstituted in 2007.  The traditional Thursday night dinner was held at Guisepppe's Cucina Rustica in San Luis Obispo.  The meeting agenda included discussions on interdisciplinary collaboration, the future of the master's program, and diversity on campus.  The CAED Dean Christine Theodoropoulos met with the Board to present various issues affecting the college.  ARCE students Sydney Gallion and Aiden Bernhardt demonstrated their damped wooden braces in the Seismic Lab which are part of their senior project.  Faculty members Jill Nelson, Cole McDaniel and Anahid Behrouzi presented different topics to the Board.  Master's students Chris Martinez, Leah Holleran and Ryan Lefevre, along with alumnus Margaux Burkholder, provided a student perspective on the Master's program.  The department thanked and presented farewell gifts to outgoing members Dirk Bondy, Conseulo Crosby, Bill Rader, Sarah Storelli, and Jim Pappas.  The board welcomed Ron LaPlante, Evan Reis, Steve Patton, Elisa Suarez, and Marc Guberman as new members starting their three year term.
Weed Project Wins Service Award
May 10, 2018
The Department offers our congratulations to faculty member Dennis Bashaw (ARCE), Maggie Kirk (ARCH), and Greg Starzyk (CM) who were selected for the Service Learning – Faculty Team award at the 32nd annual Cal Poly Community Service Awards on May 10th on the patio of the Alumni House.  President Armstrong presented the award to the faculty team who created an interdisciplinary studio in the Fall 2017 quarter that focused on rebuilding the community of Weed, California which was devastated by fire in September 2014.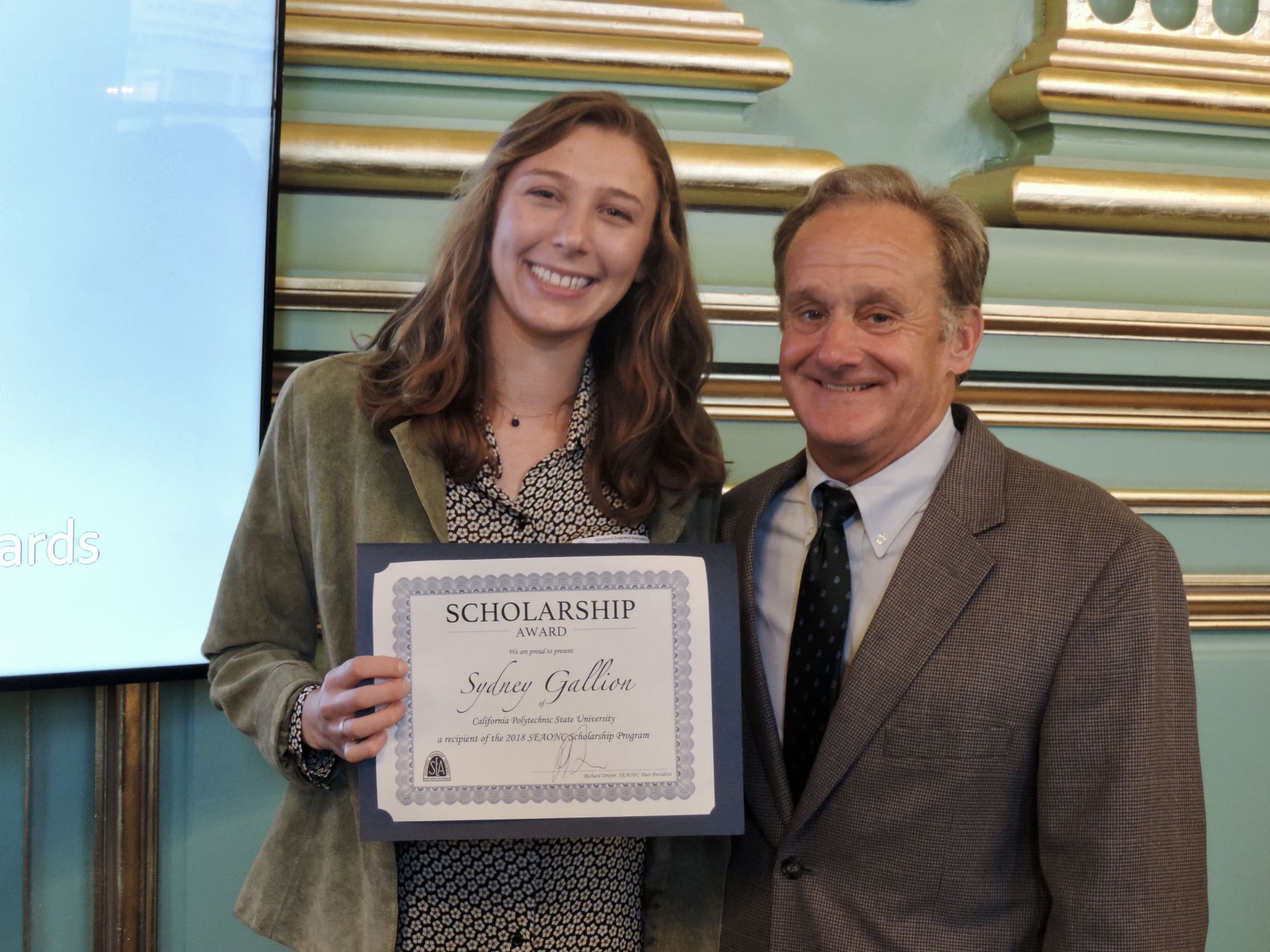 Al Estes Heads North & Sydney Gallion Receives SEAONC Scholarship
April 30-may 1,2018
Department Head Al Estes travelled to the Bay Area on April 30 – May 1 to visit Computers and Structures Inc. (CSI) and attend the SEAONC Scholarship ceremony.  On the way, Al stopped by Stanford University and visited 2017 ARCE graduate Kate Cuddington who is currently getting her Master's degree.  Kate was working with Renata Fruchter as part of her innovative Computer Integrated Architecture/Engineering/Construction Global Teamwork course.  ARCE students Michael Blanchard and Erica Croft provided CSI President and Founder Ashraf Habibullah with a presentation on their recent Structural Engineering Students for Humanity (SESH) trip to Nepal.  The purpose of the visit was to thank Ashraf for his generous donation to this project.  ARCE students Jenna Williams and Elyssa Adams attended as well, since they are leading the SESH trip to Nepal this summer.  ARCE student Sydney Gallion was awarded a $5000 SEAONC scholarship which was formally presented at the 2018 Excellence in Structural Engineering Awards Ceremony held in downtown San Francisco.  Her parents were able to attend the ceremony as well.
Simpson Strong-tie Symposium and Lab Rededication
april 28, 2018
The Architectural Engineering department hosted representatives of Simpson Strong-Tie at the annual Simpson Symposium.  The event is an opportunity for students to learn about the company and its wide range of products.  The day consisted of a morning presentation, giving students a chance to network with the Simpson Strong-Tie representatives and learn more about the company.  The afternoon offered the chance to attend demonstrations in which students could get their hands dirty trying out different products.  They were able to try filling anchor bolt holes with epoxy, assemble a structure using outdoor framing ties, and test out the easy to use nail gun.  Following the Symposium, the ARCE department celebrated the rededication of the Simpson Strong-Tie Lab.  At the dedication, Department Head Al Estes gave a few words on how involved Simpson Strong-Tie has been in the ARCE program, and how  beloved the lab is by the department.  Simpson Strong-Tie COO Ricardo Arevalo also spoke at the dedication about how pleased the company is with its partnership with the ARCE program.  Following Al's and Ricardo's remarks, the ARCE community marked its longtime relationship with Alan Hanson, the retiring Outreach Coordinator.  A respected friend of the department, Alan has been collaborating with Cal Poly ARCE for years, and has always been a pleasure to work with.  While Alan will be missed, the department wishes him a happy retirement  and is excited to work with Angel Leon, the new Outreach Coordinator, in the years to come.
Open House Weekend
APRIL 21, 2018
On Saturday April 21st, we welcomed prospective students and parents to Cal Poly at Open House Weekend.  On display in the ARCE labs were student-built models and information on the various courses taken throughout the ARCE curriculum.  Student volunteers led tours through the ARCE facilities, including the testing labs and concrete yard.  Students also performed various demonstrations including concrete compression tests, timber box beam tests, and seismic tests on the shake table.  The demonstrations gave prospective students a glimpse into the basis behind the ARCE courses and their significance in the field.  The SEAOC student chapter also set up its booth as part of the club showcase.  They grilled up some tasty bratwursts, sold merchandise, played games, and showed everyone a little taste of the ARCE culture.  
Design Village 2018
APRIL 20-23, 2018
On Friday April 20th,first year ARCE students hiked up to Poly Canyon, towing, pushing, and rolling their Design Village structures with them. Design Village is an annual competition where students design and construct a shelter to camp out in over the weekend in the Canyon.  This year many studios collaborated to create fewer yet larger scale projects.  This allowed them to focus more on the detail and constructability of the projects.  The structures remained out in Poly Canyon until students deconstructed and carried them back Sunday.  
SEAOC Board Members Attend 2018 AEI Conference
APRIL 4-6, 2018
This spring, the ARCE Department sent five undergraduate students to Omaha, Nebraska for the 2018 Architectural Engineering Institute (AEI) Forum. Logan Peck, Samantha Solow, Tiffany Wang, Jenna Williams, and Mark Wright attended the Workshop for Student Chapter Leaders with peers from ARCE Programs across the nation. At the workshop, they received leadership training from Nigel McPherson Jr., Senior Performance Consultant at HDR in Omaha. Additionally, the students attended technical tours, keynote speaker sessions, and networking events.
At the forum, ARCE 3rd year Mark Wright was elected as the AEI National Student Organization's Vice President. Throughout the year, he will be working with other elected officers to represent student chapters across the nation to the professional AEI organization.
At the welcome reception, these five SEAOC Board members accepted an award for winning the 2017 AEI CANstruction Competition. Members of the club conducted a canned food drive and used the collections to create a structure made entirely of cans. SEAOC competed against other AEI chapters with their submission, "PeCAN Pie." Afterward, the cans were donated to local nonprofit Food Bank Coalition of San Luis Obispo.
Click here to view a few photos from their trip!
SEAOC Spring Break Trip in New York
March  25-31, 2018
22 Cal Poly ARCE undergraduate students and a faculty advisor, Graham Archer, traveled to New York City over spring break in order to learn more about opportunities in structural engineering, bond with classmates, and explore a new, exciting city. Throughout the week they visited four engineering firms, BuroHappold, Thornton Tomasetti, Silman, and SuperStructures.  Each of the firms offered a something unique, and students had the chance to learn from very experienced engineers. We were also able to travel to two projects that the engineers worked on, and learned in detail about the struggles they went through in order to complete the projects.Once the office and site visits were done, students were allowed to explore New York City as they liked. From visiting Central Park to attending Broadway shows, everyone was able to find activities that interested them.
Click here to check out more photos from their trip!
Al Estes' Bay Visit
March 26-27, 2018
Department Head Al Estes used the first two days of Spring break to visit firms in the Bay Area.  On March 26th, he visited People's Associates Structural Engineers in their interim Santa Clara office.  He met with owner Don Peoples, Bill Wells (ARCE 2006), and newly hired Nick Reindel (ARCE 2016). 
After a quick meeting with Tonya Nilsson (ARCE 1991), Al also visited the San Carlos office of ZFA where he met with Steve Patton (ARCE 2004) who will be joining the ARCE Advisory Board this spring.  He also saw Joey Williams (ARCE 2008), Petra Patton (ARCE 2004), Dan Morosan (ARCE 2013), Derek Sereno (ARCE 2013), and Matt Frantz (ARCE 2005).
On March 27th, Al started the day with a visit to HOK in San Francisco where he met with Jared Parker (ARCE 2015) to discuss working as a structural engineer in an architecture firm and the degree to which the ARCE program prepares graduates to do that.  Al visited the S.F. office of SGH to personally present the 2017 ARC'Y award to the firm in honor of the scholarship video they created for the scholarship luncheon. Craig Allender accepted the award. 
The final visit was to Holmes Structures where Al met with Zander Sivyer, Principal and CEO of the firm that has hired many ARCE grads over the past few years.  Holmes Structures will be the industry sponsor for the next edition of the ARCE magazine.
CSI Party "007"
February 10, 2018
 Ashraf Habibullah, the founder of Computers and Structures, Inc., hosted his annual black-tie party at the City Hall in San Francisco. This year's gala was themed "007" and took place on February 10th, 2018.
The current SEAOC board joined several ARCE grads, Department Head Al Estes, and Administrative Coordinator Erika Clements for a night filled with food, dancing and entertainment! Mr. Habibullah gave a welcome speech and then let the guests loose to enjoy the night dancing to live music, eating delicious desserts, and celebrating being involved in an amazing industry. 
Structural Forum 2018
February 3, 2018
 The Cal Poly SEAOC chapter and the ARCE department held the 28th annual Structural Forum on February 3rd, 2018.  This year's theme, "Embracing Opportunity," was felt throughout the day, as students connected and gained insight from industry professionals. 
The morning session featured guest speakers Mike Korolyk, Richard Dreyer, and Hayley Dickson with Theresa Curtis.  This year's keynote speaker was Elizabeth Hausler, founder and CEO of Build Change.
The Structural forum committee, led by Structural Forum Chair Sophia Abshire, along with the SEAOC board, was responsible for planning and executing the amazing event.
Mexico City Reconnaissance 
October 27-November 3, 2017
On October 28th fourth-year undergraduate ARCE student Rachel Chandler traveled to Mexico City to perform earthquake reconnaissance work.  While abroad she examined damaged structures after the 7.1 earthquake that hit Central Mexico on September 19th.  Assistant professor Anahid Behrouzi in conjunction with Purdue professor, Santiago Pujol, collaborated in a National Science Foundation (NSF) RAPID grant.  Their objective was to study reinforced concrete building damage resulting from the destructive earthquake. 
 Rachel visited numerous sites and expanded her insight on post-earthquake damage.  She saw different types of structural failures first hand and gained insight on how they could be restored, retrofitted, and prevented. 
During her journey she also was able to experience the culture and see the social impact the earthquake had on the community.
SidePlate Lab Dedication
October 26, 2017
Ringing in the new academic year, SidePlate Systems and the ARCE department hosted a dedication ceremony to formally dedicate the SidePlate Lab. The dedication ceremony commenced in the SidePlate lab with a few words from ARCE department head, Al Estes, CAED Dean, Christine Theodoropolous, SidePlate Western Regional Business Manager and Cal Poly ARCE Alum, Ryan Smith and SidePlate President & CEO, Henry Gallart.  Gallart then signed the $50,000 donation check and presented it to the ARCE department. In addition, Pam Prince, William Tarasevic and Brett Hart from SidePlate attended the ceremony. To end the dedication ceremony, Christine Theodoropolous, Al Estes and Henry Gallart cut the red ribbon officially dedicating the new SidePlate Lab.
Following the dedication ceremony, the ARCE department & SidePlate staff sponsored a campus-catered lunch. Al Estes and Henry Gallart cut the SidePlate cake and everyone enjoyed a lunch with some of the industry partners, faculty and current students.
Mustang Family Weekend 2017
October 21, 2017
Saturday, October 21st the ARCE department held its 9th annual Mustang Family Weekend Barbecue.  The event overlapped with the University's greater Mustang Family Weekend events, so not only did parents get to see how amazing Cal Poly is, but they also got an inside peek into the ARCE department.  With the help of the student SEAOC (Structural Engineers Association of California) chapter at Cal Poly, we grilled up some classic central coast tri-tip for our ARCE family barbeque.  After enjoying lunch, taking pictures at the photo booth, and meeting other supporters, department head Al Estes gave an informational presentation about the department.  Parents got to hear about the department's latest activities and unique opportunities, learn about the student experience and the classes ARCEs are taking, as well as statistics and information about why Cal Poly ARCE is an amazing place to be a student.  Some things that were highlighted in the discussion were the Lithuania study abroad program, SESH (Structural Engineering Students for Humanity) and the club's recent trip to Nepal, and Structural forum.  All of which enable students to experience amazing opportunities that set them up to be successful in their future careers.  It is always a fun time showcasing to parents and family members what we are all about!
Building An Engineer (BAE) Day
October 21, 2017
On October 21, 2017, Society of Women Engineers hosted their annual event of Building an Engineer (BAE) Day.  Building an Engineer Day is an outreach event for middle school students from the region to come to Cal Poly's campus and participate in hands-on activities hosted by various engineering clubs.  ARCE Student Chapter of the Structural Engineers Association of California (SEAOC) was excited to host an hour long activity in the ARCE labs to various groups of young students throughout the day.
This year, SEAOC service chair, Ana Lopez, set up the wonderful event and led each lesson.  In the lessons, students learned a brief definition of structural engineering, were assigned teams and then cut loose to design and build a bridge out of K'Nex.  When time expired, it was time to test.  Each bridge was loaded brick by brick until failure.  The goal for the students was set at a two brick load; however, some were able to hold as many as four!  Thank you Ana for this successful event and also to our student volunteers Kimberly Dung, Ben Sykes, Serena Reeves, and Antonio Baldazo. 
ARCE-Computer Science Team Presents at ACI Convention
October 14-18, 2017
On October 14-18, 2017, assistant professor Anahid Behrouzi attended the American Concrete Institute (ACI) Convention in Anaheim, CA. Dr. Behrouzi was joined by assistant professor of computer science Maria Pantoja and undergraduate ARCE student Jack Bergquist. In the ACI 133 Reconnaissance Committee and the "Research in Progress" session, the team presented on-going research work related to automated detection and classification of structural damage in post-earthquake images of reinforced concrete buildings. 
Kevin Dong in Tanzania
august 15, 2017-September 8, 2017
This summer ARCE Professor Kevin Dong—alongside 3 Cal Poly students, alumni, and members of nonprofit— traveled to Same, Tanzania to begin construction on a project 8 years in the works.  Cal Poly is working alongside the LA Arup office to design the Same Polytechnic College for the nonprofit Mbesese Initiative for Sustainable Development (MISD).  The goal is to help reduce poverty and improve quality of life through creating this technical college.  Tanzanian school systems are very different from those in the United States and often there just isn't enough opportunity and resources for people to pursue higher education. This college will provide many with the opportunity and cause to stay in school.  Over the last several years, the project has been in the design process, getting technical feedback as well as logistically getting everything squared away in Tanzania.  Although the project has been underway since 2008, this summer was the first trip on which they've been able to do actual construction work.  In Tanzania they built and erected monuments distinguishing the construction/college zone.  While in Tanzania the students went on cultural trips into the villages, worked alongside locals, learned about the educational system in Tanzania, and even bartered for construction materials.  Kevin hopes to return in summer 2018 and throughout the remainder of the project. 
Related Content