News & Events 2020-2021
To skip to past News/Events & Magazines click here!
Structural Forum 2021
February 2021
The annual Structural Forum took place on February 27, 2021, in a different format than what the students are used to. Due to the pandemic, this career fair that usually takes place at the Madonna Inn Expo Center, had to be moved to Zoom. Although the virtual format was a bummer for many students, there were many bright sides to the event. Because people were able to view the morning portion from home, almost 200 people were able to attend and hear from the influential speakers. Forty-seven companies were able to attend the event.
Autumn Wagner, forum chair (above), the one who planned the entire event, ensured that all 50 breakout rooms for different companies went smoothly. This allowed students to meet virtually with representatives from different companies and create an incredible one-on-one experience. Many could agree that the event was a total success. Autumn said, "It was great that so many students attended. It was especially nice because we haven't been able to connect in person, and it proves that there is a strong ARCE community outside of Zoom."
The department thanks all company representatives for attending the event even in a virtual format and we hope we can all be together again in-person next February!
Professor Anahid Behrouzi wins ACI Walter P. Moore Award
December 2020
This award from the America Concrete Institute (ACI) recognizes new faculty members for excellence and innovation in the teaching of concrete design, materials, or construction. The award honors the late Walter P. Moore, Jr., ACI Fellow, former ACI Board member, and a structural engineer and educator in Texas.
Eligible professors have taught undergraduate level courses related to concrete structural design, concrete materials, or concrete construction. They also must be an ACI member in good standing and have demonstrated evidence of technical competence, high character, integrity, and other evidence of merit, which, in the judgment of the award committee, shall have advanced ACI's and the award's purposes.
To see Anahid's award lecture "Teaching Concrete Through Context," click here!
For more information, visit the ACI awards website here!
Timber Design Lab Students Build and Test Wood Shear Wall in High Bay
November 2020
This fall, ARCE 451 students led by professor John Lawson worked together to design, build, and test a full-scale wood shear wall. It measured nearly 13' tall by 7' wide, and took over 4,000 pounds of loading.
Along with performing the calculations that go into designing a lateral system that can resist earthquake loads, students learned valuable and practical constructability skills. They gained experience using a hammer and nails, palm nailing, field measuring, and using shop tools like the chop saw and table saw.
Despite COVID-19 restrictions the ARCE department has still been able to offer the same incredible hands-on opportunities to students. This project is an unforgettable experience and has provided knowledge that they will bring to their future classes and even their future careers as structural engineers.
Interdisciplinary Team of Students Wins Honorable Mention in National Steel Design Competition
November 9th 2020
Two teams of Cal Poly architectural engineering and architecture students earned honorable mentions in a national steel design competition sponsored by the American Institute of Steel Construction (AISC) and the Association of Collegiate Schools of Architecture (AISC).
The project was "The HOODOO" (pictured left), a proposed residential high-rise to be erected at 1 Oak Street, in San Francisco near the historic City Hall. Judges were impressed by the design "for its esthetically beautiful and interesting idea as a formal strategy," they wrote. "Aesthetically, the students present the building through amazing renderings and intricate steel detailing."
The interdisciplinary team of students included three architecture seniors: Solanda Magnuson of Paso Robles, California, Alena Nagornaia of Saint Petersburg, Russia, and Amy Tang of Rosemead, California; and architectural engineering senior Elitsa Vutova of San Diego, California. Their faculty advisors were Thomas Fowler, architecture, and Kevin Dong, architectural engineering.
The tower envisions 450-plus living units with from six to 10 on each floor. The students collaborated on this 800' skyscraper with SOM's San Francisco partners of Leo Chow, architect, and Mark Sarkisian, engineer. "We see the vertical community as the spaces along the void, which provide the street views as well as immersive views between the two towers," said Nagornaia. Magnuson concurs, "Besides that, the vertical community spaces include smaller atriums for community interaction, conference and study rooms on some levels and a rooftop lounge on the upper floor."
According to Tang, "The Hoodoo tower interprets the wind erosion of a rock formation. Its shape responds to existing wind patterns and minimizes the influence of lateral forces."As the architectural engineer on the project, Vutova adds, "The geological hoodoo has a layered structure, with the strongest and densest layers remaining above eroded weaker layers. The tower structure adopts a similar concept, using the outrigger floors. The central void stresses the concept of wind and creates a vertical community space."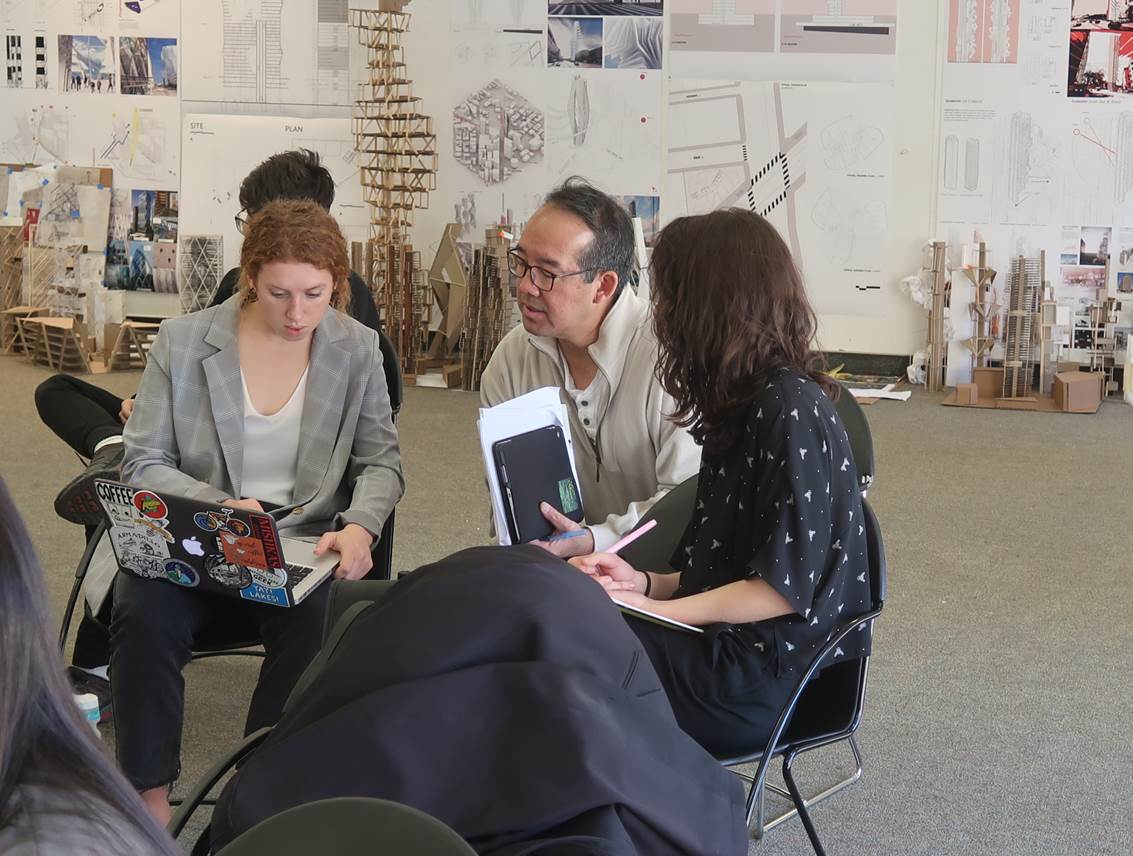 The top three awards in each category split $14,000 in prizes. The 2020 student designs will be exhibited at the ACSA's 109th Annual Meeting in St. Louis next March, at the AIA National Convention in June in Philadelphia as well as published in a competition summary publication.
ARCE Resumes 53% of Classes In Person
September 14th 2020
ARCE returned to this quarter with 53% of classes offered face-to-face, more than any other department of Cal Poly. All classes are functioning according to state and county mandated social distancing guidelines, and all students with in person labs are required to get tested at least 5 times throughout the quarter. The week of Thanksgiving break will be virtual instruction only with virtual finals occurring the week directly after. So far there have been only positive remarks from both students and professors, with essential collaboration back in play.
Students in concrete lab led by professors Anahid Behrouzi and Cole McDaniel have been hard at work every week mixing concrete, performing slump tests, preparing specimens for testing, and tying rebar for their upcoming concrete beam test.
Students in other design and computer labs come to a hands on collaborative environment for instruction in the ARCE classrooms daily.
SidePlate Lab Gets New Whiteboards
Summer 2020
Whiteboards replaced previous blackboards in the SidePlate (B-Lab) this summer. This is another step in a project to eventually replace all outdated blackboards in the ARCE building with whiteboards.
Related Content